COMMENT
By Kris Voakes | Italian Football Writer
With his latest excellent performance, complete with match-winning injury-time goal, Juventus fans are beginning to realise that in Paul Pogba they now have a fourth central midfielder ready to play regular first-team football. Manchester United supporters, however, are perhaps cursing the fact he was ever allowed to leave Old Trafford.
For those who had previously seen the 19-year-old at close quarters, his recent impact has come as no great surprise. At a club famous for its ability to nurture players through its youth ranks, Pogba stuck out among United's budding youngsters for some time, before making his controversial switch to Juventus Stadium this summer.
His supreme ability on the ball, excellent balance, power, great passing range - off either foot - and tall frame, made him stand out for United's youth teams, and if anything, the one drawback was that he would switch off when games became a little too easy for him. Even at international level, Pogba found the going rather simple, and for those who followed him it was obvious he was already primed for first-team football.
But, when United failed to offer him that on a regular basis last season, he jumped ship. "I didn't renew with them because I didn't find a deal with Sir Alex Ferguson," Pogba explained after his winner against Bologna on Wednesday. "So I decided to accept the offer from the one team that was really interested in me, that being Juventus, and now I am very happy to be here."
Ferguson himself saw it differently. "Pogba signed for Juventus a long time ago as far as we're aware," the United boss told MUTV shortly after the transfer. "It's a bit disappointing because I don't think he showed us any respect at all. To be honest, if they carry on that way, I'm quite happy that he's away from me anyway."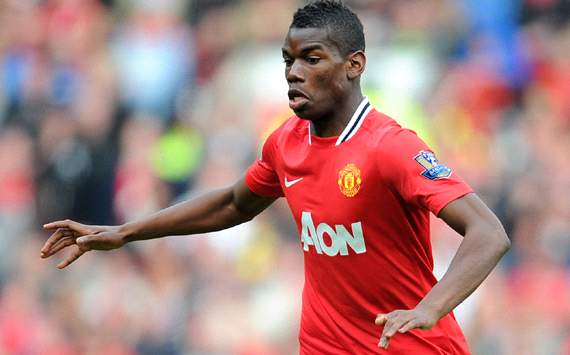 Rare opportunity | United did not give Pogba many chances and paid the price
Yet with each passing performance, he must be making United increasingly unhappy, just as he is bringing joy to Juventus.
Pogba is the first youngster in decades that the Red Devils really wanted to keep but failed to do so and their folly in inviting the Bianconeri to Gary Neville's testimonial in May 2011, three weeks after Pogba had turned in a Man of the Match display for United's Under-18s against Juve's youth side, simply came back to bite them. Add in their hardball stance during contract negotiations, and if Juventus' transfer committee did indeed get to Ferguson's prized asset, it was not as though United had done their utmost to keep the Frenchman out of their reach. They did not protect him, they flaunted him, and for that they paid the ultimate price.
Whatever the truth behind the move, Antonio Conte is fast coming to terms with the fact he has a twice-weekly selection headache to contend with. He may only be 19, but Pogba has a bit of everything talent-wise, and is clearly ready for first-team football. If he does not get it at Juventus Stadium, his agent Mino Raiola will ensure he finds it elsewhere, and with the qualities he possesses, he has every right to be impatient.
Now he will surely see more football. For the opening two months he has been largely used as an occasional alternative to Claudio Marchisio, Andrea Pirlo and Arturo Vidal, but his recent increased exposure to the first XI must be the catalyst for a potential rethink. At the very least, he is already the fourth man in a genuine rotation, and he has enough in him to eventually upset the order and make a starting shirt his own.
While Ferguson's men come to terms with having to make the most of their weakest midfield in a generation, the 'one that got away' is only getting started in his potentially glittering career with the Old Lady.
ELSEWHERE...
Inter teed up a mouth-watering Derby d'Italia with a comeback win over Sampdoria at San Siro, aided by the sending-off of Andrea Costa early in the second-half. In what was an uninspiring contest for long spells under incessant rain, the Nerazzurri ran the risk after Andrea Ranocchia's latest mistake led to Gianni Munari giving the Blucerchiati the lead, but Antonio Cassano was once again key to the 3-2 win. While there is talk that he would like to one day return to the Doriani ranks, the Italy forward is currently turning in match-winning displays on a regular basis, and is doing so as quietly and professionally as anyone can remember too!
Zdenek Zeman's second reign at Roma is going from bad to worse, with their 3-2 defeat at Parma representing a third loss from a winning position already this season, and the second in three days. The conditions at the Ennio Tardini were hardly conducive to free-flowing football, but it was the Ducali's ability to come to terms with the elements better which helped to rub salt into the Giallorossi's wounds. The capital club have now won only three and lost four of their nine fixtures on the pitch this season, and the Czech coach's ability to get the best of a decent enough squad has to be called into question.
Napoli sacrificed second spot in the table by going down to defeat at Atalanta. Many had tipped the Neapolitans to be this season's 'anti-Juve', but the 1-0 loss helped to emphasise the gap between the Partenopei and the leaders, with that ability to win when not playing well still largely missing from the makeup of Walter Mazzarri's side. The absence of Edinson Cavani has also hit them hard, with 32 shots yielding just a single goal in the two matches he has missed through injury since the weekend.