COMMENT
By Kris Voakes | Italian Football Editor
It's not exactly an enviable position Inter find themselves in. Trailing in the chase for Champions League football, tonight they will also be between a rock and a hard place as they take on neighbours AC Milan in the knowledge that a good result for the Nerazzurri could well also be a dream result for Juventus.
A victory for the Bianconeri away to Cagliari in Trieste will leave them needing only a Milan slip-up to make them official champions of Italy for the 28th time, and that setback could well happen for the Rossoneri in the Derby della Madonnina. Of course, Inter themselves wake up with the ambition of reaching the Champions League still burning bright, but come kick-off time that may no longer be the case.
If Napoli win in Bologna on Sunday afternoon, they will be six points clear of Inter, with Andrea Stramaccioni's side having only two games to go. To make things worse, the Nerazzurri will be unable to leapfrog Walter Mazzarri's men no matter what their results before the season's end, with their head-to-head record being inferior regardless of the status of the tie for third.
But with a historic rivalry between Juve and Inter which blew up some more as a result of Calciopoli, there is more to consider than their own seasonal targets. To many, the Bianconeri are now the most hated rivals possible, meaning a derby victory could well be soured by the knowledge that it has handed Juventus the Scudetto.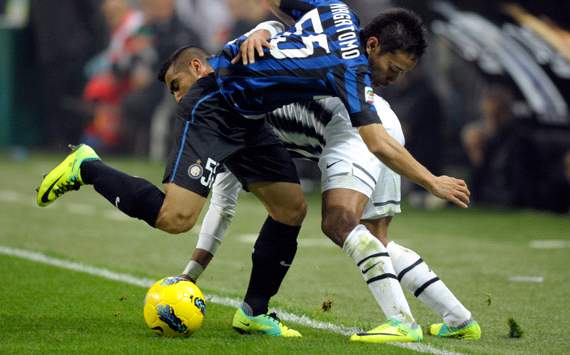 Pitch Battle | Inter are no longer bigger fans of Juventus than they are of Milan
With all that in mind, what are the opinions of Interisti heading into the derby?
"Coming in to the game, Inter find themselves in an impossible situation," says Don Nerazzurri, of NerazzurriWorld.com. "With the result possibly deciding this season's Scudetto between our two biggest rivals, obviously I would prefer neither to claim the title! But, as it will definitely be one of them I have to say my preference would be for the title to remain in Milan.
"Saying that though, Inter still have their own targets of a European qualifying place to play for so even if it means that Juventus win their 28th Scudetto, the Nerazzurri must play for the win."
But if Napoli win in the afternoon, prompting a relaxation of personal drive about the Nerazzurri's season, will their fans mind quite so much if they are to go down to derby defeat?
Matteo Leonardi, an Interista and Mediaset broadcaster, says there may be a split opinion about the destiny of the title, but their should be no thinking twice about the best derby outcome.
"Nobody (at least, nobody with a brain) can think that it is better to lose in the derby. Unfortunately, there are some human beings without brains"



- Matteo Leonardi, broadcaster and Interista



"Interisti in Milan all hate Milan, yet Interisti across Italy – of which there are a lot – hate Juventus," explains Matteo. "This is logical. For those who live in the city, they hate whoever is closest, whereas for those who live across the country, they don't just support Inter, but also any club anti-Juventus.
"That said, nobody (at least, nobody in possession of a brain) can think that it is better to lose in the derby. Unfortunately, there are some human beings without brains!"
So it would seem that no Inter fan would be willing to give up on the opportunity of winning the derby, even if it meant that their hated rivals Juventus walked away with the Scudetto as a result.
It is a quandary summed up somewhat succinctly by the landlord of the Hall of Fame sports bistrot in Milan, Alessandro Polenghi, himself an Interista.
"Juve are the evil empire," says Alessandro, "but we MUST win the derby!"
Follow Kris Voakes on