COMMENT
By Kris Voakes | Italian Football Editor
Before the game, it was all about Antonio Conte's striker selection headache, controversial officiating and the title race. And after Saturday night's 1-1 draw between AC Milan and Juventus at San Siro, little has changed. Instead, the various opinions have seemingly only intensified. The potential Scudetto decider decreed only that the rivalry between the top two clubs in Italy has become more bitter.
At full-time Conte made a bee-line for Mark van Bommel to protest about the Milan midfielder's conduct on the pitch, particularly in relation to an apparent elbow on Andrea Pirlo. But in all truth it was the Juve coach himself who had put his side at a disadvantage with his decision to start Marco Borriello alongside Fabio Quagliarella.
Borriello's initial transfer from Roma last month had seemed misguided enough, but his inclusion last night was all the more baffling. With Alessandro Matri possessing the best stats in a front two, and, over and above that, being the Bianconeri's top scorer, it seemed only a question of who would partner the former Cagliari man up top. But Conte instead threw in his wild card in Borriello and put his side at an immediate disadvantage.
The first half was like none we have seen from Juve all season. They squandered possession and territory like no Conte outfit since his days in charge of Atalanta. There was no pressing of the ball and no energy across the middle. And that all started with the static nature of the front line. Quagliarella was not blameless, but Borriello was practically statuesque at times. Conte had handed over the advantage to Milan.
And the Rossoneri made good use of it. Robinho buzzed around up front, regularly jinking into space as the home side had the better of the opening 15 minutes. They made it count when Leonardo Bonucci gave away simple possession to the Brazilian, who teed up Antonio Nocerino. The midfielder unleashed a shot which Gianluigi Buffon seemed to have covered until it struck Bonucci and diverted into the empty half of the visitors' net. Milan led, but needed another. Cue the controversy.
MATCH FACTS | Milan 1-1 Juventus


SHOTS
ON TARGET
POSSESSION
TERRITORY
CORNERS
BOOKINGS
SENDINGS-OFF

MILAN
3
4
48%
51%
10
3
0

JUVENTUS
9
3
52%
49%
2
3
1
Ten minutes on, Philippe Mexes' header was superbly stopped by Buffon, but the loose ball was pounced upon by Sulley Muntari. Had the Ghanaian made the contact he truly desired onto his header, we may have been talking about a Milan win afterwards. He didn't quite manage it, but still did enough for the ball to clearly cross the line before the Italy captain clawed it back into play.
The referee's assistant, Roberto Romagnoli, was stood in the perfect position to give the goal and signal a doubling of Milan's lead, but somehow failed to do so. Referee Paolo Tagliavento originally awarded the goal, but agreed to favour the decision made from Romagnoli's more advantageous position. His instinct was the more reliable source.
Juventus had been reprieved, and so too had Conte. Instead of the home side having the two-goal advantage they deserved, the Old Lady remained in the game. Not since their trip to Napoli in late November have they had to come from two goals down, and it wasn't to be demanded of them here, either.
After the break, Conte gradually fixed what he had broken pre-match. Simone Pepe replaced Marcelo Estigarribia, then Mirko Vucinic was brought on for the anonymous Borriello. Finally, and crucially, on came Matri for Quagliarella moments after the ex-Napoli forward had been foiled by Christian Abbiati to maintain the home side's edge on the scoresheet.
Meanwhile, his opposite number Massimiliano Allegri replaced Alexandre Pato, who had arguably been even more useless than Borriello, with Stephan El Shaarawy. As the second half unfolded, the Rossoneri didn't appear entirely comfortable with their still-slender advantage, and Juve gradually looked more and more likely to make them pay.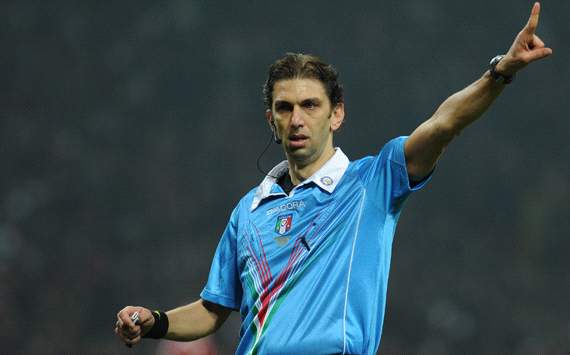 Paolo Tagliavento | The referee was let down by his assistant
On 80 minutes, Matri thought he'd had his say. Dropping off the shoulder of the last defender, he fired forcefully home but turned to see Romagnoli's flag up. It shouldn't have been. It wasn't 1-1 on the scoreboard, but it was 1-1 on the linesman's rap sheet.
The substitute wouldn't be denied, though. Three minutes later, Pepe was given space by Luca Antonini and delivered a superb cross into the centre. Thiago Silva, for once, was caught up in the jostling game instead of getting in front of his man, allowing Matri to steal in and level matters. Like substitutes scorned ad infinitum, you couldn't have blamed Matri had he headed straight to the dugout to point out to Conte that maybe he should have started.
Juve, unusually second best for the first half, were back to being themselves again by the latter stages, with only Arturo Vidal's late red card giving them any significant cause for concern. On the run of play, they probably deserved their point, but Milan fans will rightly wonder whether the visitors' recovery would still have happened had they been two goals down after Muntari's header.
Yes, the Bianconeri also had a goal disallowed, but big moments and big decisions change games. The flow of a match is significantly affected by the scoreline, and a Milan side defending a two-goal lead would arguably have played less cagily in the final quarter than the Rossoneri which we saw in those final 25 minutes.
We will never know. Instead, we still have a very open title race. Milan continue to lead the league by a single point. Juventus still have an extra game left. Refereeing decisions will still be debated long and hard in the days and weeks to come. Borriello still has to win over the Bianconeri supporters, and Conte still doesn't seem to know what his best front pairing is.
No status quo was ever so absorbing.
Follow Kris Voakes on