EXCLUSIVE
By Kris Voakes | Italian Football Editor
Zlatan Ibrahimovic
believes that there is an intangible quality missing from
AC Milan
this season, which has resulted in them being unable to pull away from a
Juventus
side who, he claims, are playing with a significant advantage.
Milan are currently two points off the pace in Serie A under Massimiliano Allegri, a man who Ibrahimovic says that he ranks very highly as a coach, with the unbeaten Bianconeri's 3-1 win over Catania on Saturday having once again deposed the San Siro outfit as leaders. And, in an exclusive interview with
Goal.com
, the 30-year-old said that there is one key difference between this season and last term's successful title charge.
"I think when we had been playing badly last year, we still got the points we needed. This year, when we have played badly we have been losing those games, and I think that is also a quality, that when you play bad you still get a point or even win," said Ibrahimovic.
"But this year has been less like that. We have lost many important points when we have played badly. We have also had to go through some very strange injuries, so it's a combination, but it's in the moment also. One moment you're here, one moment you're there, but the most important thing is to keep the level very high all season and I think that is what will make a team win."
The giant Swede, who is set to miss next Saturday's crucial clash between the top two through suspension, believes that there is something which remains in Juve's favour.
"I think Juventus are doing very well, but we shouldn't forget that they play one game a week, and we play three," he observed. "It's a big difference."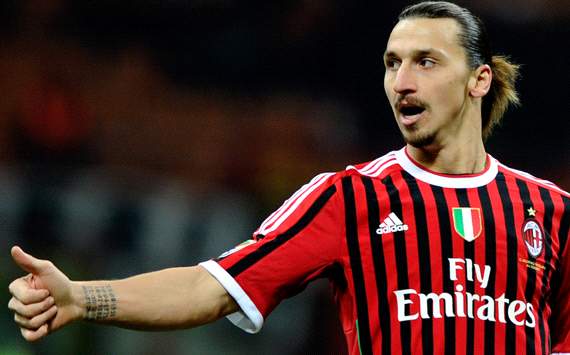 Two points behind | Ibrahimovic believes playing more games is affecting his Milan side
However, Ibrahimovic remains very happy with Milan's progress, and that of coach Allegri, who he says that he ranks among the best he's ever worked with despite some question marks in the media recently due to the Rossoneri's wavering form.
"If you think of him like a book, he is at the beginning because he has a lot of pages in front of him to fill up," said the former Barcelona star. "He has won the league, he has won the Supercoppa, but I think he's at the beginning of his career as a coach with a big team. He is still in a learning phase and is still to develop, but still I rank him very high because you have to be a very good coach to win the league.
"I heard Jose Mourinho say it's better to be a coach in England than in Italy because in England you can be a coach for 20 years without winning anything, but in Italy you can be a coach for three months without winning and you are out. So, I think he is questioned every day depending on the result on a Sunday or Wednesday."
Ibrahimovic sits out the second game of his three-match ban on Sunday afternoon when Milan travel to Cesena, with his appeal against the severity of his suspension, handed down after a slap on Napoli's Salvatore Aronica, not set to be heard until as late as Thursday.
Zlatan was talking at the launch of his new interactive biography app, available in the Itunes App Store from Feb 17th: http://itunes.apple.com/us/app/i-am-zlatan/id499373930?ls=1&mt=8