The 'capitan futuro' may not have a future with the club at all, especially after his wonderful display against the Bianconeri which will have pleased many admirers
COMMENT
By Kris Voakes | Italian Football Editor
Under-strength and under-achieving, Roma should have been there for the taking against Juventus last night. Instead, they were driven on by their one true leader to earn a point and very nearly claim all three, with only a Gianluigi Buffon penalty save denying them a much-needed win.
But while Francesco Totti returned to the side in the 1-1 draw and performed well but for his spot-kick disappointment, it was his vice-captain Daniele De Rossi who again emerged as the Giallorossi's key man, showing once more why the club simply have to hand him a new contract. Failure to do so will see them lose their single most important player for nothing come the summer.
Let's make no bones about it. Players are never calm, nor relaxed, nor truly believe any other meaningless reassurances they farm out when it comes to a new deal. If they're happy where they are, and the club want to keep them, they'll do whatever it takes to come to a quick agreement. Fans have heard the evasive rubbish about "all in good time" too many times to have their fingers burnt again. They've stopped believing it.
MATCH FACTS | Roma 1-1 Juventus


Shots
On Target
Possession
Territory
Corners
Bookings

Roma
8
4
46%
48%
4
3

Juventus
17
9
54%
52%
10
3
So when De Rossi insists he isn't panicking about a new deal and wants to go nowhere, that simply isn't true. And as much as the club remain certain – at least in front of the cameras and microphones – that their 'capitan futuro' will sign on the dotted line, there is doubtless a degree of uncertainty behind the scenes. These days, players who want to stay at clubs that want to keep them renew with two years to spare. Roma have three weeks before somebody else can sign him without needing their agreement.
And after three years of decline, De Rossi's star is shining bright once more. In 2011-12 under Luis Enrique he has been born again as the force who once looked set to become the world's best all-round midfielder. That he hasn't has been down to a number of issues both on and off the pitch, and at one stage earlier this year he cut the figure of a man who seemed set to waste his talent with no idea of how to arrest the slide.
But suddenly he has turned it all around again. Dynamic and determined, he has perhaps been the only man at Roma who could hold his head high during their recent slump, and on Monday night he even filled in as a centre-back and delivered the best performance by any Giallorossi player in that role all season. His anticipation and speed of thought were as sharp as they are when he starts in midfield, while his aerial ability came in more than handy on a number of occasions.
The colossus even had the cheek to go up for a fifth-minute corner and give Roma the lead. His awkwardly executed volley from Totti's cut-back escaped the wild swing of Arturo Vidal's boot to nestle in the bottom corner. It would take Juventus until the hour mark to hit back, with Giorgio Chiellini arriving late to turn home Marcelo Estigarribia's scuffed shot. Totti could have hit the Bianconeri hard once more minutes later when handed a chance from 12 yards after Vidal brought down Erik Lamela, but Buffon's save was textbook.
It was a good job for the visitors that the keeper was on his toes, given that many of his team-mates went missing. Despite Vidal's horror show in his own box, he was the hardest worker in midfield, with Andrea Pirlo and Claudio Marchisio stifled with unnerving ease by Leandro Greco, Miralem Pjanic and star debutant Federico Viviani.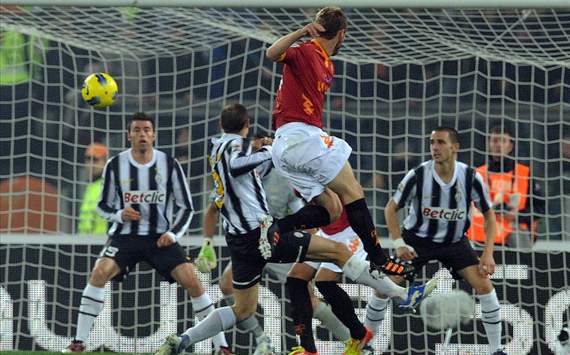 All-rounder |
De Rossi's goal put Roma ahead, but it was his defensive class which stood out
But while Juve did well to get out of the capital with their unbeaten record intact, Roma will also feel a sense of pride in how they went about their work, and much of that was down to the platform laid down by their 'capitan futuro'. He even prompted defensive partner Gabriel Heinze to exude the sense of stability he hasn't displayed all season. A natural defender De Rossi may not be, but a natural leader he is.
His 70 caps and 10 goals for Italy put him at the top of both charts for Roma players in the national squad, while he is fast approaching his 400th appearance at club level. But numbers are not enough – not for somebody who clearly has the fire back in his belly. And that must be worrying for the average Giallorosso. Does the Roma boy want to stay with his club forever? Or does he believe he owes it to himself to win something soon, whoever it is with?
De Rossi is finally showing the will to win that has been missing since 2008, but the fear is that it is partly in the hope of attracting a wealthy suitor overseas, with Manchester City known admirers. With very little else about the beginning of his reign having been such a constant source of pleasure for Luis Enrique, the Spanish coach must be hoping against hope that that is not what is motivating his star man.
And it won't be until pen meets paper that Romanisti will be reassured about their driving force's intentions. Their future rests on him.
Forget Totti … No De Rossi, no party.
Follow Kris Voakes on