ANALYSIS
By Renato Maisani
After many years of inferiority, Manchester City finally earned their redemption on Sunday. In dismissing Manchester United with a dazzling 6-1 victory at Old Trafford, they transformed the 'Theatre of Dreams' to the 'Theatre of Nightmares', if only for a day. But with this success, City went five points clear at the top of the Premier League and announced themselves as bonafide candidates to win the English title for the first time since 1968.
Since 2008, the year in which Sheikh Mansour took over the club, the outlook has changed entirely. The Citizens, usually not to be found amongst the top positions in England, let alone in Europe, have become one of the biggest football teams, thanks entirely to the ownership's economic ability.
While in England it was the millionaires of City that were creating headlines, over in Italy, Udinese were busy propelling themselves to the top of the table after beating Novara 3-0 (although Juventus' victory on Tuesday night against Fiorentina means they have, at least, temporarily dropped to second).
The Friulani are a club that - rather uniquely - manages to better themselves year after year while maintaining a profit in their budget, due to their clever transfer market policies. The sale of Alexis Sanchez to Barcelona, in fact, has earned the club much more than the side has spent to bring in new acquisitions.
It is a curious contrast. In comparing the two squads deployed over the weekend by City and Udinese, one can see just how different the table-toppers are.
LESCOTT + £3.9m = A WINNING UDINESE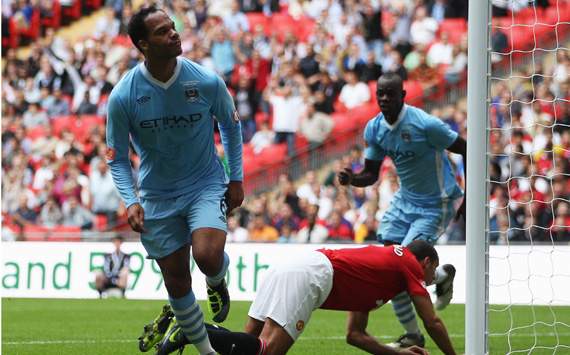 £22 million: this is the figure that Manchester City paid Everton in the summer of 2009 to acquire defender Joleon Lescott, then 27. Yet amazingly, the amount paid by Udinese over the years to compose the XI who played against Novara exceeds that by only €2m [£1.7m].
The most costly expenditure of these for the Friulani was the acquisition of Gabriel Torje, who totalled €5m [£4.4m] from Romanian side Dinamo Bucharest. It should be especially noted that Samir Handanovic, currently regarded as one of the best goalkeepers in Europe, cost just €40,000 [£35k], and has a wage of a mere €500,000 [£500k] a year, which matches the salaries of Mauricio Isla and Emmanuel Badu. Pablo Armero and Kwadwo Asamoah, two of the players with the highest current transfer value in the squad, are paid around €1m [£900k] apiece.
Returning to the case of City, however, it is known that Lescott is by no means the most expensive player. Amongst those who played at part in the derby win against United, there are Yaya Toure (who cost £24m), David Silva (£24m), Mario Balotelli (£24m), Edin Dzeko (£27m), and Sergio Aguero (£38m). The total amount paid by the English club to put together the 14 that defeated United is a shade over £252m.
UDINESE AGAINST NOVARA

CITY AGAINST UNITED



PLAYER
COST

PLAYER
COST
Handanovic

£35,000

Hart

£780,000

Benatia

£440,000

Richards

free

Danilo

£1.7m

Kompany

£7.4m

Domizzi

£4.4m

Lescott

£22m

Ferronetti

player swap

Clichy

£7m

Isla

£440,000

Tourè

£24m

Badu

£440,000

Barry

£12m

Asamoah

£960,000

Milner

£26m

Armero

£1m

Silva

£24m

Torje

£4.4m

Balotelli

£24m

Di Natale

£4.4m
Aguero

£38m

74' Floro Flores

£3.5m

70' Dzeko

£27m

77' Elkstrand

£1.6m

75' Nasri

£24m

87' Neuton

£2.6m

89' Kolarov

£16m

TOTAL

€25.9m

TOTAL

£252.2m

But how would Udinese fare against Manchester City? Would Lescott be able to stop the entire Italian squad on his own? Naturally, he wouldn't be able to do that, but it is clear that in a one-off game, anything could happen.
The question that remains, however, is relative - as always - to the level of the leagues: What position would Udinese occupy in the Premier League? And how many points would City's champions collect in Serie A? The likely answer would fall more in favour of the Manchester millionaires than the wheeler-dealers from the north-east of Italy.
Still, the work of the ownership and management of the Friulani deserves applause. To manage to put together a club capable of leading the league is not easy, especially without spending millions upon millions. It's easy to win trophies after going and buying Dzeko or Aguero, but truly great clubs are those that transform prominent unknowns into established champions.
And in this respect, Udinese is not lacking at all. More than that, they are the No. 1 club in Europe.