It remains one of the most pivotal moments of the season so far…
Four minutes into the 275th Milan Derby, Marco Materazzi's right leg connects with Zlatan Ibrahimovic's left ankle and referee Paolo Tagliavento points to the spot, from where the big Swede scores the early winner. But if Milan are going to repeat the trick on Saturday to go five points clear of Inter without their suspended frontman, they will have to overturn a far from convincing record when starved of Ibra's goals.
The Rossoneri have been true front runners in the games in which their enigmatic No. 11 has scored this season, with 10 wins and only one defeat in 14 games, but in comparison when Zlatan has failed to find the net Milan have struggled. In the other 16 league matches they have scraped together only eight victories and have lost three times. Their last league game against Palermo was a prime example of how the Diavoli can struggle without their focal point, as from large amounts of possession they mustered only a couple of clear goalscoring opportunities.
Such a statistic should come as little surprise to Saturday's opponents though, as during his spell at the other side of the city the Nerazzurri lost only one of 44 Serie A games in which Ibrahimovic netted, yet lost 10 per cent of those games in which he was absent from the scoresheet. In fact, in each of the Swede's three seasons at Via Durini, Inter's goal average dropped by at least one per game without Ibra finding the target.
The Ibrahimovic eff
ect | Serie A


P
W
D
L
F
A
Win %
Goals per game

Inter 06-07

Ibra scores
14
14
0
0
39
15
100
2.79
Ibra doesn't score
24
16
7
1
41
19
66.67
1.71

Inter 07-08

Ibra scores
11
10
1
0
29
7
90.91
2.64
Ibra doesn't score
27
15
9
3
40
19
55.56
1.48

Inter 08-09

Ibra scores
19
15
3
1
47
14
78.95
2.47
Ibra doesn't score
19
10
6
3
23
18
52.63
1.21

AC Milan 10-11

Ibra scores
14
10
3
1
28
10
71.43
2.00
Ibra doesn't score
16
8
5
3
23
12
50.00
1.44
The saving grace for Massimiliano Allegri's side may well be in the stats when taking Ibrahimovic's involvement away completely. So far, Milan's win percentage without Ibra (67%) is actually in excess of their record when the Swede plays (59%), though the record for 2010-11 covers only three missed matches so far. This does though mirror his record during his first year at Inter, when a 78% win record with Ibrahimovic became 82% without him. But, when taking into account the Palermo loss, coupled with the vibe created by Zlatan before the Lecce game on opening day, only really the Cagliari victory has been achieved without him.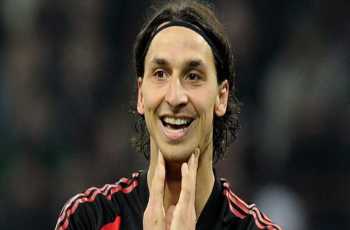 Milan have also struggled significantly for goals this season. With only 51 goals in their 30 games so far, it has been their defensive record which has kept them clear of the pack until now, and so their drop in goals in the absence of Ibrahimovic is all the more stark. They have scored just 1.67 goals per game without him in the team, and that record drops to 1.44 when taking into account his off-days. It is not the statistic of title winners in the making.
Interestingly, the Ibrahimovic effect in the Champions League has, if anything, actually been negative for both Milan giants. Inter scored only 24 goals in the 22 games in which the striker appeared for them in Europe, while this season the Rossoneri managed only seven in eight matches. That compares to 10 goals in eight for Milan last term, while their neighbours have scored 32 goals in 21 and clinched a European title since recouping €70 million (£61 million) from Ibrahimovic's move to Barcelona.
The Ibrahimovic eff
ect | Champions League


P
W
D
L
F
A
Win %
Goals per game

Inter 06-07

Ibra plays
27
21
5

1
55

25

77.78
2.04

Ibra doesn't play
11
9

2

0

25
9
81.82
2.27

Inter 07-08

Ibra plays
25
17
7

1

47
16

68.00
1.88
Ibra doesn't play

13
8

3

2

22

10

61.54
1.69

Inter 08-09

Ibra plays
35
24

7

4

63

27
68.57
1.80
Ibra doesn't play
3

1
2
0

7

5
33.33
2.33

AC Milan 10-11

Ibra plays
27
16
8

3

46
21
59.26
1.70
Ibra doesn't play
3
2
0

1

5
1
66.67
1.67
But in league play it is clear that without Ibrahimovic Milan have a tough task on their hands to overcome their neighbours on Saturday. Though Inter's record without Ibrahimovic was significantly different to their record with him, their success rate in front of goal in his absence only ever dropped close to Milan's in the 2007-08 season when he returned from injury on the final day of the season at Parma to bag a league-winning brace.
The statistics – along with the defeat at Palermo last time out – suggest that Milan will struggle without their talismanic leader, but how much will Lucio's absence counter-balance such a loss? We could well be in for one of the tighter, more nerve-wracking derbies in recent memory, with so much to play for and such a big character missing from the league leaders' ranks.