TACTICAL ANALYSIS
By Jonathan Wilson
There has been much speculation about why Pep Guardiola chose to join Bayern Munich rather than waiting for a more lucrative offer from a Premier League club, and much of it centred on how they conduct themselves off the pitch.
But it's easy to believe Guardiola has been influenced as well by how they fare on the pitch - this season and last - as Barcelona have topped the possession and pass completion rankings in the major five European leagues, Bayern Munich have been second. Bayern is not a replica of Barca but at least the raw materials available to Guardiola are relatively familiar.
In terms of shape, Bayern this season have tended to play a 4-2-3-1, with Mario Mandzukic as a mobile centre-forward (although neither as mobile nor – obviously – as talented as Lionel Messi), two of Xherdan Shaqiri, Thomas Muller and Franck Ribery wide (with Arjen Robben to come back when he returns to fitness) and Toni Kroos as the central creative presence.
Given Kroos's mobility and willingness to work back, it's a 4-2-3-1 that can often appear more like a 4-3-3. The versatility of Guardiola in his final season at Barca makes it hard to say exactly what shape he preferred but the default in previous campaign was a 4-3-3, albeit one with a single holder and two creators, rather than the double pivot and single creator of Bayern.
BAYERN'S BUSQUETS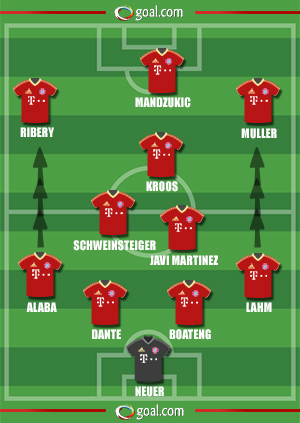 Javi Martinez could replicate the role that his countryman had under Guardiola at Barca

It's impossible at this stage to speak with any certainty of how Bayern will set up next season but there are certain correlations between their personnel and those of Barca.
Both full-backs, Philipp Lahm and David Alaba (or Rafinha), relish the attacking side of the game and so should be able to operate reasonably similarly to how Dani Alves and Eric Abidal (or Adriano) played for Barca under Guardiola – even if it's unlikely Lahm will ever be deployed as a winger in the way Dani Alves could be.
The other key figure could be Javi Martinez. Guardiola liked him enough to try to sign him from Athletic Bilbao and his reading of the game, passing and defensive qualities could see him become Bayern's Sergio Busquets.
Busquets remains probably Barcelona's least appreciated player, the breaker of waves in front of the back line who also sets the tempo for their passing; it's easy to imagine Martinez operating in a similar way.
Kroos is a natural fit just in front of him (if Bayern used a midfield shape similar to Barcelona's) but there must be doubts as to whether Bastian Schweinsteiger, for all his energy and commitment, has the passing quality to operate in a midfield three if Guardiola replicates his Barcelona approach.
Martinez could also play – as he did at Athletic – as a ball-playing central defender, as Javier Mascherano did for Guardiola's Barcelona (indeed, as Busquets did on occasion), which opens the possibility of a switch to a back three.
Martinez developed at Athletic under Marcelo Bielsa, whose tactical thinking, particularly his desire to win the ball back as high up the pitch as possible, was a major influence on Guardiola
It's another link to one of his tactical mentors that may be more significant, though. In the early nineties, as Bielsa was developing his 4-3-3/3-4-3 hybrid in Argentina, adapting the principles of Total Football to modern ends, Louis van Gaal was doing much the same at Ajax. Van Gaal then moved to Barcelona, where he was a major influence on Guardiola the player. It was, of course, Van Gaal who laid the foundations of the modern Bayern after being appointed coach there in 2009.
TIKI-TAKA IN MUNICH?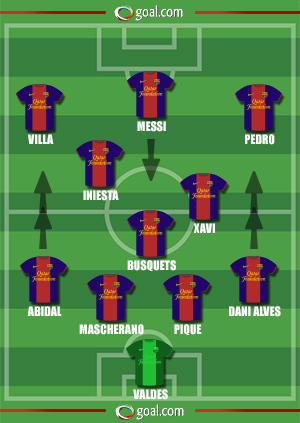 Will Pep attempt to create Barcelona's revolutionary brand of one-touch and pass-and-move football?

German football – and Bayern in particular – had been slow to come round to pressing. Although West Germany at national level and Bayern and Borussia Monchengladbach in the club game had success playing a variant of Total Football in the seventies, they did so without pushing their back four high up the pitch.
When Freiburg exploded into the Bundesliga in 1993 – and beat Bayern 5-1 the following season – it was their pressing that other teams found so difficult to deal with. More recently, the likes of Mainz and Borussia Dortmund have overachieved with an approach based on pressing.
It was Van Gaal who instituted pressing at Bayern. They took to it cautiously at first and more aggressively under Jupp Heynckes, although it is still at nothing like the level of Barca's. Guardiola will presumably attempt to accentuate that aspect of Bayern's game, although somebody as astute as him and as a aware of the psychological dimension of the game will surely be wary of going too far, too soon.
Barca's players, after all, are trained in pressing from the academy, something in which German football lags. Equally it's hard to imagine either Robben or Ribery pressing with any great discipline.
So there are differences, and there are compromises Guardiola will have to make. Barcelona was a unique environment, one in which, for two decades, everything has been built to playing a certain way.
Bayern is not like that but stylistically it is probably as similar to Barca as any of Europe's major clubs.