COMMENT
By Peter Staunton
In 1976, when David Bowie tired of his wild, destructive lifestyle, he stepped off the Bacchanalian carousel and moved to Germany. Berliners in the west of the city were surprised and flattered that a bonafide rock god had chosen to live among them. Probably, that resembles the reaction of Bundesliga observers as Pep Guardiola now nears the end of his sabbatical and prepares for life as coach of Germany's biggest club, Bayern Munich.
It is no secret that overtures from the English Premier League were sent towards him, from Chelsea and Manchester City. Pep's agent has admitted that a contract was agreed with Bayern as early as December but details of the agreement were not revealed out of respect for coaching incumbent Jupp Heynckes. What steered Pep from the clutches of Roman Abramovich was the opportunity to work at his project without interference from above and the threat of dismissal if results failed to materialise quickly. Sheikh Mansour still cannot offer that lustre which is only commanded by the true giants of the European game.
Bowie revisited the Berlin he fell in love with on his comeback track, "Where are we now?", released last week. Germany, evidently, had a restorative effect on the Thin White Duke. That effect endured despite an initial perceived incongruity between the two. A week on from the song's first airing, after a period in New York, Pep, similarly, takes his first steps back into the world which left him battered and exhausted first time around.
FC Bayern and Pep Guardiola are made for each other. Guardiola, in his only senior coaching post to date, excelled at Barcelona. He is their most successful coach in history. During his four-year spell in charge at Camp Nou, the Catalan native accrued 14 major titles including the Champions League on two occasions. Bayern, a club that prides itself on its primacy, has not won the most important European trophy in 12 years. They will undoubtedly welcome a coach with the nous and experience of delivering the European Cup in the modern game.
IN NUMBERS
Pep's stats as Barca boss

1
Pep was bestowed with the Catalan of the Year Award after his remarkable debut season with Barca in 2009
2
He claimed two Champions Leagues, two Club World Cups and two Super Cups during his tenure
3
Guardiola also led Barca to three successive La Liga titles between 2008 and 2011
14
Pep's side amassed 14 of a possible 19 trophies in his four-year tenure
247
Guardiola coached Barca in 247 games. His side dominated possession in every single one, winning 179 and losing just 21
It will be up to Pep to imbue a cadre of senior yet under-achieving players with a sense of belonging among the game's winners and not runners-up. Too often the likes of Philipp Lahm and Bastian Schweinsteiger have been condemned as nearly men in European football, despite their abundant talent. To achieve what he did at Barcelona, Guardiola made his squad believe. In themselves. In their abilities. In his ethos. Second fiddle to Real Madrid in La Liga and thirsty for the success which eluded them since 2006, Barcelona needed to rediscover that vital ingredient which defined them. Pep provided that inspiration.
It was not to be a task, ultimately, for Ronaldinho, Deco and others of their rank - a fact which may come as a portent of doom for some of Bayern's core as FC Hollywood seek to rein in Borussia Dortmund as German top dogs. Can Pep make a winner of Arjen Robben despite the overwhelming evidence of his brittleness when the pressure is really on? Can he accommodate Mario Gomez after shedding genuine strikers routinely at Barca? Is Manuel Neuer good enough with the ball at his feet for Pep to be convinced of his usefulness?
Upon taking the Barcelona senior post, Guardiola immediately made Sergio Busquets and Pedro Rodriguez part of his first-team plans, having coached them at Barca B. At Bayern, Pep will discover a programme of youth development that rivals the one he, himself, grew through at
La Masia
. Lahm, Schweinsteiger, Holger Badstuber, David Alaba, Toni Kroos and Thomas Muller are just a few of the high-class players who have been turned out by Bayern and who currently feature for the first team.
A new breed, including Emre Can and Mitchell Weiser, could become mainstays of future, successful Bayern teams. The academy will only improve as more graduates mature and are educated to play and comport themselves in the Bayern way. That sustainability and regeneration helped stand Bayern apart from rivals for Pep's signature. A member-owned club with a strong regional identity, FC Bayern draw obvious parallels with Barcelona.
Pep could not wish to find better conditions from which to relaunch his career. His place in the hierarchy will be clearly defined. There are caveats, however. In sporting director Matthias Sammer, president Uli Hoeness and chairman Karl-Heinz Rummenigge, he has three huge personalities, who are not afraid to criticise the players in public.
The 41-year-old, also, will have to prove himself all over again. His methods will be scrutinised and compared with his work at Barcelona. The unprovable criticism directed at him during his tenure at Camp Nou will resurface.
The first was that he coasted. Great players like Carles Puyol, Xavi Hernandez, Andres Iniesta and the irrepressible Lionel Messi, as the argument ran, were capable of winning matches on their own. All Pep had to do was show up and look managerial. He does not have a Messi at Bayern.
Secondly, that Barcelona's lack of a Plan B was a big reason why they could not pass Chelsea and, latterly, Real Madrid, when the time called for it. Bayern often face the same type of stiff, rigid opposition in the Bundesliga and in Europe. Teams sit deep and patient and hit them on the break. Occasionally, that percentage football pays dividends. It is too easy to say that Bayern have the best squad and a great coach so they will dominate. The performances of the likes of Mainz and Freiburg this season show that that is not always the case in Germany. Pep needs to formulate a tonic for when the possession stats read 70 but the scoreboard shows nil.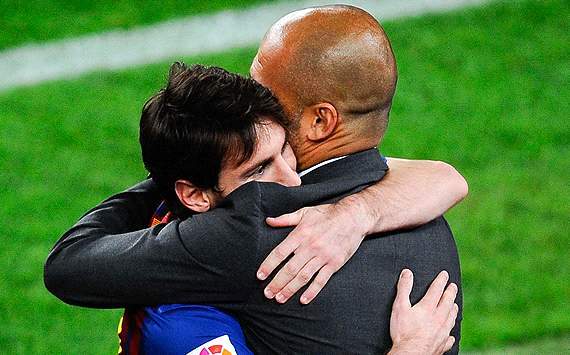 Guardiola's Golden Boy | Will Pep play with a 'false 9' at Bayern without Messi?
Thirdly, that his record in the transfer market is poor. Despite the signings of Dani Alves, Seydou Keita, Gerard Pique and David Villa, there is still a perception that Pep is a disaster with the chequebook. Zlatan Ibrahimovic, swapped for Samuel Eto'o, and Dmytro Chygrynskiy are the examples usually cited of Pep's inability to sign the right players. But at Bayern, like at Barca, Pep won't always be the one buying players. For example, Mario Mandzukic was signed on the recommendation of Hoeness after impressing at Euro 2012. He needs to integrate those massive Bayern signings - players of the calibre of Franck Ribery and Javi Martinez in recent times - to a squad of homegrown players used to playing in a certain manner.
Pep walked into Barcelona when they were at a low ebb and he and they had a hell of a lot to prove. He showed, through the subtle tactical tweaks throughout his tenure, that he had the nous and the desire to perpetually improve and regenerate a dominant team.
That is exactly what he will have to do once he initiates his three-year contract in Munich. But he's never faced the following dichotomy; to fit the players around the system or the system around the players. He's about to discover what it's like to work, essentially, as an outsider, following his relatively sheltered stint in Catalunya.
The question still lingers whether Bowie's still got it. For that answer we will have to wait until the album release in March. In July, for Pep, after his Golden Years, come Changes.