With Germany's top four all but decided, Goal.com assesses the strengths and weaknesses of each club, and pinpoints what they need to do before the 2012-13 campaign begins
ANALYSIS
By Clark Whitney | German Football Editor
It is settled. Following Schalke's 2-0 win against Leverkusen last weekend, the Bundesliga's top four teams were all but confirmed. Just seven games remain in the season, and with Bayer and Werder Bremen 11 points off fourth place, the race for the Champions League spots can be called: Dortmund, Bayern Munich, Schalke, and Monchengladbach will represent the Bundesliga in 2012-13.
Next season marks a new milestone for the German top flight, which will send three teams directly into the group stage of the competition, while the fourth-placed finishers will face a play-off tie.
Some have questioned whether the Bundesliga is strong enough to handle sending four teams to Europe's elite tournament. And it is true that the play-off can be a stern challenge: the fourth-placed teams from Serie A, for instance, have failed to advance to the group stage two years in a row. With the Bundesliga having usurped a fourth spot from the Italian league, the onus is on German sides to prove themselves on the grand stage.
With the top four looking increasingly determined,
Goal.com
looks at the situation they face, analysing their chances in the 2012-13 Champions League.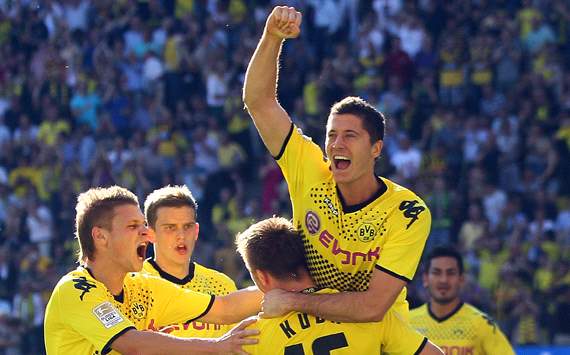 It speaks poorly of a league if the title holders crash out of Europe early, and that was exactly what happened to Dortmund in their first Champions League campaign in nearly a decade. Coming bottom of their group can be chalked up to naivety, but they have a heavy burden heading into 2012-13, especially if they win the Bundesliga title again in May.

The big problem for Dortmund this season was in their finishing, and the summer addition of Marco Reus will be a major boost for the side, who quite clearly need more than Robert Lewandowski as a goal-scorer.

Also on the plus side, it appears that Jurgen Klopp will not have to cope with any major losses this summer, with no contracts set to expire and the highly coveted Mario Gotze having penned an extension earlier this week. Last autumn, BVB were still learning to play in the absence of Nuri Sahin.

Dortmund will enter the 2012-13 Champions League with another year of experience, and in all likelihood, will be a Pot 3 team. But the pressure will be greater than ever, and if they do not react well on the outset, they could be in for another disaster. On the other hand, if they can replicate the Bundesliga form that has made them a constant thorn in Bayern's side, BVB can go a long way.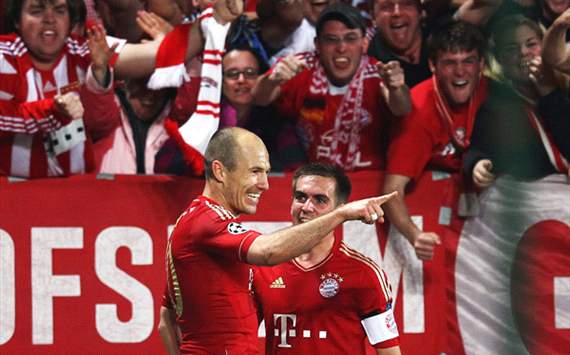 Whether or not they win the Bundesliga, Bayern will bear the burden of higher expectations than any other German club in the Champions League. The Bavarian giants have been comfortable with this label for years, and are currently one of Europe's best clubs. Anything short of a quarter-finals appearance next term would be a failure.

Bayern have typically struggled following major international tournaments, and with most of their squad set to play a part at Euro 2012, the management have learned their lesson and focused their transfer campaign on adding quality in depth. At the moment, there are few alternatives to striker Mario Gomez and likewise on the flanks, as well as in certain defensive areas. These deficiencies could be exposed this season, with three Champions League matches left to be played before the final and several key players just one booking away from suspension.

This summer, Xherdan Shaqiri and Dante are on their way, as well as a to-be-announced striker, and more may follow. The addition of depth will be a big boost for the club, as many players will be suffering from fatigue following the European Championship, and suspension or injury thus will not necessarily be a death sentence on their season. On form, the current team can challenge any side in Europe. With more reinforcements and an even more experienced core that still is yet to peak, this Bayern side can be genuine contenders for the 2013 Champions League trophy.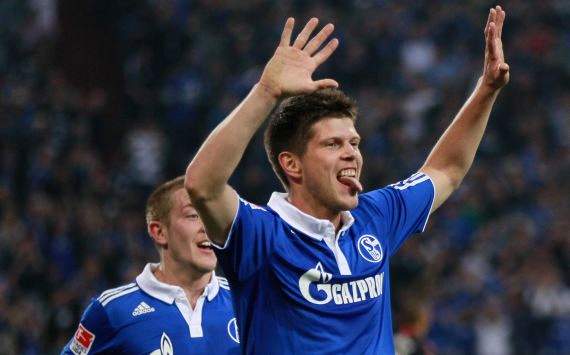 It is worth noting first that less than 12 months ago, Schalke were in the Champions League semi-finals. The current S04 is different from the last, and the team of next season will be changed as well. Manuel Neuer is gone, Raul is in the twilight of his career, and may not be with the club next term, while Jefferson Farfan, Benedikt Howedes, and Klaas-Jan Huntelaar are all also potential departures. Things could go very wrong for Schalke in the coming months.

For now, however, Schalke are a serious force to contend with having beaten Champions League-calibre teams in the Europa League this campaign. Huntelaar will most likely stay, and while he might not be the type of striker to score a hat-trick against an elite club, he has the class to be relied upon against most rivals in Europe.

Neuer has left, but Lewis Holtby has added class in midfield, and Christian Fuchs has improved the team's attacking play out of the left-back position. And more importantly, as with Dortmund, S04 have had time to mature. They will bring experience next season, as well as a pedigree that was developed in their run to the 2010-11 semi-finals.

Schalke can expect to be drawn from Pot 2, which should in theory give them a more manageable group. Should they finish fourth in the Bundesliga they will be seeded in the play-off, meaning negotiable opposition.

The glaring concern for Schalke is the possibility that they have an off-day in attack. The Gelsenkirchen side are outstanding as a goal-scoring force, but their defence remains suspect, and occasionally atrocious. Against the top sides, especially those with one or more world class strikers, they could be humiliated. But facing Pot 3 and 4 teams, they will have to favour their chances at least of advancing out of their group. With a good draw, a quarter-finals appearance is not out of the question.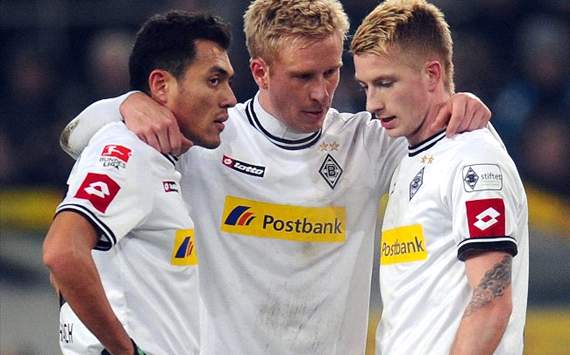 The big question mark over Bundesliga teams in the Champions League is, without doubt, Monchengladbach. Lucien Favre's side have no experience whatsoever in Europe, and will lose key figures in the form of Marco Reus, Dante, and Roman Neustadter in the off-season.

The summer transfer window will be critical for Gladbach, who will have to find replacements and add some depth if they are to stand a chance in Europe. Granit Xhaka would be a huge coup and has been closely linked. And while the defence is largely a product of Favre's genius that does not necessarily depend on Dante, the question remains: how will Gladbach score goals? If Dortmund were found lacking in the finishing department this season, BMG certainly will follow suit in 2012-13. That is, unless they can find a quality centre forward.

But arguably the most important factor to Gladbach's Champions League campaign will be decided in May. Should they be forced to take part in the play-off, the Fohlen will be unseeded. And with training set to resume only a few weeks before the qualifier, the new players cannot be expected to have fully integrated into Favre's squad by that time.

Gladbach's main advantage will be that there are no expectations and pressure on their shoulders. They will not win the Bundesliga, and in their first European campaign in some time, the players will be liberated and happy just to compete in the limelight. Qualification and third place in their group would be no failure; second a dream.
There are many outstanding factors that will ultimately affect the quality of performance of Bundesliga teams in the 2012-13 Champions League. The seeding, the draw, and the transfer window have yet to come.
It is important to keep expectations in check. Gladbach are inexperienced and will have a very different team next term, while Dortmund will face heavy pressure following their previous failure. Schalke have their share of troubles, with defence an emphatically weak point.
Only Bayern can be considered real contenders for the title, but then again, the only league in Europe with two serious candidates is La Liga. Using 2011-12 as a benchmark, German teams can absolutely hold their own: at least three teams have a good chance of advancing out of their group, a feat that neither La Liga nor the Premier League could boast this season. And once the knock-out rounds begin, anything can happen.
There is heavy pressure on German teams to dazzle viewers in the Champions League and justify their fourth spot. But should the fourth-placed finisher qualify for the competition proper, and two or more teams advance from the group stage, the campaign can be considered a reasonable success. And that, as a benchmark, is entirely reachable.
Follow Clark Whitney on