SPECIAL
By Clark Whitney | German Football Editor
It can sometimes be hard to have sympathy for footballers: they live like gods among mortals, have thousands or millions of adoring fans, and even modest bench-warmers are paid princely wages. But the story of Breno is one that might bring a morsel of pity to even the greatest of cynics.
In the early morning of September 20, the Bayern Munich defender's villa burned to the ground. The player was hosptalised for smoke inhalation but released shortly thereafter; his wife and three kids were away at the time and were unharmed. Since then, there has been a flurry of reports, some factual, others speculative, over the details of what truly happened.
What is certain is that Breno is currently being held in remand on suspicion of arson, and that he has recently been treated by psychiatrists at the Max-Planck-Institut. These developments may come as a surprise to many, but the once-promising youngster has suffered setback after setback in what has been a tumultuous career since moving to Germany.
In December of 2007, the then-19-year-old centre-back left his childhood club, Sao Paulo, as he moved to Munich. The €12 million (£10.3m) signing was hailed as the long-term successor to Lucio, and he celebrated his first pair of titles with the club in May as Bayern won the Bundesliga and DFB Pokal.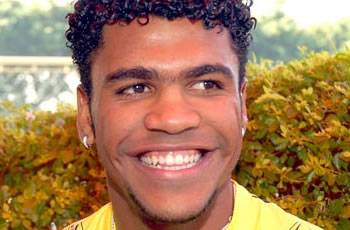 Breno in happier times
The following season was not so fortunate for Breno or Bayern, who had the misfortune of being coached by eventual flop Jurgen Klinsmann. The club struggled in mid-table for most of the season, and the Brazilian barely played. When he did, the results were often downright ugly: Breno played the full 90 minutes in a 5-1 humiliation at the hands of eventual Bundesliga champions Wolfsburg, and a 4-0 loss to future European champions Barcelona.
Klinsmann's utter incompetence as coach led to his sacking, and the following season saw Louis van Gaal take over as head coach. For the team overall it was a good thing, but for Breno, the Dutchman's arrival was a further hindrance to his fledgling career. Ze Roberto was allowed to leave on a free transfer, and weeks later, Van Gaal forced Lucio out of the team. Suddenly Breno had no fellow countrymen to speak with, and was forced to work under a coach whose cultural disagreements with Brazilian players were well known.
Breno made just one Bundesliga appearance under Van Gaal before being sent to Nurnberg in January. There he excelled, particularly in a 1-1 draw with Bayern. However, a week later he suffered a tremendous setback: a cruciate ligament rupture that kept him out of training for six months.
When Breno returned to fitness in November of 2010, he was an inexperienced player begging for direction under a coach who had little regard for defence and typically used midfielders as centre-backs. Breno was a regular starter until the winter break, but afterward lost his spot to Holger Badstuber, who by that point had recovered from a hip injury.



| | | | | |
| --- | --- | --- | --- | --- |
| Season | Club | Games | Booked | Sent off |
| 2007-2008 | Bayern | 2 | 0 | 0 |
| 2008-2009 | Bayern | 9 | 0 | 0 |
| 2009-2010 | Bayern | 4 | 0 | 0 |
| 2009-2010 | Nurnberg | 7 | 2 | 0 |
| 2010-2011 | Bayern | 18 | 1 | 1 |
| Total | - | 40 | 3 | 1 |
With his job on the line, Van Gaal took a roll of the dice and reinstated Breno into his line-up in March, and the results were disastrous. In a pivotal match against Hannover, their top rivals for a Champions League berth, the Brazilian was involved in an altercation with Lars Stindl that saw him rather unfortunately awarded a red card. Bayern would lose that match 3-1. Just 10 days later, Breno started in the now-infamous Champions League round of 16 match with Inter, which saw the Bavarians blow a two-goal advantage on home soil over the final 45 minutes of the second leg.
Utterly defeated, Breno was reportedly determined to return to Sao Paulo in the summer. However, a meniscus tear in early May derailed any negotiations. The injury, which typically requires about two months to heal, has kept him sidelined for double that amount of time.
In retrospect, the duration of his recent spell on the sidelines may reveal much about Breno's psyche before the fire. Given that this was his second serious knee injury, and that it took so long to be corrected, many have speculated that the defender's problems are chronic, and that his career is effectively over; that even at his young age, his body is not up for the demands of football, at least at a high level. The only sensible reason for his arson - assuming the allegations are true - would be to collect insurance for the villa he purchased assuming a long and financially lucrative career.
Less than four years after moving to Germany, Breno is without a home, facing potential jail time, and is in serious danger of losing the only source of income he's ever known. And in the last 18 months his entire view of the future has been cast into doubt. He may be a well-paid celebrity, but he is only human, and subject to all the problems that we face in our day to day lives.
Follow Clark Whitney on