SPECIAL REPORT
By Robin Bairner
Over 100 years of footballing history is in the balance as AS Cannes face liquidation in the coming days - unless they can raise €1.2 million (£1m).
Although Cannes, who were formed in 1902, are not regarded as one of the great emblematic sides of French football, they have historically been vital to the lifeblood of the game in the country.
Winners of the Coupe de France in 1932, the year the team also achieved a best-ever top flight finish of second place, they are instead more noted as a pathway for some of France's greatest players to find their way in the game.
Cannes' alumni make for an impressive list. Sebastien Frey, Johan Micoud and Gael Clichy all started their careers at the Cote d'Azur outfit, but it is for the cultivating of World Cup-winners Patrick Vieira and most especially Zinedine Zidane that the club should be most fondly remembered.
Indeed, Zidane, who already aids the club, has expressed an interest in helping during their darkest hours, although he has admitted that he would have to be furnished with all of the facts before committing to any potential rescue package.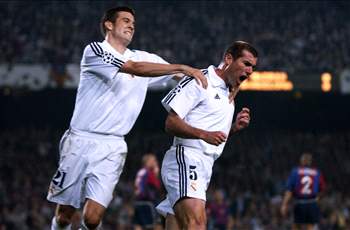 "Cannes were like a family to me when I was 14, 15, 16 and that is still important today
"



- Zinedine Zidane



"I would like to see the club rediscover the level it enjoyed in the past," the France great explained to Nice Matin, bedecked in the club's red and white stripes as he took part in a charity match for scout Jean Varraud, who was the scout who discovered him. "Cannes were like a family when I was 14, 15, 16 and that is still important today."
Inspired by Zidane, Cannes enjoyed European football as recently as 1990-91 but have since fallen on desperately hard times and have been unable to work their way back to the top level since the turn of the millennium. Indeed, now they are as low as the CFA ranks – France's fourth tier and a semi-professional level that is not befitting such an influential outfit – and will fall further into obscurity due to France's strict financial rules even if they are saved.
This season, like so many beforehand, Cannes came close to promotion, but their failure to claim the league title has plunged them into trouble like never before.
"The main shareholder, Said Fakhri, warned all players and stakeholders from the beginning of the season that he wanted to withdraw his support if promotion was not achieved," the club stated. "Meanwhile, we have been constantly working throughout the season to find interested buyers in the city of Cannes, but so far we have not been able to find a concrete solution despite the goodwill of many parties."
No doubt jealous glances are being cast only a few miles east down France's Mediterranean Coast, where the equally glamorous location of Monaco is in the midst of one of the most remarkable summer transfer sprees, only 18 months after becoming embroiled in their own great crisis.
Cannes, however, do not need the millions of euros being poured into their old rivals – just over €1m (£850,000) would save the side that fostered Zidane to become the outstanding talent of his generation. Initially the deadline was today [June 18], however they have been granted a stay of execution of six days to allow them longer to raise the required funds.
Real Oviedo were saved at the last moment in November, partly thanks to a dramatic rally of football fans the world over, and now Cannes are hoping for a similar response, though time is running critically short to the club that brought Zidane to the world.
Follow Robin

Bairner

on