Just when you think the football world has settled down, David Beckham, the world's most recognisable footballer, drops the bombshell that he is retiring.
As well as causing a global stir, Beckham's announcement engrossed Twitter throughout the afternoon with many of Britain's footballers delivering their own tributes to the former England captain.
And so,
Goal
has gathered the best of the reaction for you in the latest edition of
Word on the Tweet
.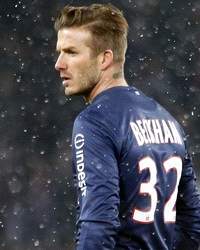 "David Beckham= Amazing Career . He just loved playing football. Congratulations and a pleasure to be a team mate!"
Gary Neville
leads the tributes to his former Manchester United team-mate.
"David Beckham has retired. A wonderful player, global superstar and a magnificent ambassador for England and football."
Broadcaster and former England international
Gary Lineker
neatly captures Becks even with a few characters to spare.
"So Becks Retires at the end of the season, he's had an illustrious career winning many honours on the way! #legend"
Carlton Cole
takes time out of his busy mischief-making schedule to laud Beckham earlier this afternoon.
"David Beckham is just the man! Fantastic career with so many honours and a beautiful family to go with it. Should be knighted soon!! #Hero"
Hull City forward
Sone Aluko
puts Becks forward for a knighthood. Sounds about right.
"David Beckham retiring.. What a player, what a guy. No one in the game will ever do what he's done. The guys a 1 off #legend"
Former Manchester United youth team player
Danny Simpson
adds to the flurry of tributes from fellow pros.
"David Beckham announces his retirement, what a great player and a legend to the sport"
Beckham had scored in the Champions League before
Luke Shaw
was even born, but that won't stop the youngster saving a tweet for the 38-year-old.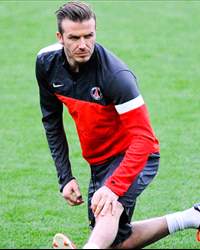 "David Beckham-what an unbelievable career-4 titles in 4 countries over 100 caps for eng and the best ambassador this countries has had!"
Another former team-mate and retiree,
Phil Neville
tips his cap to Mr Beckham.
"Good luck to Becks, from an England fan perspective he served the 3 Lions very well indeed."
Never one to miss out on a chance to Tweet,
Stan Collymore
joins the tributes.
"Gutted to see the legend that is David Beckham has retired from football. What a player! Many moments of pure magic #RespectDB7"
And
Elliott Bennett
wins the award for best hashtag of the day.