TACTICAL ANALYSIS

By Robin Bairner
Great money brings great power, and with great power comes great responsibility.
Paris Saint-Germain
coach
Carlo Ancelotti
is in the midst of discovering this after a summer transfer spree of nearly €150 million, attracting players of the calibre
Ligue 1
has not seen in nearly 20 years.
The Italian coach, along with sporting director Leonardo, now have a duty to deliver not only the league title and a strong Champions League run, but crucially to elevate PSG back to the status of being one of the continent's elite sides. In the mid-1990s, no team could boast a stronger Uefa coefficient than
Les Parisiens
, highlighting their excellence, but now they are ranked a lowly 36th.
As economic reality has hit French titans Olympique Lyonnais and Olympique de Marseille hard, PSG have been able to flourish, attracting the likes of Zlatan Ibrahimovic, Thiago Silva and rising star Marco Verratti, with Lucas Moura signed up to arrive in January, thanks to a financial injection from owners Qatar Investment Authority.
Already Ancelotti has found expensive building blocks alone are no blueprint for a grand team, as he conceded at a press conference this week.
Asked about his side's prospects in the Champions League, he joked: "Of course because we spent a lot of money we are favourites. But football is not just about spending money to build a team. It takes time for that. Players must learn to know each other. It is not nearly as easy as it first appears."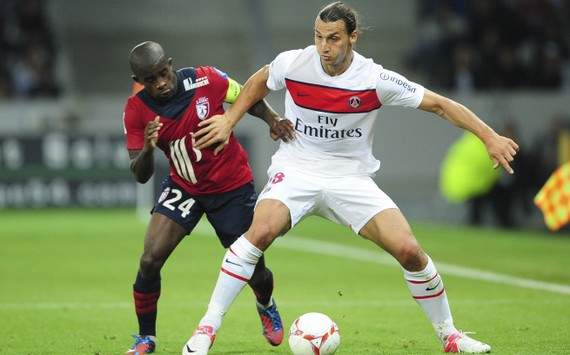 Isolated Ibra | The striker needs to be given more support by PSG's attacking midfield players
Four matches into the domestic campaign, Ancelotti's side find themselves in the middle of the
Championnat
table, unbeaten but already six points behind surprise pace-setters Marseille, and, most alarmingly, lifeless in attack.
PSG V BORDEAUX: 26/8/12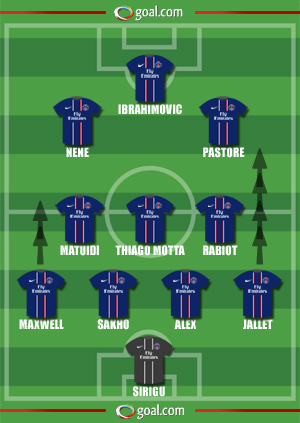 NARROW: The lack of width made PSG
easy to defend against

In back-to-back weeks, first Ajaccio and then Bordeaux successfully stifled the multi-million euro star-studded attack far too easily.
Ancelotti, simply, has not played with enough ambition.
At the Parc des Princes against Bordeaux, for example, there was a crippling lack of width to the team. Neither Nene nor Javier Pastore were able to create space having been asked to play in fairly central positions to support Ibrahimovic, but the team looked lopsided and predictable against opponents who set up in a 5-3-2 formation that left Ibra starved of both possession and support.
If Ancelotti had an attacking midfielder willing to break into the box beyond the Swedish forward
at his disposal
, the tactic might have been more successful, but both Nene and Pastore are renowned more for their craft than their dynamism.
Creating space for the forwards has to be the priority, and the most obvious way of achieving this is to make better use of the pitch's dimensions. The width of their offensive spectrum must be increased by withdrawing one of three central midfielders and introducing an additional winger, while the tempo of the team's play as a whole must be raised.
Ezequiel Lavezzi would surely have been deployed against Bordeaux had he not been suspended, yet Nene would have been sacrificed. Only when Jeremy Menez arrived as a substitute did the visitors look troubled, and starting with the two former Serie A men in the wide zones would bring an extra dimension to PSG's flat and unimaginative attack.
There would be additional benefits, too. Javier Pastore would be afforded breathing space and would therefore be able to have more of an influence.
Such a change would come at a premium. Ancelotti's defence would be exposed to a greater extent as neither Menez nor Lavezzi are known for tracking back. This is probably why the coach has been reticent to make such an alteration, but against opponents often delighted with a point, it is a gamble that would be worth taking.
INTRODUCING THE WIDE BOYS: 12-13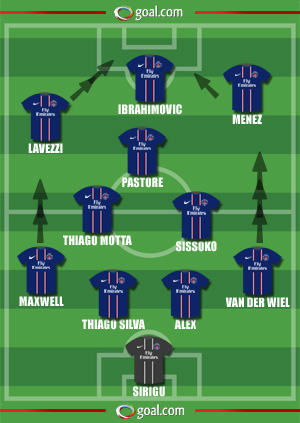 BRING ON THE WINGERS: More width will mean more space for the men who can cause damage

PSG's rearguard, however, has not been a source of confidence. It is the area that Ancelotti has studied hardest since arriving at the club, offering a complete overhaul that was finalised by the summer signings of Thiago Silva and Gregory van der Wiel.
The arrival of the world's most expensive defender will make a dramatic difference to the back four. He may have joined in the summer, but he has yet to make his debut as he has been building his fitness following his return from the Olympics. In Paris he will be flanked by two more Brazilians, which will ease his integration.
Of course, defending the goal is not solely the task of the back four, but with Thiago Motta having missed almost the first month of the season injured – and looking rusty when he did return – PSG can surely expect to improve defensively in midfield too.
Mohamed Sissoko has yet to feature due to physical problems and will add bite, but there are myriad options for this area, including the energetic Blaise Matuidi or prodigious deep-lying playmaker Verratti.
With an intense schedule, all three will surely get their opportunities to shine, while the impressive depth of the PSG squad on the whole means that there will not be a fixed starting XI, and indeed it will be rare for Ancelotti to deploy his strongest side on paper because of the club's various commitments.
The success of this project now lies at the feet of the coach. If he can bring the team together in a coherent manner, title success should follow – and so should a good run in the Champions League, where PSG have been placed in a seemingly straightforward group. Should the team continue to misfire, though, Ancelotti and Leonardo can expect to pay with their jobs.
Follow Robin Bairner on