PROFILE
By Robin Bairner | France Football Editor
M'Baye Niang is a name as of now largely unknown in England, but with several Premier League clubs presently hunting the 17-year-old Caen striker, the France youth international is set to change that over the coming months and years.
Arsenal have been heavily linked with the attacker, following a seemingly successful trial period last week, but Tottenham and Manchester City have also been credited with an interest. From Italy, AC Milan are casting admiring glances in his direction.
That such a clutch of heavyweights are taking an interest is testament to the player's undoubted potential, as is the fact that Niang has already made 30 top flight appearances in the early stages of his career.
He is a young man who did not hang about in making an impression when he broke into the Caen side. In the midst of a pressurised relegation battle, he was called forth by coach Franck Dumas, who briefly turned out for Newcastle, and scored three crucial goals as Les Malherbes went seven matches unbeaten at the end of the season.
It was supposed to be the platform for a glittering second season, but this did not materialise. Although he was not the first-string striker at the Stade d'Ornano, there was much expectation on Niang, who failed to retain his
THE VIEW FROM FRANCE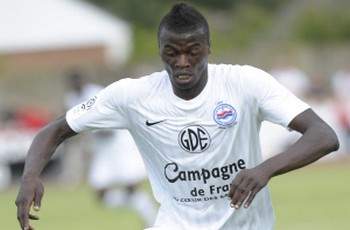 HOCINE HARZOUNE, GOAL.COM FRANCE

Niang is a very gifted young man who has always seemed older then he really is. He is so tall and powerful you could mistake him for a veteran.
His physical maturity is matched by his mentality. He is very respectful of his coaches and the Caen hierarchy, and despite the numerous links elsewhere, he is in no hurry to further his career away from France. Niang rejected a number of ill-advised offers at the age of 15 and has enormous potential he has yet to develop.
He is confident in front of goal, but has to improve tactically. For now, he plays more with instinct rather than intelligence. With the right guidance, however, Niang could become an outstanding player.
place after the summer break despite being handed the No.9 jersey.
If the first half of the campaign he was dogged by inconsistent form, the second part was virtually destroyed by an injury sustained in early February, and by the time he was fit again, it was too late to repeat his heroics of the previous year and guide Caen away from the drop.
This did not prevent the Meulan-born player earning a call to the France Under-21 side, for whom he notched a debut goal in a European Championship qualifying match against Latvia.
Ligue 2 football is not an especially appetising prospect for the starlet given that there are such strong rumours linking him to the glamour of the Premier League.
Caen's academy is well regarded, having produced the likes of Ronald Zubar, David Sommeil, Bernard Mendy and, most notably, William Gallas, who have all gone on to enjoy careers in England.
Notably, these are all players at home in defence, but Niang is very different.
His No.9 shirt gives some clue to his style, but the player of Senegalese ancestry is not necessarily a penalty-box striker. Instead, he works off the shoulder of the last defender, relying on his pace, power and cool head to produce his goals.
As a result, it is difficult to see him making an immediate impression in the Premier League, where the defenders are the fastest and strongest in the world, and where the mental strain and pressure is arguably greatest.
He will have to spend time moulding his game, working on his off-the-ball movement, developing his finishing, bulking up and honing his technique before he can regularly take to the field.
There is little doubt, though, that Niang is a player who has the ability to one day make that step up. He has already shown the kind of natural goalscoring instinct required to be an outstanding player; now he needs a knowledgeable guiding hand to steer him out of a period in which expectation has got the better of him.
After five years in Caen, now is the time for him to move onwards and upwards.
Follow Robin Bairner on