By Robin Bairner
Cup competitions are notionally romantic, with legends of amateurs unseating full-time professional stars led by butchers, postmen and labourers abound.
Perhaps nowhere has this idyll been so well retained as in France, where over 7,500 hopeful teams begin the competition as far back as August, many simply hoping to reach the ninth round, which is the stage the Ligue 1 clubs make their entrance.
The odds of Ludovic Giuly's Chasselay – an amateur side playing in the fourth tier of French football – drawing big-spending Monaco were therefore large, yet fate has twisted to ensure that the 37-year-old veteran, who won the Champions League with Barcelona in 2006, will have perhaps one final curtain call on his top-level career against the club with whom he won his only Ligue 1 title in 2004.
Giuly enjoys cult status at Chasselay, where he started his career before being swept into Olympique Lyonnais' youth ranks that led him to enjoy a storied career that saw him reach the peak of the game, and must be one of the few footballers in the world who turns out at a home ground named in his honour.
Sadly, Wednesday night's tie will not be played at Stade Ludovic Giuly, a 2,000 capacity ground with 600 seats located in a town of less than 3,000. Instead, the fixture will take place at Olympique Lyonnais' Stade Gerland, which lies 20 kilometres to the south in the heart of France's gastronomic capital.
LUDOVIC GIULY | ALL-TIME CLUB RECORD
| | | | |
| --- | --- | --- | --- |
| | Years | Games | Goals |
| Lyon | 1994-98 | 131 | 32 |
| Monaco | 1998-2004 | 239 | 61 |
| Barcelona | 2004-07 | 124 | 26 |
| Roma | 2007-08 | 48 | 8 |
| PSG | 2008-11 | 125 | 19 |
| Monaco | 2011-12 | 29 | 5 |
| Lorient | 2012-13 | 20 | 2 |
| | Totals | 724 | 157 |
Nevertheless, it is fitting that such a symbolic fixture for the locally born star, whose father Dominique is vice-president of the amateur side, should take place where he made his first steps in the professional game almost exactly 19 years ago to the day. On January 21 1995, the attacker came off the bench for the first time for Lyon in a 3-1 home league win against Cannes.
"It looks like I did it on purpose!" Giuly, who has become a match analyser on
beIN Sport
's Ligue 1 coverage, confessed last Friday. "The draw is tremendous and it's a great for Chasselay, for my team-mates and for the volunteers, some of whom have been there for 50 years and saw me when I was a new born."
On Wednesday, his career will be seen to have gone full circle.
But Giuly is not of that opinion, as he continues to dream of a fairytale cup run.
"If there is no pressure, it would make me stop football," he said on Tuesday. "Today, we're still in the competition and that is what will make me play a great match."
Winning big prizes is certainly not an alien concept to a man who spent the best part of his career turning out for world-class sides such as Monaco and Barcelona, and who has won major honours in no fewer than three European countries, not to mention a healthy clutch of France caps when
les Bleus
were still considered the best international side in the world.
In contrast, Chasselay have little meaningful history. In 2006 they won the regional title in the sixth tier of the game but can claim no other silverware in their history.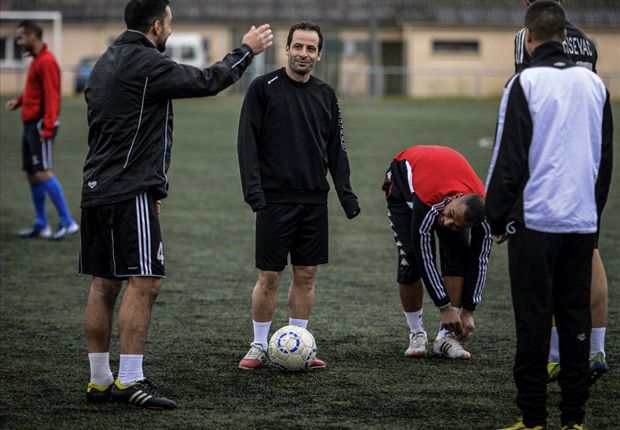 Right at home | Giuly trains with his team-mates in more modest surroundings


Wednesday's match with Monaco's millionaires is undoubtedly the biggest fixture since the formation of the club and comes hot off the heels of shocking Ligue 2 side Istres on penalties after a 1-1 draw in which their star veteran scored their goal.
"That's why I keep playing," Giuly told
Le Parisien
after the previous round's upset. "That's football and that's why I live for it ... Nothing gives me such emotions except for my children."
What Giuly receives in joy, however, he gives back to his team-mates, who were found blasting Gloria Gaynor's 'I Will Survive' from the locker room after the win over Istres before heading to a nightclub to celebrate in the most overly amateur manner possible.
"I had never hoped to have a player of his quality," admitted head coach Stephane Santini, who spoke to the media with tears in his eyes. "He is an extraordinary player for the squad ... He is someone who energises the team."
The coach by this stage had been presented with a matchworn Lionel Messi shirt by Giuly, while the squad chanted "Marrakech! Marrakech! Marrakech!" in joy as the former Champions League winner had promised them a trip to Morocco should they successfully negotiate the fixture.
While the squad's reward was ousting the modest Ligue 2 side was remarkable, Giuly's was Wednesday's encounter, which will be an unforgettable experience for a man whose appetite for the game remains undiminished.