COMMENT
By
Alex Young
So that's that then. As England left the field in Belo Horizonte, the site of their shock World Cup defeat to amateurs USA in 1950, off the back of a drab 0-0 draw with Costa Rica a worst-ever showing at the tournament was confirmed.
Three games played, two goals scored and one point earned. They finish bottom of Group D and at their lowest ebb in living memory - if not ever. So what now?
Goal
examines the lay of the land as England leave Brazil and look ahead to September's Euro 2016 qualification campaign...
YOUTH PROSPECTS HEADING INTO EURO 2016 QUALIFIERS
All the talk ahead of the tournament focused around Roy Hodgson's bold decisions on younger and inexperienced, but exciting talent.
And the emerging talents of Raheem Sterling and Ross Barkley gave the country hope of a brighter future with cameos against Italy and Uruguay, while the latter was one of the most impressive performers against Costa Rica.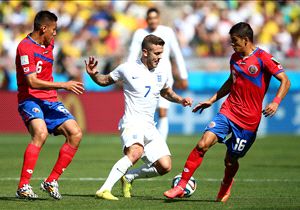 Sterling's replacement in Sao Paulo sparked England's mini-revival as Barkley showed invention and verve otherwise devoid from Steven Gerrard and the other supposed wiser heads in the squad.
Indeed, Costa Rica have been one of the surprise packages of the tournament but left-back Luke Shaw was strong in both attack and defence when faced with the Group D winners on his World Cup bow.
Jack Wilshere was also given a starting berth on Tuesday and, despite appearing to suffer a knock in the first half, showed glimpses of an understanding with Daniel Sturridge - creating two chances and boasting a pass completion rate of 86.96 per cent.
Roy Hodgson should be congratulated on giving youth a chance on the biggest stage but must now go one step further and build his team around these talented players.
Up next for England, after a September friendly against Norway, is the start of the qualification process for Euro 2016 against the likes of Switzerland, Estonia and Slovenia and, even if it was just against an already-qualified Costa Rica side, experience on the world stage could prove invaluable going forward.
PREMIER LEAGUE CLUBS
With every failure there is a silver lining, however tenuous, and the likes of Liverpool, Manchester United, Southampton and Everton will all be relieved that their top talent comes away from Brazil still fit with the start of the Premier League season just 51 days away.
ROY HODGSON
Believe it or not, Hodgson can come out of this World Cup in a positive light - even it is only for personal gains. After all,
he will keep his job despite a disastrous campaign where
, quite literally, the only way is up for England.
Draws against the likes of Poland and Montenegro during qualification were turgid affairs before pre-tournament friendly losses at Wembley to Germany and Chile were early signs of disjointed performances.
Stalemates against Honduras and Ecuador - the first time England have not tasted victory ahead of a World Cup since 2002 - were equally worrying in hindsight.
To survive such a string of poor results, with a guarantee of another tournament in two years' time, is impressive, however you look at it.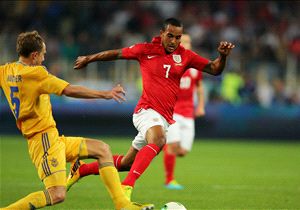 THEO WALCOTT
The Arsenal forward was ruled out of the World Cup in January after suffering a serious knee injury during Arsenal's FA Cup third-round victory over Tottenham.
He may well have started in place of Raheem Sterling in Brazil, possibly ruling out the failed experiment of putting Rooney on the left-hand side before the idea even entered Hodgson's head.
He can now look forward to the new domestic season with the Gunners and a return to the international fold away from any lingering negative fallout from the World Cup. Put simply, he is a winner through disassociation.
GRASSROOTS FOOTBALL
Is this the push England and the Football Association finally need? The FA's mission statement when St. George's Park was step up was one of attractive, modern football.
However, in a misleading appointment Aidy Boothroyd - a known advocate of long-ball football - now takes charge of England's Under-20 side. Not what you would call forward-thinking.
Obviously it is far too soon to start seeing any real progress from changes lower down the football ladder, but with Sir Trevor Brooking set
to retire from his role as Director of Football Development
following the conclusion of the World Cup, now is a better time than any to reassess the next step.
ROY HODGSON

In the immediate aftermath of the loss to Uruguay, Hodgson was faced with questions regarding his future. Indeed,
FA chairman Greg Dyke was forced to publicly back the under-fire manager
and insist the 66-year-old will remain in his role for Euro 2016.
Simply put, England have
gone from potential winners
to a worst ever start to a World Cup in five weeks.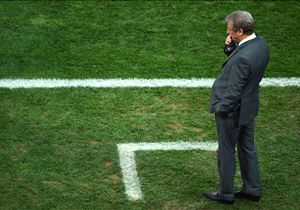 Gerrard, for all of his own faults during the tournament, has not been helped by his manager. He thrived at Anfield because he was part of a central midfield three which allowed him to sit while Jordan Henderson and the likes of Joe Allen did the running.
For England, Gerrard was paired with just Henderson while Raheem Sterling, Wayne Rooney et al were bombing up field and giving him any protection. Italy and Uruguay ran riot against the ageing captain.
Then there was Wayne Rooney who was tested on the left-hand side in warm-up games for the first time and cut a frustrated figure in the tournament opener against Italy, albeit supplying the assist for Daniel Sturridge's goal.
Hodgson's apparent gameplan was then thrown out of the window as Rooney moved into his preferred No.10 role against Uruguay - and scored. Whatever the reason behind the change of heart, the situation was mismanaged and misguided.
A adaptation to surroundings appeared limited as well, most notably against Uruguay when Hodgson took off both Danny Welbeck and Raheem Sterling and eradicated England's width with the introduction of Ross Barkley and Adam Lallana - who battled with Rooney for the No.10 spot with little-to-no luck.
Was Ashley Cole's snub in favour of Luke Shaw also a mistake? Possibly, with the Southampton youngster only featuring in the dead rubber against Costa Rica whereas Cole's experience would surely have been beneficial against Italy and Uruguay.
RICKIE LAMBERT
Perhaps not the most obvious choice, but let me details his statistics: three minutes of action; one touch of the ball; no shots attempted; no chances created; no hopes of featuring at another tournament in the future.
The new Liverpool striker's rise to international recognition has been marked and well documented but it is disappointing and, frankly, confusing that the likes of Rooney, or even Gerrard for that matter, were brought on against Costa Rica when Lambert could have been given a fair crack of the whip.
STEVEN GERRARD


You have to feel for Steven Gerrard. Everything was so bright just two months ago. Liverpool were on top of the league and seemingly racing towards a first title since 1990. One little slip later and that dream died.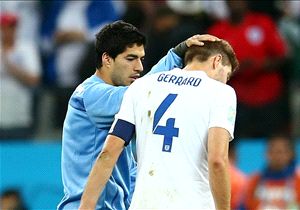 But he could look towards captaining his country at the World Cup. Yes, expectations were not high but the tournament in football's adopted home of Brazil was eagerly anticipated.
Again, though, it didn't go to plan. He was stifled by Andrea Pirlo & Co. in Manuas before inadvertently assisting Luis Suarez's match-winning second goal five days later.
It now all looks to be over for Gerrard on the international front, off the back of England's worst-ever World Cup campaign and just two caps off being the all-time highest-capped outfield player.
The Liverpool man has insisted
he will not rush into a decision on his international future
, with Roy Hodgson keen to keep him, but with England's next commitment being a friendly clash with Norway on September 3, he will need to make up his mind sooner rather than later.
THE SUPPORTERS
After one week in the 'winners' category and one in the 'losers' category, the England faithful can, unfortunately, be considered losers for the tournament after enduring an abysmal World Cup and paying over the odds to do so.
In figures recently released by Fifa, England fans were recognised as the fifth-highest buyers among supporters - preceeded by Brazil, USA, Argentina, Germany, all of whom have either confirmed their last-16 place or look likely to do so.
Follow Alex Young on