EXCLUSIVE
By Rob Stewart
England Under-21 international Gary Gardner has described Three Lions skipper-in-waiting Steven Gerrard as his idea of the "perfect player".
The teenage Aston Villa midfielder may have a brother who is an established Premier League player in Sunderland's Craig Gardner but it is their Liverpool peer who he idolised as a schoolboy.
"I'm a central midfielder and I like to bomb on and score goals and it was Gerrard who was my favourite player when I was growing up," Gardner told Goal.com.
"That's because he is an all-round midfielder who has got everything. He can tackle, shoot, pass and score goals. Gerrard is my idea of the perfect player.
"He has got everything you need in your locker to be a midfielder and he has been the driving force in Liverpool and England sides for ages. He's class."
Fresh from lifting the League Cup, Gerrard is in line to captain England in the international friendly against Holland at Wembley on Wednesday night.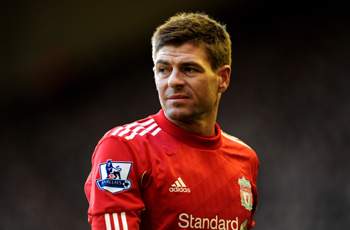 Gerrard is an all-round midfielder who has got everything. He can tackle, shoot, pass and score goals
That same evening, Gardner is hoping to play for the Under-21 side for the fifth time when the group leaders face Belgium at Middlesbrough's Riverside stadium in the countries' UEFA Euro 2013 Group 8 Qualifier.
"They are exciting times for me at the minute and if I can play for the Under-21s in the next game up at Middlesbrough then that would be great," the 19-year-old added.
"I came on in the last game and scored twice and hopefully I will be given another chance. I am looking forward to it and it's obviously an important game. We lost in Belgium and so we need get back to winning ways to strengthen our grip on top spot."
While he is fulsome in his praise of Gerrard, Gardner says he remains indebted to his older brother, Craig, who will no doubt be in the crowd on Teesside to cheer his sibling on.
"When I was a kid seeing what Craig went through to make it as a professional footballer helped me a lot," he continued.
"I take on board everything that Craig tells me what to do – you just need to eat, sleep and breathe football to be a Premier League footballer. He has been a massive help for me – even when times are bad he picks me up but that's what brothers are for.
"Craig is a really class player. I have been looking at him over the last couple of months and every game he has played out of his skin and if he keeps it up I am sure he can play every week. He likes Martin O'Neill they are flying at the minute and I think he is enjoying his football again."