EXCLUSIVE
By
Wayne Veysey
and
Greg Stobart
Tottenham
are planning urgent talks with
Harry Redknapp
to establish his intentions about the
England
manager's job,
Goal.com
has learned tonight.
Spurs are bracing themselves for an official approach imminently from the FA for Redknapp, who is the odds-on favourite to succeed Fabio Capello following the Italian's shock resignation on Wednesday evening.
Although the Premier League club are increasingly resigned to the possibility of losing the 64-year-old to the national team at the end of the season, they are desperate for him to stay on at White Hart Lane until May.
Tottenham sources tonight described the sudden availability of what Redknapp has always described as his 'dream job' as a "nightmare situation" for the club, who only hours earlier were celebrating their manager's acquittal at Southwark Crown Court on tax evasion charges.
Spurs recognise that Redknapp's burning ambition is take the England reigns, but chairman Daniel Levy will try to convince him to stay until the summer, and possibly even beyond.
Goal.com understands that Tottenham were on the verge of preparing to open negotiations with Redknapp about an extension to his Spurs contract, which expires in the summer of 2013, before the Capello bombshell.
That is likely to be put on hold as the club fight tooth and nail to hold on to the manager who took over from Juande Ramos at White Hart Lane in October 2008.
HARRY REDKNAPP PREMIER LEAGUE RECORD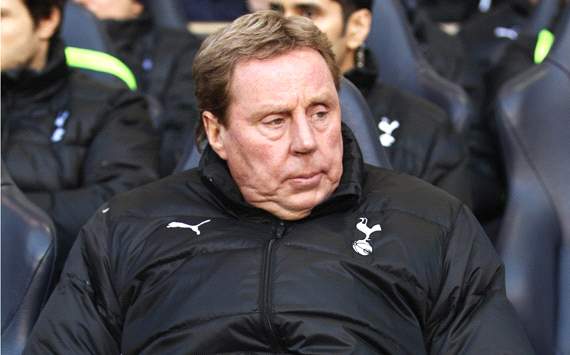 | | | | | |
| --- | --- | --- | --- | --- |
| PLAYED | WON | DRAWN | LOST | WIN% |
| 569 | 216 | 146 | 207 | 38% |
One idea that has been widely floated arpund in the aftermath of Capello's resignation is for Redknapp to complete the campaign with Spurs while also taking charge of England part-time.
The national team has three friendlies scheduled before the European Championships opener against France on June 11 – Holland at Wembley on February 29, Norway in Oslo on May 26 and Belgium at Wembley on June 2.
The FA is expected to ask under-21 coach Stuart Pearce to take caretaker charge for the friendly against Holland at the end of the month, before beginning a more considered search for a replacement.
It is likely that the FA will soon contact Spurs about the possibility of talking to Redknapp to ascertain his interest in leading England at Euro 2012.
However, Spurs are loath to share the club's most successful manager of the modern era for the next three-and-a-half months, especially given that they have an excellent chance to claim a Champions League place, lie seven points behind Premier League leaders Manchester City and only a tie against League One side Stevenage stands between them and an FA Cup quarter-final.
"Regardless of what happens next, the uncertainty is the worst part," one insider has told Goal.com.
Speaking at the turn of the year, Redknapp explained how difficult it would be for any English manager to turn down the national job, a role he regards as the pinnacle in the game.
"If it came along it would be difficult to turn it down for any Englishman. I've said so many times it's the pinnacle for any Englishman to want to manage their country."

- Harry Redknapp
He said: "If it came along it would – it would – it would be difficult to turn it down I think for any Englishman. You know I've said so many times it's the pinnacle for any Englishman to want to manage their country... I would like to see an English manager manage England.
"I would like to see that... when Fabio Capello finishes, I would like to see them give it to an Englishman."
Capello resigned on Wednesday afternoon following the complete breakdown of his relationship with the FA hierarchy over the board's decision to strip John Terry of the England captaincy.
The Italian felt undermined by his employers, who did not consult him on the Terry decision, and made no secret of his anger in an interview on Italian television station Rai on Sunday night.
Asked whether he agreed with the FA's judgement, Capello replied: "No, absolutely not. I spoke with the chairman and I told him that I don't think someone can be punished until it becomes official.
"The court will decide. It's going to be civil justice, not sports justice, to decide if John Terry committed that crime that he is accused of. And I thought it fair that John Terry keeps the captain's armband."
FA chairman David Bernstein accepted Capello's resignation just hours after the main barrier to him being considered for the role was removed following a 13-day trial.
The former Portsmouth and West Ham manager is renowned for his motivational skills and is the popular choice among England fans, pundits and players to re-unite a divided squad.
Wayne Rooney was the first England player to take to publicly express his backing for Redknapp on Twitter.
He said: "Gutted capello has quit. Good guy and top coach. Got to be english to replace him. Harry redknapp for me."
Capello, who was on a £6 million-a-year contract, has been under pressure since England's dismal performance at the 2010 World Cup, but it was his refusal to accept Terry's demotion that led to his early departure, having previously insisted that he would see out his contract until it expired at the end of Euro 2012.
The 65-year-old did not agree with the FA that Terry could not captain England while facing trial for allegedly racially abusing QPR defender Anton Ferdinand in October.
The FA had expected the matter to be concluded before Euro 2012 but last week the trial was put back until July, after Euro 2012.
In a statement on its official website, the FA confirmed that in an hour-long meeting between Capello, Bernstein and FA general secretary Alex Horne, "discussions focused on The FA Board's decision to remove the England team captaincy from John Terry, and Fabio Capello's response through an Italian broadcast interview."
Despite the bitter end to Capello's time as England manager, Bernstein thanked the former AC Milan and Real Madrid boss for his efforts and professionalism while at the helm.
He said: "I would like to stress that during today's meeting and throughout his time as England Manager, Fabio has conducted himself in an extremely professional manner. We have accepted Fabio's resignation, agreeing this is the right decision.
"We would like to thank Fabio for his work with the England team and wish him every success in the future."
Bernstein and the Club England Management team will hold a press conference at Wembley on Thursday to explain their plans for Capello's succession.