COMMENT
By
Wayne Veysey
at Wembley
Starting with
Sven-Goran Eriksson
's laissez-faire reign, continuing under
Steve McClaren
and gathering momentum during
Fabio Capello
's tenure,
England
friendlies over the last decade have been occasions to endure.
Allowances are made for the all-pervasive powers of the marquee clubs loaning their precious cargo but the paying fan has generally been poorly served.
Not at Wembley on Tuesday night. Not when the 20,000-plus visiting Ghanian supporters stirred up such a carnival atmosphere that even the most cynical observer could not help but be caught up in the innocent joy of it all.
Long before kick-off, the flags, chants and passions of the Ghana worshippers down Wembley Way provided acres of material for television directors looking to fill air time.
Commentators proved that their counterparts at the cricket World Cup need not have a monopoly on the words 'vibrant' and 'colourful'.
By the time the Ghanians had taken their expensively acquired seats at Wembley, they had worked themselves into such a frenzy that the England support, responding like a team going a goal behind, decided that if you can't beat them, join them.
It resulted in a barely credible 80,102 souls rocking football's greatest cathedral for a fixture that mattered barely a jot in the general scheme of things. It also proved that Wembley still has some sort of magical hold on visiting teams, who consider winning here such a prize.
Capello destroyed interest in the game beforehand by threatening to make 11 changes and then picked a team worth watching. Maybe one of the suits had had a quiet word with the Italian or maybe he realised he had sustained enough self-inflicted wounds over the last fortnight.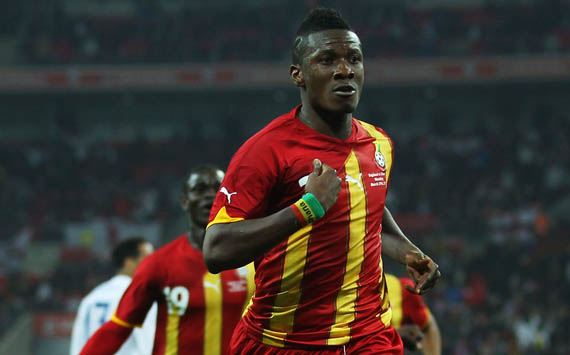 Cloud nine | Gyan celebrates after sending Ghana's fans into ecstasy with leveller
Those of us who had arched both eyebrows and turned our noses up at the futility of it all were glad to see four players retain their places from Cardiff (Joe Hart, Glen Johnson, Jack Wilshere and Ashley Young) and get a glimpse of others who are considered the best in the land in the 20-25 bracket.
This was one of those occasions when the atmosphere inspired the players rather than the other way around, which, save for the marquee fixtures, tends to be the modern trend.
It was tasty before the break as both teams threw themselves into challenges and Jack Wilshere was given the sort of attention he might expect on a trip to the north-west with Arsenal. After the break, Ghana replicated the rhythm and energy of their own supporters, thanks principally to the introduction of midfield anchorman Derek Boateng, who was on a one-man mission to barge his team back into contention.
The celebrations from the players and fans when Asamoah Gyan eased past the lumbering Joleon Lescott and squeezed the ball past Hart in the 90th minute was one of the greatest sights this stadium has witnessed since its 2007 rebirth.
If every friendly reached such standards there would be no grumbling about rip-off Wembley. Even Capello was in an upbeat mood afterwards, claiming "every tackle was a fight" and he had witnessed "a fantastic game, not a friendly".
Crucially, this meant England players could not just amble through the motions with the simple ambition of returning to club duty injury-free.
Young maintained his exuberant form from Copenhagen and Cardiff and must now, like Wilshere, be considered an established member of the starting XI. Leighton Baines proved that Ashley Cole has not cornered the market in dynamic, reliable English-born left-backs and Hart has rediscovered his consistency after a mid-winter dip.
Question marks remain over the back-up centre-halves. Gary Cahill, Phil Jageilka and Lescott all looked unconvincing against the enterprising World Cup quarter-finalists, while James Milner's annus horribilis shows no sign of abating.
There were also tentative plus marks for stand-in skipper Gareth Barry and Stewart Downing even if the award of the man-of-the-match to the Aston Villa winger by sponsors Vauxhall showed they should stick to making dull motors.
In six days, the Champions League roadshow will return and the thrills and spills of back-to-back quarter-finals will gobble up the attention of football enthusiasts.
Yet England's final friendly of 2010-11 should be remembered as more than simply an interesting diversion. This was a night when we were reminded that it doesn't require the lure of pots of cash or the chase for football's glittering prizes to stage an absorbing occasion.
Follow Wayne Veysey on