England
versus
Germany
, eh? Who would have thought it? Two countries, from groups we knew would meet each other in the last 16 of the tournament fully six months ago, will actually face off in
World Cup 2010
on Sunday in Bloemfontain?!
Fabio Capello's side have hardly been impressive in the tournament so far, edging victory against Slovenia on Wednesday to secure their progression to the knockout stages when a significant majority had already begun to doubt them.
The more fashion-savvy Joachim Loew has already seen his side play some impressive stuff in South Africa, albeit with one blip in the middle against Serbia, and have undoubtedly played sides of greater quality than England in preparation for the big clash.
All told, at least in this stage in proceedings, they've done enough to be considered narrow favourites when the game kicks off at 3pm inside the Free State Stadium. Couple that with their historical superiority (on the football pitch, at least) and there is enough reason for England fans to fear elimination.
But never fear, worried England fans,
Goal.com UK
is here to ease your concerns. Here is some totally unscientific evidence as to why England will successfully beat the old enemy and progress to the quarter-finals:
Don't mention the...
I've got the feeling that there is a precedent or two from history about England beating Germany, but, hey, I only did a degree in the subject, so one of the readers will have to remind the class of the finer details.
But the Americans arriving late to steal the glory? Japan hovering around looking dangerous, even if many nations are giving them little attention? Italy acting all tough and then getting knocked out of proceedings early? France surrendering after their 'best laid' plans were proven to be woefully misguided?
Something's definitely very familiar…
Even Emile Heskey has scored against them
Much has been made of Heskey's record of just seven goals in his 61 caps to date — but his record is a phenomenal one in one when it comes to games against Germany.
Back in 2001, the then-Liverpool forward notched the fifth goal against the old enemy in that memorable World Cup qualifier at Munich's Olympiastadion, resulting in commentator John Motson coming out with the factually accurate, if rather unimaginative, exclamation: "And Heskey makes it five!"
That is one of just two goals Heskey has scored in international tournament qualifiers (the other coming against Kazakhstan last summer), but that is still one more than the number of goals he has scored in the World Cup finals tournament proper.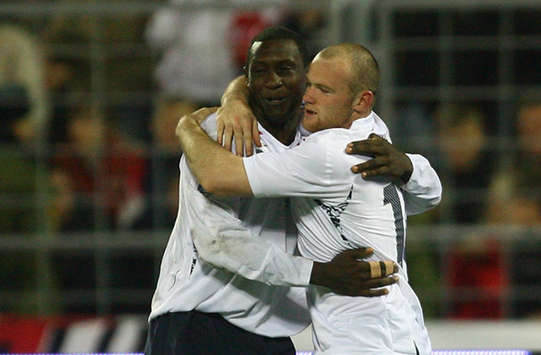 That's a keeper | A rare Heskey goal is worth a special celebration
But when did that goal come? In the last 16 of the competition in 2002, helping England to a 3-0 win against Denmark, that's where.
So, Heskey has a 100 per cent goal record in games against Germany AND in World Cup last 16 games. He's practically guaranteed to score on Sunday (if Capello picks him).
Finally, one of Heskey's middle names is Ivanhoe. That isn't relevant in any way, just particularly cool.
Curse of Eurovision
Little known fact, this: No country that has won Eurovision has gone on to win the World Cup later that year.
So, yeah, well done Lena and all, but you scuppered any hope your boys had of winning the trophy. Josh Whatshisface and our nul points look pretty handy right now.
England haven't missed a penalty yet, unlike the Germans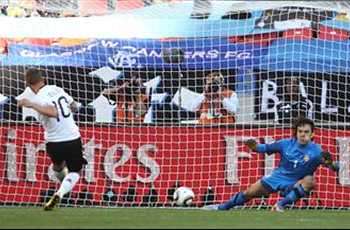 Okay, so England haven't taken one yet, but that may or may not be beside the point.
Many bookies are tipping the game to go to penalties — an area the Three Lions haven't traditionally excelled at in the past — but it is Germany that have so far struggled during this tournament from 12 yards.
Lukas Podolski is the offender, missing in rather crucial circumstances against Serbia, when he had the chance to grab his side an important point after going behind and down to 10-men in their second group game.
If that is a precursor of things to come, Then England should practically be falling over themselves to take it beyond extra-time.
Land of hope and (nickname) glory
England's nickname is the 'Three Lions'. Germany's is 'die Nationalmannschaft'. I don't even know what a 'die nationalmannschaft' is, but, in the land of safari, I'd take three lions over it in a fight any day.
Can you hear me scraping the barrel here?
Yeah, we never beat the Germans — but these guys aren't German
It's true. 1970. 1990. 1996 — we never seem to beat the Germans when it counts. Thank a higher power, then, that this team is about as German as putting towels on sun beds first thing in the morning while on holiday.
Wait, that's very German, isn't it? Let's try that again: This team is about as German as afternoon siestas.
Much better. For starters, Miroslav Klose, Lukas Podolski and Piotr Trochowski were all born in Poland — and we've had no problem beating Poland in the past.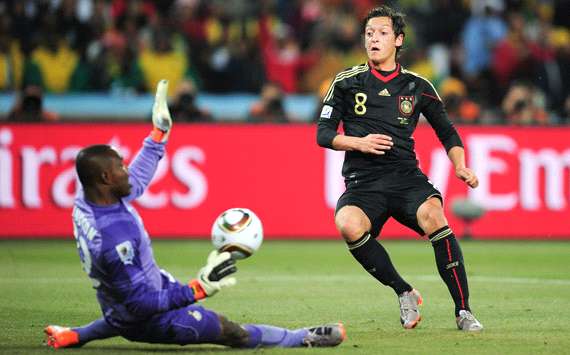 Oezil & out | Does the new-look Germany share the traditional proficiency against England?
Mesut Oezil and Serdar Tasci both sound Turkish (their parents are German, but we can conveniently overlook that) and, as David Beckham will tell you, we've most definitely had no problem beating or
taking penalties against the Turks in the recent past
.
Sami Khedira is of Tunisian extraction — they couldn't even qualify for the tournament in South Africa, and at any rate we beat them quite handily at the World Cup in 1998. That was only 12 years ago, how much can have changed?!
Cacau was born, and raised, in Brazil. We've… well, perhaps we'd better stop there.
But the point remains, this isn't a familiar Germany side. It certainly isn't full of 'typical Germans', something that Sir Alex Ferguson will no doubt be relieved about.
We've never lost to such a multi-cultural German side, and we've been playing international games for nearly 150 years. Why should that change on Sunday?