The former Beautiful South and Housemartins star, now reunited with Jacqui Abbott for a new album, talks life in League One, the Blades' FA Cup run and football's role in politics
Goal
caught up with Paul Heaton, formerly of the Housemartins and the Beautiful South and now reunited with Jacqui Abbott to release a new album - 'What Have We Become' - to talk about his long-standing love of
Sheffield United
, why 11th in
League One
and an
FA Cup
run is his idea of a perfect season and football's role in politics.
Why Sheffield United?PH:
I moved to Sheffield when I was four and my dad was a big football fan. I was one of three brothers and he took us to Sheffield Wednesday when I was about four, five or six - then, for some reason, I asked to go and see United. I can't remember why I asked but maybe we just thought of it as something to do.
I went with him by myself, without the other two brothers. I got in for free, which I hadn't done at Wednesday. They said: "Just sit him on your knee." I got a rattle and a scarf and a hat - I still have the scarf, actually. It was 1969 - I must have been seven - and we beat Aston Villa 5-0, so it was a great start and that was it. From then on, I supported United.
It must have been a bit of a nightmare with two Wednesday fans for brothers, sometimes?PH:
It wasn't as bad as you'd think. We moved down to Surrey when I was about 13 and they were older than me, 14 and 18. I remember meeting my brother at lunchtime and saying: "You'll never guess, they think I'm an Arsenal fan!" and he replied: "They think I'm a Chelsea fan!" We sort of became a bit united in being alien down south so it's not as bad as you'd think but it's been quite a testing journey.
CAN UNITED MAKE THE FINAL?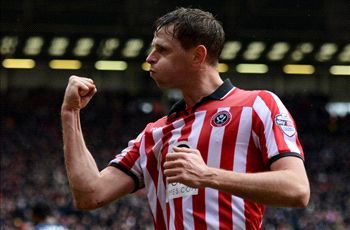 "We've got the perfect match [against Hull City]. We'll have to apply ourselves incredibly well to get any sort of result but it's not out of our reach. I'm fairly optimistic that we can make a fist of it"
When I moved down there, in 1974-75, Sheffield United were flying relatively high, sixth in the First Division that year but, like, five years later we were down in the Fourth Division so it was too much humiliation, really! But I've enjoyed every stage. I've enjoyed the lows as much as I have the highs and, obviously, at the moment it's nice to be a Blade.
I was going to say, this must be one of the best seasons in recent memory.PH:
Yeah. When people are changing their minds over a penalty in favour of us [against Brentford on Tuesday], you realise what a big club you are.
And obviously you've got that FA Cup run - how confident are you that you can do something quite extraordinary this season?PH:
I'm a little confident, I suppose. I'm not used to them doing well, apart from when I was very young, but my daughters go to the match with me and they're always quite optimistic.
If you look at the draw, I think we've got the perfect match. We'll have to apply ourselves incredibly well to get any sort of result but it's not out of our reach. That's been the case when we went down to Fulham and when we went to Aston Villa, as well ... so I'm fairly optimistic that we can make a fist of it. I don't think we
will
win but I don't think there's anything lacking in our ammunition and I don't think there are any particular players that Hull City have got who could destroy us.
Let's say you get knocked out and you stay where you are - you're 11th in League One, competing with several others for one realistic play-off spot. If everything stays as it is now, is that a good season?PH:
Yeah. I think we've got the worst record of any club in the play-offs so it's the sort of thing we'd like to avoid. We've only won one thing in my lifetime, I think - the Fourth Division championship - so I think it is a good season. I like the division we're in - it's really suited to us - and I'm not one of these ones who bleat about going up to the Championship. The Championship seems to be full of small sides with chips on their shoulder about being a big side.
THE PLACE TO BE

LEAGUE ONE TABLE

Team

1. Wolves
2. Brentford
-------
3. Leyton Orient
4. Rotherham
5. Preston
6. Peterborough
-------
7. Swindon
8. Walsall
9. MK Dons
10. Port Vale
11. Sheff Utd
12. Bradford
13. Coventry City
14. Gillingham
15. Bristol City
16. Crawley
17. Oldham
18. Colchester
19. Notts County
20. Tranmere
-------
21. Carlisle
22. Crewe
23. Stevenage
24. Shrewsbury

Played

40
39
---
40
39
40
39
---
40
40
40
40
39
40
40
39
40
37
40
40
40
39
---
39
40
40
40
Points

87
81
---
76
76
75
61
---
57
56
55
54
52
49
49
48
46
46
44
43
40
40
---
40
40
39
38
GD

47
27
---
35
28
18
9
---
5
4
2
-12
-2
2
1
-12
-1
-7
-12
-11
-15
-22
---
-22
-28
-20
-14
I've seen you talk before about preferring the atmosphere in the lower divisions so, in a way, is this the ideal season for you - doing quite well in the league and a cup run?PH:
It is, absolutely, the ideal season. You're right – just to finish, if we beat Wolves and just miss the play-offs, it's absolutely brilliant. I can't think of a better season. Getting to Wembley and just staying in the division you're in peacefully can be a joy. I don't want to go up. I know you should want the best for your side but it was the same in the Championship – everybody was all "oh, wouldn't it be great if we go up and get in to the Premier League" and then everyone's moaning when we're being beaten by Arsenal. I wasn't moaning, I was just thinking: "This is what you asked for. You deserve it." I was thinking: "This just isn't us." It isn't us to moan at players for not being good enough. The squad we've got at the moment is a really, really good squad - in our league. I don't want to see players I love being moaned at.
There's something to be said for winning more games than you lose in a season.PH:
Absolutely. That's it. I do think that promotion and relegation are just all about the day. When we were relegated to the Fourth Division I was absolutely distraught ... and then I saw who we were going to play and I thought: "Brilliant. I've never been to Colchester before." I thought the same with promotion. Wahey, the Blades have gone up ... and then you look at who you're going to play and you wonder which one of those you're actually going to win.
How do you feel about Saudi Prince Abdullah becoming part-owner?PH:
Well, I feel the same way about it as I would any massive capitalist investment. I feel, as most Manchester United or City supporters probably do, that it's as much my club as it is theirs. The addition of the words 'Saudi' or 'Russian oligarch' probably makes you feel as though, hang on, I've been watching this club...
I know Hull City struggle the same way. I know he's been there for a few years but you've got a person [Assem Allam] who wants to call them Hull Tigers. I just feel, unless we get a system like the clubs in Germany - where many of the clubs are either 50 per cent or fully owned by the fans – we're always going to have this. We're always going to be picked off by opportunists and strangers, be they from Saudi Arabia, Japan or just another town. You've got to have fan ownership.
You've written plenty of very politically aware songs. How much do you feel that football needs to be involved in politics and social change? Does it need to do more?PH:
It's a weird one, isn't it? You look at the Spanish FA, the way they've punished some of their teams and, say, Luis Aragones and it was absolutely miniscule when, in this country, with that sort of racism or behaviour, English fans would be rightly shocked. I think there was that friendly in the Santiago Bernabeu, with chanting at some of the English black players - and they were fined, I think, three or four thousand pounds.
I think football is moving in different ways in different countries but, because it's so international now, Fifa and Uefa have such a difficult problem. What seems like an outlandishly small fine in England would feel big in another country. It's a different atmosphere or a different culture or whatever so it's an incredibly difficult job they've got but we've just got to move on. Homophobia and racism in football have been a problem for a long time - and, just in general, insulting the opposition as opposed to backing your own team has been part of the game here for years and years. Some of the signs people hold up are incredibly backward.
Football will always move behind public opinion, I think. I would like to hear more from the footballers, to hear more white footballers speaking out against racism. It seems to me that the media are constantly trying to focus on black footballers when I know that there are many, many white footballers who find it equally abhorrent and the only real spokespeople are the black footballers.
Footballers are in a position of power and I still respect them. I'm one of the few people who don't think they're just an overpaid bunch of idiots; there's some good people in football. They are, after all, the workers out there on the field and they get their market rate, in my opinion.
You've teamed up with Jacqui again for the new album. Has it been just like old times?PH:
It's been fantastic. I'd been writing a few solo albums without her but I've always been writing for Jacqui, always heard Jacqui and struggled to find somebody like Jacqui. It was really nice knowing, when I was writing them, that she'd be singing it. Our new single is a real tongue-twister and she's got that diction that I knew I could rely on so it's a real delight.
I think it'll be confusing for some people because not since Jason Donovan and Kylie Minogue did it have there been people who've gone out on tour being advertised as a double act. But she's a brilliant lass and we've all grown up since the Beautiful South days so we're having all the fun.
"What Have We Become" is the new album from Paul Heaton & Jacqui Abbott, released May 12 www.whathavewebecome.net