SPECIAL REPORT
By Gaia Brunelli
"I could not say no to the president," said Clarence Seedorf as he confirmed the end of his 22-year playing career in order to take on the role of head coach at AC Milan. But whatever he says in public, he must have had half a mind to turn down Silvio Berlusconi given the disastrous state of the
Rossoneri
.
The Dutchman arrives at Milanello on Wednesday knowing he can hardly make things any worse than they currently are. With his side sat 20 points off a Champions League place in Serie A, he basically has the task of evaluating the big picture between now and the end of the season. Until then, at least, he will have Mauro Tassotti alongside him, but come June a decision could well be made by either party to end the former right-back's stint as assistant coach.
In reality, it will only be in the summer that the former Milan No.10 will make a firm plan in terms of the make-up of his backroom staff. Such is the personal bond between Berlusconi and Seedorf, the new coach will not only be given the next four months to bed in, he will also be handed
carte blanche
when it comes to forming the support team that will stay with him until his contract ends in 2016.
One thing he will certainly be able to count on is Berlusconi's trust. The two used to dine together regularly, and Seedorf would always head straight to the president to air any views he had, whether they be problems or just general musings. The close relationship was such that there was never going to be anyone else lined up as Massimiliano Allegri's successor.
Seedorf had initially been due to take the job this summer, with a pre-contract agreement already signed, but Allegri's failure to get things back on track hastened the changeover and resulted in the ex-Ajax star being given extra time to bed in. It also means he can give his tactical plans a trial run between now and May.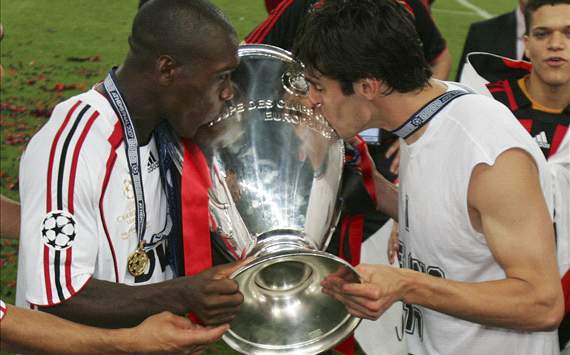 Common cause | Seedorf may ask Kaka to change roles for the good of the team
He has already stated how pleased he is by the prospect of walking back in to the training ground to find seven former team-mates waiting for him, but his new plans will include some changes for even them, just as Berlusconi was hoping after a period of significant stagnation.
He will certainly consider the famous Christmas tree formation with which he and Carlo Ancelotti were successful during their time together at Milan, placing Kaka and Keisuke Honda behind Mario Balotelli. However, a switch to 4-2-3-1 can certainly not be ruled out, with Seedorf thought to be keen on the idea of playing Giampaolo Pazzini as the spearhead (rather than Fiorentina-bound Alessandro Matri). Balotelli would take the central spot behind the ex-Sampdoria man, with Kaka and Honda potentially in the wider attacking roles.
The placement of Kaka, though, is far from set in stone.
During the latter days of his playing spell with the
Rossoneri
, Seedorf was unhappy with Allegri's decision to play him in a strict midfield role, with the Dutchman feeling too tied down and restricted. Instead, he wanted to play in one of the attacking midfield positions that most resembled his job when playing under Ancelotti.
Yet Seedorf is thought to see Kaka's future in a slightly more withdrawn role, too. He could well use the Brazilian from a central midfield position with licence to attack from deep, but also an obligation to sacrifice himself defensively in a way he has not previously had to. Even if Kaka is played in a role mirroring Honda's in the attacking midfield department, both players will still be asked to do more work without the ball.
Seedorf arrives with the "beautiful game" high on his priority list, but Milan's need for results conquers all, with Kaka among those who could be asked to adapt due to the current malaise.
Follow Gaia Brunelli on