ANALYSIS

By Joe Wright & Johann Crochet
"At best, remarkably stupid" was how one prominent French journalist summed up
Nicolas Anelka
on Saturday. The mercurial striker should have made headlines after
West Brom's
3-3 draw with
West Ham
for scoring his first competitive goal for the club.
But instead, he sparked outrage in his native France and now faces a possible ban for his controversial celebration.
Wheeling away after tucking home Chris Brunt's pass shortly before half time, Anelka performed what is known as
la quenelle
in his homeland; his right arm extended to the ground, his left touching just above his shoulder.
The gesture has gained publicity and infamy thanks to comedian Dieudonne, who claims it to be an anti-establishment statement. To much of France, however, it is seen as anti-Semitic - a reverse Nazi salute.
After the match, Anelka insisted the gesture was merely a dedication to his friend Dieudonne - real name M'Bala M'Bala - and has since tweeted: "Meaning of
quenelle
? Anti-establishment, I'm neither anti-Semitic nor racist."
But whatever his intentions, the damage has been done. The English Football Association confirmed it will investigate the incident to see if further action is required and there are many in France, including senior politicians, who believe there can be no question over the
quenelle
's intended meaning.
Valerie Fourneyron, France's Minister for Sport, tweeted: "Anelka's gesture is a shocking provocation, disgusting. There's no place for anti-Semitism and incitement to hatred on the football field."
"The
quenelle
is a Nazi gesture, clearly anti-Semitic," added Chantal Jouanno, who formerly held the post. "We don't have time to lose on the interpretation of this
quenelle
. It's known as [an] anti-Semitic gesture.
"The problem with Nicolas Anelka is that he only wants to make headlines with bad actions. He should be punished."
The European Jewish Congress also insisted the former Chelsea and Real Madrid striker has a case to answer, claiming: "The FA has to ban Nicolas Anelka. This
quenelle
is a reverse Nazi salute and is unacceptable." The Grande Mosque de Paris was also quick to condemn the player.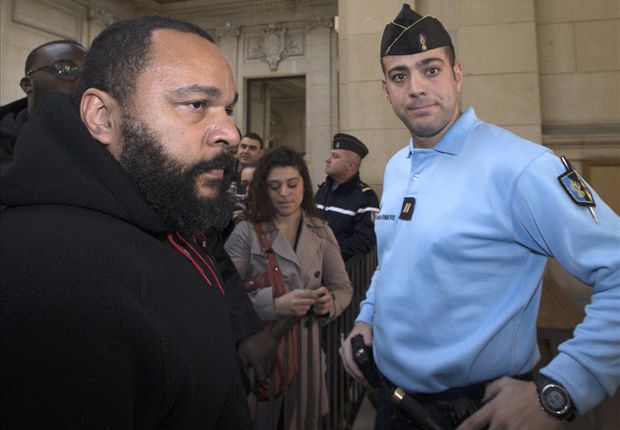 Dieudonne | The comedian has been targeted for his right-wing views
But Anelka is defiant and his latest tweets are undeniably anti-establishment. "This
quenelle
was a dedication to Dieudonne. Concerning the ministers who have given their own interpretation of my quenelle, they are the ones who create controversy and confusion without knowing what the gesture really means. I ask people not to be duped by the media."
And his is not an isolated voice. Tottenham's Benoit Assou-Ekotto, for instance, tweeted his support immediately after the match: "Congratulations man, what a beautiful
quenelle
today." Former France international Marcel Desailly later explained to
Canal +
that the incident should not be blown out of proportion.
"It was not an anti-Semitic connotation," he said. "Anelka has already explained it. People are reacting too quickly with this - we should wait a while.
"However, knowing that the line exists, he could have avoided this behaviour. What's more, he knew that all eyes were on him at that moment."
Dieudonne is a divisive figure. Criticised by many for his perceived anti-Semitic material, the comedian has nonetheless gained a large following in France.
Around 200 fans flocked to a Paris theatre on Saturday to lend their support to Dieudonne who, speaking through his solicitor, suggested Anelka's antics would be better received by a British sense of humour than the "fevered" opposition in France.
Dieudonne's claims that the
quenelle
is an anti-establishment gesture are met with continued and vehement opposition. They point to his use of the image on posters in an election campaign in 2009 as part of an anti-Zionist movement. What's more, Manuel Valls, France's interior minister, suggested on Friday that Dieudonne's public shows could be banned at the risk of inciting further trouble.
It was not an anti-Semitic connotation... however, knowing the line exists, he could have avoided it. He knew all eyes were on him.



- Marcel Desailly

Could Anelka's bad-boy reputation be a contributory factor behind the outrage? Montpellier youngster Mathieu Deplagne celebrated a goal with a
quenelle
in 2012, but the incident went largely unnoticed. Other well-known sports stars without Anelka's chequered history have escaped heavy criticism: both NBA star Tony Parker and Liverpool defender Mamadou Sakho have been pictured with Dieudonne performing the gesture.
Anelka's long and largely successful career has been blighted by controversy. As a supremely talented youngster, his spells with Paris Saint-Germain, Arsenal and Real Madrid were cut short as he became too troublesome to tolerate; in both 2003 and 2010, he publicly fell out with France coaches Jacques Santini and Raymond Domenech, the latter incident landing him with an 18-game international ban.
After an unsuccessful spell with Juventus last year, West Brom handed the 34-year-old the chance of a swansong, to once more let his football do the talking. But the celebration gesture has sparked another heated off-the-field debate and it is difficult to believe that such an outcome was not Anelka's intention.