So Laurent Blanc's reign began as Raymond Domenech's ended: with a 2-1 defeat on foreign soil. France were of course deficient in areas as they slumped against Norway, but 'Le President' will have learned lessons from the loss.
Les Bleus were in a much-changed form. Gone were all of the 23 players involved in the notorious World Cup campaign and in were 22 faces, many of whom were fresh, all of whom were eager to impress the new coach.
Blanc made no secret of the task that lay ahead of his side at kick-off. He tried to quell the expectations of a public hungry for success by noting that Norway are always obstinate opponents at home, doubtless aware of his side's almost total lack of international experience. The France team that started the match had just 35 caps between them, with Philippe Mexes and Samir Nasri boasting the vast majority of these.
Much was therefore to be learned about the players, both by themselves and the management.
It's already been well established that Blanc feels that the defence is the area in the most desperate need of rejuvenation. With this in mind he didn't touch his back five over the course of the 90 minutes, though he would have been alarmed with the manner in which they reacted to the concession of the equalising goal.
Whereas before the back line had been a solid unit, adept at cutting out even the most piercing Norwegian incursion, albeit sometimes at the last moment, great holes could suddenly be cut through it, as was the case with Erik Huseklepp's winning goal. The forward pounced on an error from Lassana Diarra in the heart of the midfield to round Stephane Ruffier and slide into an empty net having been gifted a veritable canyon to run down.
The combination of Philippe Mexes and Adil Rami holds promise, but it was not fulfilled in this encounter, while there can be little doubt that Hugo Lloris will back them up in the future.
In the centre of the field eyes were largely focused on the performance of Samir Nasri, who was controversially axed from Domenech's World Cup squad, not even making the final 30. The Arsenal man was very active, willing to take responsibility in the centre of the pitch, though lacking in killer touch, perhaps due to a lack of competitive games on the domestic front.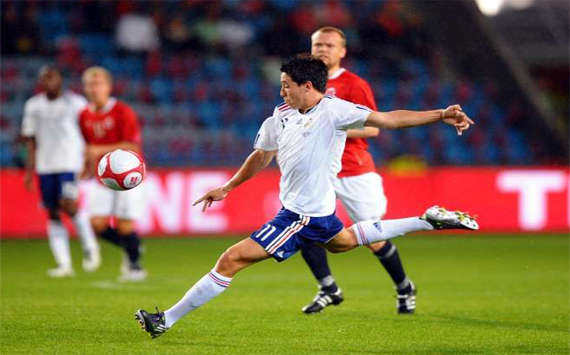 Youngster Yann M'Vila and Moussa Sissoko did not do themselves any great harm in this sector of the pitch, though their performances shouldn't be immediate cause for worry for the more senior members of the squad.
On the flanks both Hatem Ben Arfa and Jeremy Menez looked lively once they had graced the field in the second half. OM star Ben Arfa, who is reported ready to move to England, scored within minutes of his introduction, while both men injected life and effervescence into the France attack that has previously been lacking in recent games. As 'luxury players' it would be brave to advocate playing both, but they are now certainly legitimate options.
In attack there remain questions. Neither Guillaume Hoarau nor Loic Remy really grabbed their chance, and despite boasting a number of names at big clubs les Bleus are lacking in a player to get them a key goal at a key time now that top scorer Thierry Henry has finally retired.
After the match Blanc produced a positive speech. France deserved better, he claimed, supporting and defending his players, some of whom will come into his plans in the near future, many of whom won't.
Although no-one stood out as an outstanding prospect, Blanc now knows where his fringe players stand, and armed with that knowledge he has the difficult task of reconstructing a fragmented side quickly enough to overcome Belarus on September 3. It is a job that will take months and cannot simply be completed in 90 minutes.