Goal.com reflects on what has been an off-season of crisis in France...
Someone wake French football from its nightmare. Summer 2010 could barely have gone any worse for the national team, with the humiliating and dramatic nature of their
World Cup
exit in South Africa well documented. But the problems for les Bleus in fact started well before the team set foot on the Old Continent.
When the news broke back in April that Franck Ribery, who endured a difficult season at Bayern Munich due to injury, was, along with a couple of unnamed players, embroiled somehow in a scandal involving an under-age prostitute, that should have been taken as a sign of things to come. By the middle of July, Ribery's problems have escalated, as he has been indicted with the "solicitation of a minor prostitute".
Of course, Ribery and Karim Benzema, who has also been charged with a similar offence, must be presumed innocent at this stage of proceedings, but the case has nevertheless cast a very dark cloud over the summer of 2010 for both players.
With such worries hanging over his personal life, it is little wonder that Ribery failed to live up to his billing as one of the world's top players in South Africa, often looking to overcomplicate matters as France strived but failed to break their various opponents down. Benzema, meanwhile, did not even make Raymond Domenech's 30-man preliminary squad – was the coach privy to more detailed information than the general public?
There appears little value in conducting yet another autopsy into les Bleus' disastrous form at the World Cup, or even Domenech's squad selection before that, but there can be little doubt that the 'Affaire Zahia', which could bring the players three years of incarceration if found guilty, certainly contributed to the tension and anxiety in the camp, even if it was only in an indirect manner.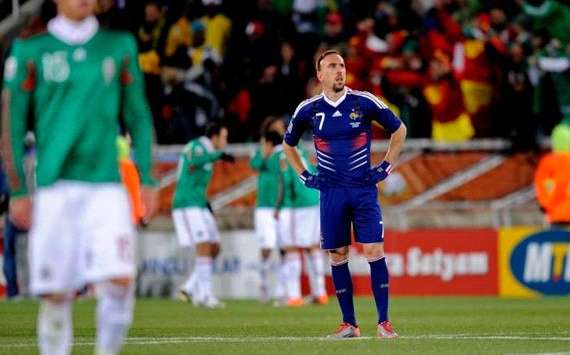 Summer of distontent | Ribery stuggled in South Africa
What's really required now is a quick resumption of the case. Instead of a long and dragged out saga that lasts weeks and months, it would be better if matters reached a speedy conclusion. French football must somehow stop the haemorrhaging, but matters at present are outside the control of the FFF (French Football Federation) and are instead in the hands of the courts.
The Zahia case has acted as a cancer in the French game for several months, growing silently and in a maleficent manner, casting suspicion on those undeserving of it and poisoning the game in l'Hexagone, while also reminding the public of a darker side to life.
With the dawn of a new season approaching, football in France must learn from the mistakes – both individual and collective – that have been made over the course of the last few months. These events should not be forgotten, but as a collective they must be put to one side as new France coach Laurent Blanc muses over the potential ramifications of the affair and how they might affect his first squad.
Perhaps once the action on the pitch gets back underway, French football will look to be in a rosier state.