Roberto Mancini
was succinct, "Tevez is not available for Saturday," said the underfire boss ahead of the all Manchester Wembley showdown.
Manchester City's season hangs in the balance with their huge spending spree yet to reap a dividend. Qualifying for the Champions League is by no means a banker and without their Argentinian superstar aren't expected to beat Manchester United in the FA Cup semi-final.
Match Odds: Man City 3.50, Draw 3.0, Man Utd 2.0 (William Hill)
Losing Tevez for up to a month comes could be the final nail in Roberto Mancini's expensively assembled coffin. The Italian boss has splashed out on forwards Mario Balotelli and Edin Dzeko but Super Mario's penchant for madness and Dzeko's anonymity haven't yielded Mancini much of a return.
Indeed, it's a player brought in by Mancini's predecessor Mark Hughes who has consistently delivered. He plays like his life depends on it and hasn't always seen eye to eye with his allenatore - Carlos Tevez.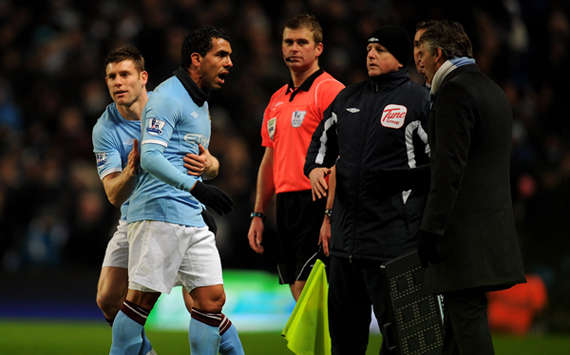 Percentage-wise, no team is as reliant on one player for goals as Manchester City, with the forward scoring nearly 40% of their Premier League return. Whilst Tevez has 19, their next most prolific striker can boast only six goals (Balotelli). Tevez's contribution though, is of more significance when analysed further.
His 19 league goals have come in 12 different games, of which the Citizens have won 11, drawing the other. He has netted winners in six games and most importantly, City haven't lost a single match, in any competition, when Tevez has scored. A truly remarkable stat, especially when you consider how much Tevez contributes apart from goals.
Mancini might well cite Tevez's absence as the reason City exit the Cup at the last four stage and if they miss out on the lucrative Champions League. Whilst last season, the ex-Inter boss could blame their narrow failure to qualify for the CL on Mark Hughes' poor start, (whilst in fact, Mancini took the same points tally from the first 13 games of this campaign as Hughes in 09/10) this season there is no fall guy except him.
An inability to deliver a top four finish for a second consecutive year looks like it would cost him his job and even if Mancini delivers, the enduring criticisms over his playing style seem destined to fester on. Mancini's implementation of a system with two holding midfielders has caused frustration amongst fans in particular, who are keen to see the wealth of attacking talent flourish in a fluid, creative formation.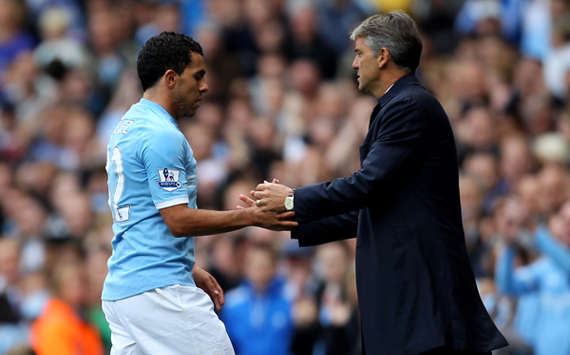 He could win the FA Cup and finish in the top four but still the desire to bring in a genuine top liner like Jose Mourinho will endure. The bookies are hedging their bets pricing Mancini @
1.62
to be in charge on the first day of next season compared to
2.20
against. Expect those odds to tumble if City's season unravels between now and the end of May.
Tabloid speculation has already suggested Tevez has played his last game for the club. The jury remains out on who will exit Eastlands first, the manager or their mercurial talisman, but there is only one winner on who most Manchester City fans would rather hold onto. Hint, it's not Roberto Mancini.
Next Premier League Manager To Go Odds (William Hill)
No manager to leave before end of season @ 2.37
Steve Kean @ 3.50
Carlo Ancelotti @ 4.0
Steve Bruce @ 6.50
Gerard Houllier @ 8.0
Roberto Mancini @ 10.0
Sign up with William Hill for a free £25 bet