International value
With the international break this week now is the time to put in the preparation for what promises to be a profitable weekend. From a punter's perspective betting on the international scene is more of a gamble than the club game.
You need to be more careful with your selections but as always there is money to be made. One of the reasons why we have to do our homework that bit more for these types of games is there can be a gap of three months between international fixtures.
That makes assessing form a tad more difficult as a country may have only played a handful of games recently. Sniff around though and you can spot value on the emerging countries which bookmakers often underestimate.
For example, countries like Japan and South Korea often have good value attached to their odds. Both nations have improved in recent years and don't lose many matches. The last time Japan lost a match in normal time was against the Netherlands at the World Cup.
Since then the Samurai Blue have beaten Argentina and Paraguay in friendly matches and been crowned Asian champions. You can argue that Japan play in a weak region but in recent times they have proven to be a match for anyone.
Eastern Europe continues to emerge with the likes of Belarus and Georgia making massive improvements in recent years. That's not to say you should put the house and car on eastern European teams to win this weekend but consider handicapping them, where bookies often screw up.
Take last September when Belarus played France in Paris and many canny punters (myself included) gobbled them up on the handicap market. Only the most optimistic Belorussian would have fancied them to win the game but they did so and created history in Paris. Laurent Blanc certainly didn't see it coming.
We didn't even need the handicap as Belarus won the game. Stay up to speed on the improving nations and you could be quids in.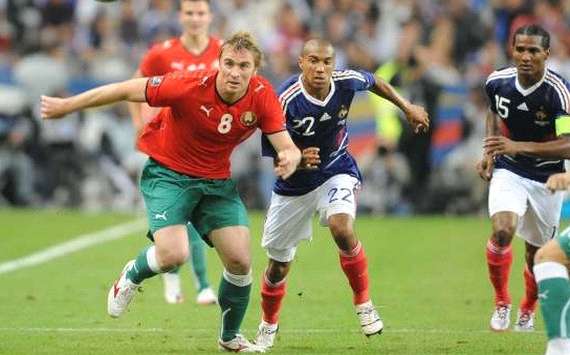 Man City's lack of sparkle
England's Premier League gets more interesting by the week. We look to have a scrap on our hands between Arsenal and Manchester United with Chelsea quietly fancying their chances.
The Blues showed their class against Manchester City and you can rule out Roberto Mancini's team from the title race. In truth the Citizens deserved nothing from the game, showing no desire or intent during the 90 minutes.
Roberto Mancini is negative in his approach and sets out his stall not to concede goals. His attitude is that if his team don't concede then they will win the match as nine times out of 10 his team will score.
City fans are losing patience with his approach as the Italian has many outstanding attacking options at his disposal. They simple can't flourish under his regime and he's not helped by Mario Balotelli's regular bouts of madness. Mancini is 17.0 to walk the Premier League plank next and it's doubtful he'll be in charge next season.
Chelsea's resurgence
David Luiz has been a tremendous catch for Chelsea and has certainly helped reignite their title challenge. The Champions will probably need to win all of their remaining matches to have a chance to retain their crown.
With Chelsea you always get the feeling they are lacking that extra bit of craft and guile in midfield. They would sweep all before them in England if they had a player in the middle who could open up defences with that extra piece of skill and vision. Palermo's Javier Pastore would be a perfect addition to the Chelsea squad. He has an exquisite touch, great ball skills and a wonderful footballing brain.
Pastore would create so many chances for Torres, Anelka and Drogba that Chelsea would only have to turn up to win some matches. He's a class act who will chip in with goals too.
If Roman Abramovich has any sense, which I'm sure he does, he will sail his most expensive yacht to the island of Sicily during the summer and not leave until Pastore is on board.
Manchester United still look the pick to win the title @ 4/7 which looks a decent price. Chelsea won't surrender their title without a fight though.
And finally...
Thank you to all who signed up to my website recently
www.jdfootballbetting.com
. If you would like to sample the service I am offering a free trial to people who make an enquiry with me over this weekend. There's lot of opportunities to make money so contact me on
jdfootballbetting@live.com
.
JD's Tips
*Barcelona B to win @
4/6 (1.66)
* Peterborough to win @
10/11 (1.90)
JD is Goal.com's betting blogger is a professional punter with a stock market background.
You can visit his personal site here.
Follow JD on

Sign up with William Hill for a free £25 bet