Ally McCoist
would be happy to see newco
Rangers
play in the Scottish Third Division if it means an end to the club's "punishment".
An overwhelming majority of SPL clubs rejected the Ibrox side's application of rejoining the top flight and McCoist has thrown his weight behind a relaunch in the basement division, also claiming that most of the fans see this as the best outcome.
He told the
RangersTV
: "Like everyone else involved at our club extremely disappointed is putting it mildly.
"We are now in the hands of David Longmuir at the SFL [Scottish Football League] who is certainly a man that Charles [Green] and I trust implicitly.
NO SPL FOR NEWCO RANGERS Reborn club must start in Scottish Football League

"He is a good honest man that I firmly believe has the best interests of Scottish football at heart, of that there is no doubt.
"Out of all the characters involved in this situation I think David and his member clubs have been very unfortunate to have been put in a position where they have to make a decision.
"Whatever decision they reach we will accept. Having said that from my meetings with our supporters, and the vast majority of SPL chairmen have been listening to their supporters, which is great, I'm all for it.
"We had a meeting with our supporters last night and the vast majority of them - in the region of 75-80 per cent - have said enough is enough, let's go to SFL 3.
"Our good friends at Celtic across the city issued a statement that stated that integrity was of paramount importance to Scottish football and we totally agree with that, and I would imagine the vast majority of all SPL chairmen agree with that statement."
Second Division side Stenhousemuir would vote for newco Rangers to join the First Division as they fear a loss of £50,000 if they relaunch in the Third.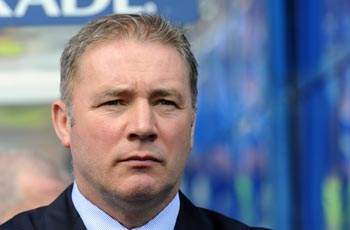 "Whatever decision they reach, we will accept"

In a statement on their official website, they said: "The impact for Stenhousemuir FC of this option would be the loss of the SFL central payment aligned to the SPL settlement payment. That would total £50,000 a season.
"This is a significant amount of money for the football club and we would have to find ways to cut our costs to cover this shortfall.
"Given that we have made commitments to playing staff for this season the playing budget cannot be reduced.
"Therefore the only option open to us to make significant savings would be in scrapping our youth system to release the pitch for hire to the general public, together with a reduction in staff who oversee our community programme.
"The club does not feel any decision should be based on 'punishing' any other football clubs; that is neither our role nor our priority."
The Scottish Football League will decide the Glasgow club's fate on July 13.