COMMENT
By Robin Bairner
When a player is much loved in the stands of
Olympique de Marseille
's Stade Velodrome, it is rare that he provokes anything but a distasteful reaction from
Paris Saint-Germain
supporters the world over.
Fabrizio Ravanelli is a perfect example.
Remembered in his playing days for his shirt-over-the-head celebrations and his prematurely grey hair, the Italy international striker became a fans' favourite wherever he was signed. His industrious style and impressive scoring record – 28 goals in 64 Ligue 1 matches – particularly impressed the Marseille support, who welcomed him with open arms.
Before the former Juventus striker had even kicked a ball at OM's home ground the supporters unveiled a banner stating: 'Fabrizio, you are the sun of Marseille'.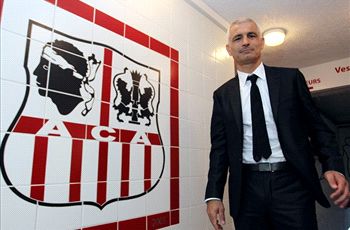 "The penalty was a painful episode for me"
If the feelings from his home fans were strong, those from PSG would become equally intense though entirely opposite.
Ravanelli, who has graduated to become head coach at Ajaccio after a spell in Juventus' youth set up, returns back to Parc des Princes for the first time since leaving OM on Sunday and is sure to receive a particularly hostile welcome.
The Italian is, after all, central to one of the great controversies between what has become France's most fervent rivalry.
In 1997, Marseille travelled to Paris in early November. The match was poised at 1-1 just after the hour mark, with the southerners having taken the lead through Xavier Gravelaine before Jerome Leroy levelled for the hosts.
Then came the defining moment. Ravanelli burst into the left side of the penalty area and tripped seemingly over the foot of Eric Rabesandratana. Although the Italian's fall was convincing, replays proved inconclusive as to whether there was any contact.
But instantly the referee pointed to the spot, from which Laurent Blanc slammed the ball down the middle and into the net for the decisive goal.
Needless to say, such a moment on such an occasion saw angry exchanges from both sides. Rabesandratana, for his part, has always denied he committed a foul.
Speaking over a decade later in 2008 to
PSG70
, he explained: "When you see the pictures it looks like I touched him but this is not the case. In fact, as you can see on the pictures, he tripped himself up by putting one leg behind the other and brushing my knee."
Ravanelli's self-defence to what has often been described in France as a 'diving benchmark' has been equally impassioned.
"I can say, 15 years later, with my hand on my heart, that there was a penalty," the Ajaccio boss told
France Football
last month. "This penalty was a painful episode for me ... I repeat, I have never cheated."
Regardless of the coach's protests, the Parc des Princes will not welcome him kindly on Sunday evening as the 44-year-old attempts to set up a team including Adrian Mutu and Guillermo Ochoa to get an unlikely point.
Ajaccio will base their game around organisation and industry, and they will aim to reap the rewards of an incredibly intense pre-season that saw players regularly throw up because of its harshness.
Ravanelli has said he wants his side to reflect his spirit as a player – combative and hard working – though on in his first competitive away game as a head coach – a baptism of fire if ever there was one – another soft penalty would not go amiss.
Follow Robin

Bairner

on