COMMENT
By Ben Somerford | Asian Football Editor
Almost two years ago, the Argentine Football Association (AFA) board unanimously decided not to renew Diego Maradona's contract as national team boss, and this week's announcement by Al Wasl to sack him has come in similarly ignominious circumstances. The immediate question in the aftermath is where does Maradona's future lie and what does this latest episode do to his legacy?
Unfortunately for the Argentine legend, once again he has been found out as a coach despite his best efforts, commitment and passion. Tactical naivety, a failure to instill discipline and an inability to convince his board of his vision has led to his demise in Dubai, just like with the
Albiceleste
.
The latest reports of Maradona pleading for a second chance from Al Wasl scream of desperation from a man unwilling to accept his fate, one who knows in the back of his mind that he may never get another coaching gig. It is a shame for an icon whom many the world over believe to be the game's best ever player.
However, Maradona's post-playing life has always been a far cry from the dizzying heights of his on-field career. Drug abuse, health problems, tax issues and outlandish, sometimes radical, comments have dogged him, as well as a coaching career which has convinced few. Indeed, Maradona's stint in charge of Al Wasl was seen more as a marketing stunt aimed at generating interest in the club and UAE's Pro-League rather than boosting the side's hopes of winning the title. That alone says a lot about Maradona's status in the game nowadays.
| | |
| --- | --- |
| "Maradona's time with Al Wasl was a whirlwind of emotion, brilliant press conferences and unforgettable quotes, drawing all sorts of media coverage... but his passion for the job never translated into results" | |
Just as in his time in charge of his country, Maradona's spell with Al Wasl was a whirlwind of emotion, brilliant press conferences and unforgettable quotes; drawing all sorts of media coverage for the Dubai club. On the field, though, his passion for the job never translated into results. The reality is the all-action Argentine's passion is no substitute for a cool head and decent tactics, which sealed his fate as national team boss two years ago and once again in Dubai.
Al Wasl went through the 2011-12 campaign without winning a single trophy; finishing a dismal eighth out of 12 in the Pro-League, however arguably the final straw was the team's collapse in the Gulf Clubs Championships final where they blew a 3-1 first-leg lead to eventually lose 5-4 on penalties in the return game in Dubai after a 3-1 defeat to Al Muharraq.
The second leg was a disaster, with two players sent off for completely undisciplined acts (both headbutts); something a well-coached side would never let happen. Maradona, who had several moments of madness in UAE, including an altercation with Al Shabab fans in the stands during a game, a public war of words with a rival coach and an incident where he kicked a fan while posing for a photo, simply could not instill the discipline needed. Maradona and Al Wasl later tried to ban goalkeeper Majed Nasser for a season for his 10th-minute headbutt but the damage was done and it was too little too late.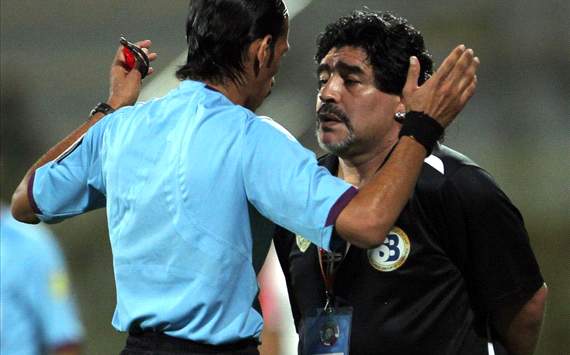 Diego Maradona | Never shy on sharing his opinion
Maradona's time in Dubai will also be remembered for his long-running saga with club management over transfer funds. He claims to have been promised eight new signings during January's transfer window; he only got two. The Argentine insisted that was the reason for the side's inability to compete for the title and threatened to walk away from the job if he did not get the funds. He later admitted that he was bluffing, but it was an ugly affair and hardly helped relations with his superiors. Ironically, it was an entirely new board who ultimately decided to let Maradona go.
Some may argue his demise was inevitable. Maradona may have been an outstanding footballer, but he lacks the qualities required for the managerial caper. With all respect, this has been a common perception of Maradona for some time, given his post-playing career problems. The novelty of the 51-year-old as a coach has worn off and it is difficult to envisage many clubs being willing to offer him another managerial position.
As for his own legacy, his footballing exploits will not be forgotten anytime soon, and his coaching career won't tarnish that either. This latest chapter confirms he's a one-of-a-kind character, but most will remember him as a one-of-a-kind footballer.
*With contributions from South American Editor Dan Edwards