COMMENT
By Piara Powar
He has won the World Cup and the
Champions League
and is one of the most celebrated left-backs in world football. But it was shocking to see
Roberto Carlos
become the victim of a racist attack for the second time in four months while playing in the Russian Premier League.
A banana was thrown at the Brazilian defender during his side Anzhi Makhachkala's 3-0 win over Krylya Sovetov on Wednesday.
An understandably emotional Carlos later demanded that action be taken by the authorities and revealed he was on the verge of quitting following the incident.
"I'm outraged by the sickening behaviour of this fan, who, in fact, insulted not only me but all the players," he said.
Carlos isn't the only player to have been subjected to abuse after Peter Odemwingie's exit from Lokomotiv Moscow last September was celebrated by fans who unfurled a banner showing a banana and the message "Thanks West Brom".
At the time, the head of Russia's 2018 World Cup Organising Committee, Alexei Sorokin, denied the country had a problem with racist fans. This week, Sorokin promised that the Russian Football Union was set to launch an anti-racism campaign to tackle certain issues.
However, he reiterated his belief that a few isolated incidents did not mean Russia had a deeply-rooted problem with racism.
But reports from our colleagues in Russia and respected human rights bodies say the country has a real issue with racism and inter-ethnic violence.
What happens in society will always be reflected in mass audience cultural activities like football. The game is a mirror, with the incidents involving Carlos and Odemwingie merely reflecting wider attitudes.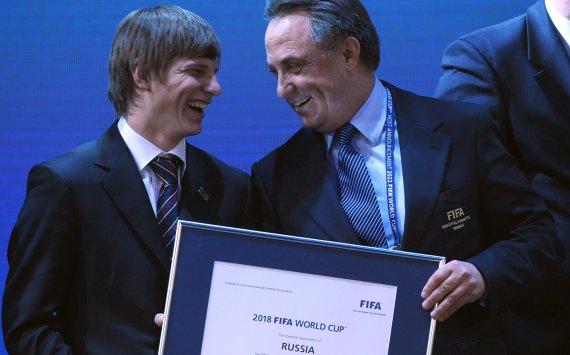 From Russia with love | Andrey Arshavin celebrates his country winning 2018 bid
Bodies like Human Rights First suggest Russia is home to almost half of the world's skinheads, and since 2004 attacks by neo-Nazis rose to such an extent, that the authorities were forced to acknowledge there was a problem and take action.
Indeed, racist murders and incidents have fallen in recent years, with 37 deaths in 2010 compared to 71 in 2009 and 109 the year before that.
But as Russia looks to open its doors to the world in 2018, it is clear that the authorities have a big task on their hands dealing with this problem in the run up to the World Cup.
Sorokin has pledged to take action but the scale of social change required is enormous and won't be as easily achieved as in Western Europe, where social campaigning and an understanding of the late 20th century changes in demographics led to a greater acceptance of people of colour.
There is hope though that things can change on a social level. Last year, Benin-born Jean Gregoire Sagbo was elected to office in the northern town of Novozavidovo.
"Sorokin has pledged to take action but the scale of social change required is enormous and won't be as easily achieved as in Western Europe"
Sagbo's appointment came as a pleasant surprise though he is seen by people in his adopted home-town as a Russian who cares about Novozavidovo.
This approach of seeing a black person as a valued member of society is one which could be replicated in football as well.
Eastern Europe has a reputation of being unwelcoming to people of other ethnicities but on the football field, many countries field players of African and South American background in their leagues.
As Russian football develops commercially they will attract greater numbers of talented footballers from across the world; already there are large numbers of African and South American players.
The Russian authorities and its people can no longer live in a world of ignorance and must be aware of the importance of implementing change as the focus of the footballing world falls on eastern and central Europe in the coming years.
Piara Powar is the Executive Director of the FARE Network, an anti- discrimination and social inclusion network. Contact him through info@farenet.org