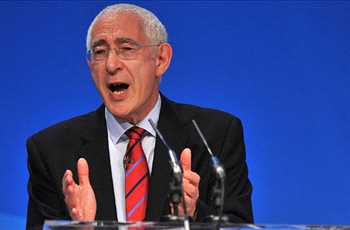 May 2010

The head of the English bid for the 2018 World Cup, Lord David Triesman, is revealed by
The
Mail On Sunday
to have accused Spain and Russia of attempting to bribe referees for the upcoming World Cup in South Africa.
Triesman subsequently steps down from the England bid team and the Football Association, of which he was chairman.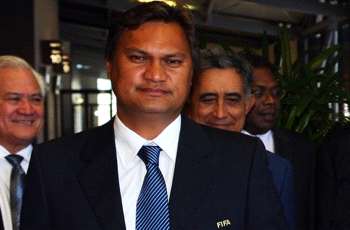 October 2010

With campaigning for the World Cup slots heating up,
The Sunday Times
alleges that two Fifa Executive Committee (ExCo) members offered to sell their votes in the upcoming ballot to undercover reporters posing as middlemen. The pair, Reynald Temarii and Amos Adamu, are suspended. Russia deny that they offered "co-operation" to Adamu in return for a vote. Temarii and Adamu launch an appeal to the Fifa Ethics Committee.
Rumours continue to circulate that the Spain-Portugal and Qatar bids are involved in collusion. The Ethics Committee investigates.
November 2010

Following investigation, Tahiti's Reynald Tamarii is given a 12-month ban from football administration, bringing to an end his spell as ExCo member and chief of the Oceania Football Confederation (OFC). Amos Adamu earned a three-year ban.
Four more officials were banned: Ismael Bhamjee, Amadou Diakite, Ahongalu Fusimalohi, and Slim Aloulou.
The Ethics Committee finds no "hard evidence" of collusion between Spain-Portugal and Qatar, although a note from the former team to the latter saying "Congratulations, we are going to win" becomes public knowledge.
Mere days before the voting takes place for the 2018/2022 World Cups, the BBC broadcasts an edition of the 'Panorama' documentary series alleging that three ExCo more members have a history of bribery. The trio comprises Nicolas Leoz, Issa Hayatou and Ricardo Teixeira. The International Olympic Committee promises to investigate. A fourth ExCo member, Jack Warner, is once again accused of ticketing irregularities with regards to the World Cup.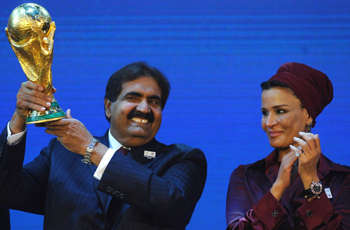 December 2010
With Temarii and Adamu still absent, Russia win the rights to host the 2018 World Cup, with Qatar getting 2022. The England team receives fewer votes than they feel they were promised and begins to disintegrate, with acting chairman Roger Burden stepping down.
It is revealed by Paul Kelso of
the Daily Telegraph
a month later that weeks after the draw was made, Fifa withdrew their job offer to Frederick Lord, a former Interpol detective and anti-corruption expert, despite acknowledging that they would hire him previously.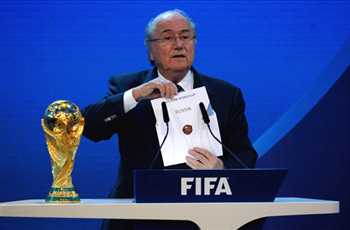 February 2011
The appeals process after the November 2010 Ethics Committee hearings completes. Temarii and Adamu fail in their bids to be found not guilty. Meanwhile, Bhamjee appeared not to appeal at all, while Diakite, Aloulou and Fusimalohi have their original punishments reduced but remain guilty of the charges against them.
Despite the failure of November's Ethics Committee meeting to prove collusion between Spain-Portugal and Qatar, Fifa president Sepp Blatter tells the BBC that the two did in fact connive to affect the voting process, but described the "bundle" of votes between the two as "nonsense" as they did not decide the final outcome.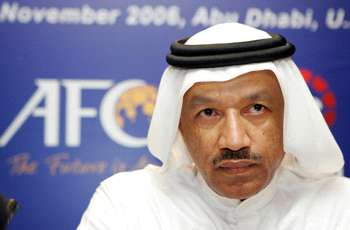 March 2011
World Cup hosting fever dies down temporarily as Mohamed Bin Hammam, president of the Asian Football Confederation (AFC), announces that he will challenge Blatter for the position of president in the forthcoming Fifa Congress elections in June.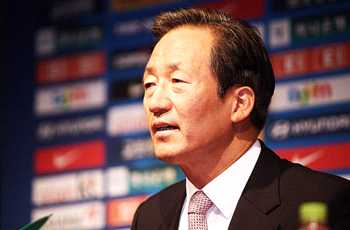 April 2011

Bin Hammam seeks to gain the backing of South Korea, whose ExCo member Chung Mong-Joon had failed in his re-election bid and was said to be furious with Blatter.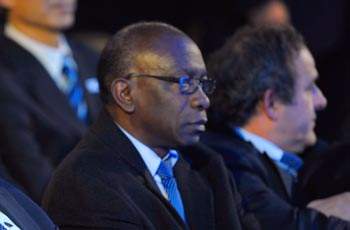 May 2011
Confederation after confederation comes out in support of Blatter. Uefa boss Michel Platini urges European nations to vote for the incumbent. However, there are slight ripples of discontent as by mid-month first England and - much later - Scotland voice reservations about the voting process and candidates.
On the 10th of the month, with Bin Hammam nowhere near having sufficient support to oust Blatter in the polls, the Qatari travels to Trinidad in an attempt to win over members of the Caribbean Football Union (CFU), an influential body within North & Central American confederation Concacaf.
On the same day Lord Triesman speaks to the Culture, Media and Sport select committee of the British Parliament, alleging that Warner, Leoz, Teixeira and Worawi Makudi sought bribes. Separately Hayatou and Anouma are accused of having received cash from the Qatar bidding team. A day later, Fifa demand evidence. FA chairman David Bernstein appoints lawyer James Dingemans QC to look into Lord Triesman's claims about corruption regarding the aforementioned four.
Bin Hammam's campaign, which is showing tiny signs of recovery, is rocked after it is revealed that Amadou Diallo, yet another Fifa member accused of corruption, is a friend and advisor of his.
Qatar breaks its silence to publicly deny allegations made against its bid, and considers legal action.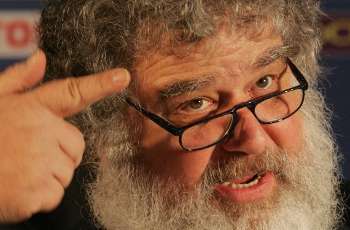 In by far the biggest moment of Fifa drama to date, Bin Hammam and Warner are named by Concacaf secretary general Chuck Blazer as having attempted to bribe the CFU ahead of the presidential election, and are suspended by the Ethics Committee pending a full enquiry on May 28.
Thus bribery over the presidential race joins bribery over the World Cup in the public consciousness.
By May 27, Dingemans' report is complete and passed to Fifa: there are some embarrassing anecdotes - Leoz's aide asked for the FA Cup to be named after his boss - but no sign of serious impropriety and the matter is dropped.
It is revealed by Warner that Fifa secretary general Jerome Valcke had written an email in which he said that Qatar 'bought' the World Cup. Valcke later states that by 'bought' he meant that Qatar had simply used their financial might to publicise their bid, rather than in any sense bought it wrongly.
Blatter angrily addresses journalists in the House of Fifa, denying that there is a crisis in the governing body and calling for respect.
Stand-in Concacaf chief Lisle Austin 'fires' American whistleblower Blazer, sending a telegram to his hotel room in Zurich. The US offices of the regional body declare the termination 'unauthorised'.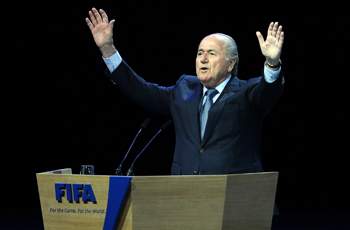 June 2011

The 61st Fifa Congress takes place in Zurich. David Bernstein implores Fifa delegates to abstain from voting in a one-candidate race. He fails to garner sufficient support.
Blatter is elected, unopposed, as president of Fifa. 186 of the 203 eligible national associations endorsed the Swiss.