COMMENT
By Jonathan Birchall
The dust is yet to settle on a Fifa delegation that has been momentous in all but its conclusion.
With Sepp Blatter having been re-elected for a fourth four-year term as the organisation's president, it would be understandable to think it's business as usual in Zurich, but after a fractious week of damaging allegations, change, you would think, must surely be afoot.
It was an inevitable coronation, with Blatter's only rival for the leadership, Mohamed Bin Hammam, having been forced to stand down following accusations that he and vice-president Jack Warner had offered financial incentives of up to $40,000 (£25,000) to the Caribbean Football Union in return for votes.

Despite the English FA's pleas to postpone the vote for Fifa's presidential election following Bin Hammam's decision to step down and the countless allegations of corruption levelled against the president himself, 172 delegates voted that it should go ahead and only 17 refused to toe the Blatter line.

Indeed, the reaction of those that sprung to the defence of Blatter and the omnipresent elite of Fifa was telling. Moucharafou Anjorin, delegate for Benin, asked those present: "Why would we want to kill Fifa and create tensions? England should not seek to divide us."

If the allegations made regarding payment to delegates is true, then Anjorin's position is clear. Everybody would appear to be in on the act; why change an organisation that is proving so lucrative to those involved? Understandable yet unacceptable.
That said, it has appeared all too easy from the very start of Blatter's reign, when he was elected president in 1998, beating the popular Lennart Johansson amid accusations that he had bribed his way to the top with payments to delegates of $50,000 (£31,000), replacing the equally controversial Joao Havelange who had backed him all the way.
The allegations were made in the book 'How They Stole the Game' by David Yallop who, speaking to the Guardian in 1999 about the organisation's refusal to investigate the claims, said: "Fifa won't have the investigation because too many people implicated in corruption going back 25 years are still in positions of power."
By the time Blatter finishes his fourth term in 2015, this supposed dynasty of sleaze would be nearing half a century.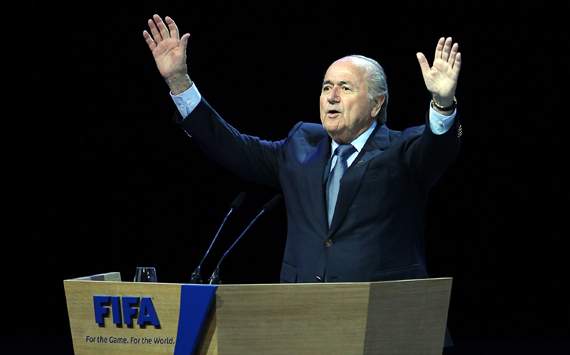 Untouchable | Blatter has been re-elected as Fifa president despite stinging allegations
His predecessor Havelange was elected as president in 1974 following an extensive, and expensive, campaign that, just like Blatter, looked to posture Fifa's financial clout to all corners of the globe. Trips to Africa with Pele, for example, outlined the Brazilian's desire to turn the organisation into a truly global brand as opposed to the Euro-centric stance it had taken since its inception in 1904.
With the World Cup increased from 24 teams to a more inclusive 32 and opportunistic links with sponsors keen to partner arguably the largest sport in the world, Havelange's 24-year tenure set the blueprint for his Swiss protégé to follow.
Accused of bribes similar to those levelled at Blatter et al this week by Andrew Jennings, a British journalist who has become Fifa's chief provocateur in recent years, the Brazilian left a legacy that was unpalatable as it was significant.
Blatter inherited an organisation whose values were looking increasingly built on the pursuit of lucrative sponsorship contracts as opposed to what was necessarily best 'for the good of the game'. The corporate and media links at Blatter's disposal following previous roles such as general secretary of the Swiss Ice Hockey Federation and director of sports timing and relations at watch manufacturer Longines made him an ideal heir to Havelange's throne. It's arguably why he is still in a job.
Countless controversies have followed in the 13 unlucky years since his coronation as president, from financial mismanagement that supposedly cost the organisation £100 million to his suggestion that female footballers should "wear tighter shorts and low cut shirts", in 2004. Yet still the backers vote for him in their droves.

Adidas, Coca-Cola and Emirates have expressed their concerns regarding the allegations this week but as is the way with the delegates whose nests have been feathered by Blatter, decisive action on their part is unlikely due to the financial gains made possible by the World Cup, a tournament that brought a TV audience of 26 billion in 2006.
The sums at the very highest level of the game are astronomical. Fifa raised €1.9 billion (£1.6bn) in marketing revenue and €700m (£615m) at the 2006 World Cup in Germany alone. For the privilege of being an official partner, the same organisations that have tentatively spoken out in the last few days paid a reported €40m (£35m) each. Fifa, like the sport it governs, has seen its finances grow substantially over the last two decades.
There can be little doubt that this has been a damaging week for the credibility of not only Blatter but for Fifa as a whole. The promise of 'solutions' to the inherent ills that plague football's governing body should be welcomed with caution. It may be a long road to progress.
Our

provides the best breaking news online and our

football fan community is unmatched worldwide. Never miss a thing again!