Welcome to Goal.com's regular feature: Goal.com World Player of the Week. Each week our worldwide team of editors will put forward a selected candidate, as chosen by Goal.com, who deserves recognition for achieving something special that matchday. It won't necessarily be the best player in the world - at least not usually - but whoever we nominate will have done something amazing. It might be for a particularly awesome performance or for something praiseworthy off the pitch - either way, the person in question deserves special attention...
Goal.com World Player of the Week #102: Radamel Falcao (Castrol Ranking: N/A)
Club: Porto
Country: Colombia
Age: 25
Role: Striker
Achievement: Scored four goals against Villarreal
At half-time in their match against Villarreal on Thursday evening, Porto were 1-0 down. It was the first leg of their Europa League semi-final tie and the recently crowned Portuguese champions were trailing at home.
Then Radamel Falcao made his mark on proceedings. The Colombia international restored parity from the penalty spot just four minutes after the restart and subsequently added three more goals, two of them superb headers.
The 25-year-old has been in superb form all season in the Europa League and his goals helped the Dragons accomplish a stupendous 5-1 victory that has virtually secured a place in the final.
Falcao now has 15 goals in the competition this season and has equalled Jurgen Klinsmann's record set in the Uefa Cup in 1995-96 for Bayern Munich. After the match he told Uefa.com: "I'm aware I'm now level with Klinsmann and that makes me very proud. But I'm not done yet.
"I will never forget tonight [Thursday] – it's like a dream come true. It was the first 'poker' [the Iberian term for a four-goal haul] of my career. But above all, I'm satisfied I've helped my team achieve their objective. This was a team effort and every single player gave their all for the collective good."
Congratulations to Radamel Falcao, Goal.com's 102nd world player of the week!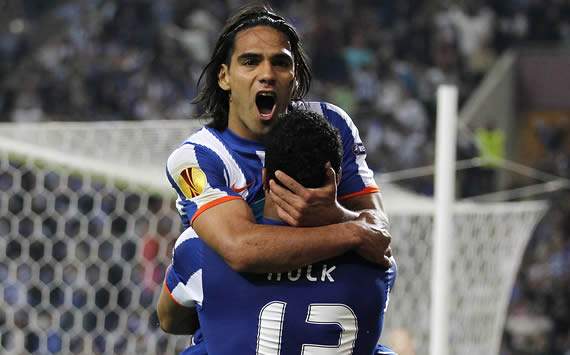 Honourable Mentions
Lionel Messi – Barcelona (Castrol Ranking: 1)
The Barcelona forward scored twice against Real Madrid in the first leg of their Champions League semi-final tie at the Santiago Bernabeu last week. The Argentina international's second was one of the best goals ever witnessed in a Clasico. The 2-0 advantage puts Pep Guardiola's side in firm control of this last four tie. Messi also had a poative game against Real Sociedad in La Liga on Saturday evening even though his side lost 2-1.
Xabi Prieto – Real Sociedad (Castrol Ranking: 521)
The midfielder played a crucial role in the 2-1 victory over Barcelona in La Liga on Saturday evening. Besides scoring the winner from the penalty spot, Prieto showed good technique and passing range throughout the game.
Giampaolo Pazzini – Inter (Castrol Ranking: 176)
Inter were heading towards a certain away defeat against Cesena in Serie A on Saturday - but along came Pazzini. The Italy international forward struck not once but twice in injury time to lead the Milanese side to a 2-1 victory and keep their slim title hopes alive.
Francesco Totti – Roma (Castrol Ranking: 649)
The legendary Italian surpassed the record of Roberto Baggio as he scored his 205th and 206th goals in Serie A. Totti was on target twice against Bari on Sunday evening as Roma won 3-2 in dramatic fashion to sustain their chances of playing in Europe next season.
Aaron Ramsey – Arsenal (Castrol Ranking: 2112)
The Wales international dominated the midfield against Manchester United but he scored the goal that has thrown the Premier League title race wide open.
Manuel Neuer – Schalke (Castrol Ranking: 266)
The Germany international was in top-notch form against Manchester United in the first-leg of their Champions League semi-final tie in Germany last week. Neuer made a number of saves and kept the margin of defeat to 2-0.
Leave your notes of congratulations for Radamel Falcao below, or discuss who else deserves a place in the spotlight this week...