EXCLUSIVE
By Paolo Fril
England
were handed a major World Cup boost today as Fifa announced plans to introduce retroactive goal-line technology for all major tournaments.
Fifa president Sepp Blatter gave the green light to implementing a system from April 1 onwards saying that it will "not only ensure controversial, disputed goal-line decisions never happen again - but those that have taken place in the past will be settled once and for all".
The head of football's governing body added: "This decision will put right the many wrongs caused by poor goal-line decisions."
The move means that Frank Lampard's wrongly-disallowed goal in England's 4-1 defeat to Germany at the 2010 World Cup will now stand.
Lampard's chip had comfortably crossed the line after striking the underside of the crossbar when England were 2-1 down, but Uruguayan referee Jorge Larrionda waved play on.
Fifa's newly appointed head of goal-line technology and retro-active implementation Flora Pilo explained: "We have reviewed the decision and have given the goal to England.
"We then used a programme based on state-of-the-art technology provided by the makers of Championship Manager to simulate what would have happened had England levelled the score at 2-2 and the final score is now 5-2 to Germany.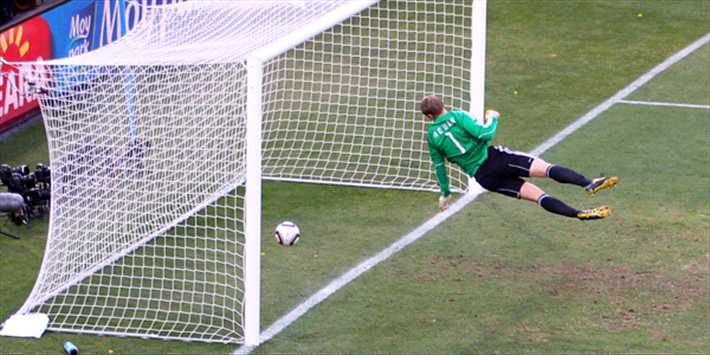 Blat of the net | Fifa technology rightfully awards Lampard 'ghost-goal'
Ms Pilo added: "In our simulation England begin the second half throwing men forward and Germany score three more goals on the break - so not much different to what actually happened in Bloemfontein, but this is fairer
"All Fifa records will be amended accordingly and the legacies of these nations will be rewritten in the best traditions of fairness that Fifa have always upheld."
The German FA (DFB) are furious at the decision but said 'they eagerly await results of the review of the 1966 World Cup final'.
Happy April Fool's Day from Goal.com