As
Ronaldo
departs
Corinthians
there are probably some fans who are glad to see the back of him.
Supporters daubed graffiti on the club's training ground walls last week, condemning the 34-year-old as a "shameless fatty". Corinthians had just been eliminated from the Copa Libertadores and the well-paid forward, as well as his former Brazil team-mate Roberto Carlos, bore the brunt of the fans' ire. There were threats made against the fading stars, and left-back Carlos has taken one more pay day, £5.6 million for two seasons' work in Russia with Anzhi Makhachkala in order to escape the goldfish bowl of Sao Paulo. Ronaldo has no such option.
The end is nigh. At his peak, a long time ago now, nobody played the game as joyfully and as freely as Ronaldo. He was loved, cherished and worshipped by fans the world over. But that shimmering mist of reverence has long since evaporated.
Michael Ballack, Andriy Shevchenko, Francesco Totti and Ronaldo were all born within a week of each other. But unlike his peers, the final chapter in the Brazilian's playing career is a tragic one. There will be no last hurrah at a hometown club, no suitable and dignified end to a preeminent career. He should command universal respect. He should have unanimous acclaim. But he instead became a figure of ridicule. Ronaldo slips out ignominiously.
History is usually kind to the greats. Apocryphal evidence gives them everything but the halo and magnifies their achievements. But the dust has barely settled on the final struggle of Ronaldo's staggering and staggered career and he is gone and to be forgotten.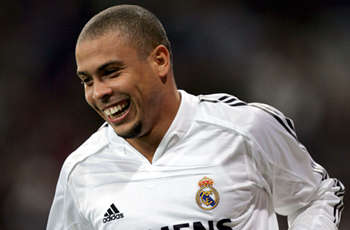 1993: Makes Cruzeiro debut.

1994: Makes Brazil debut in international friendly against Argentina.

1994: Part of the Brazil squad that wins the 1994 World Cup.

1994: Signs with PSV & finishes season as league top scorer with 30 goals.

1996: Wins KNVB Beker with PSV.

1996: Leaves for Barcelona.

1996: Wins Fifa World Player of the Year award & runner-up for Ballon d'Or.

1997: Wins Copa del Rey and Cup Winners' Cup with Barcelona & La Liga top scorer with 34 goals.

1997: Wins European Golden Boot, Fifa World Player of the Year award & Ballon d'Or.

1997: Joins Italian titans Inter.

1998: Wins Uefa Cup with Inter.

1998: Part of the Brazil squad that finishes runners-up at the 1998 World Cup, but wins Golden Ball.

1999: Wins the Copa America with Brazil.

1999: Sustains first serious knee injury.

2000: Picks up another knee problem.

2002: Part of the Brazil squad that wins the 2002 World Cup & top scorer with eight goals.

2002: Wins Fifa World Player of the Year award; wins Ballon d'Or.

2002: Leaves Inter to return to Spain with Real Madrid & wins Intercontinental Cup

2003: Wins La Liga with Real Madrid.

2004: Finishes the season as La Liga top scorer with 24 goals.

2006: Part of the Brazil squad that reaches the quarter-finals at the 2006 World Cup.

2007: Wins La Liga with Real Madrid, but leaves for AC Milan.

2008: Sustains third knee injury.

2009: Return to Brazil at Corinthians and wins Campeonato Paulista and Copa do Brasil.

2010: Voted Player of the Decade by Goal.com.

2011: Retires from football.

His spell at Corinthians was an uneasy and broken marriage from the start. He trained with his boyhood club Flamengo before opting to sign a deal with the rival team who had made him a better offer.
His relationship with the supporters of the Timao was always fractious – he has been photographed making insulting gestures to the fans who grew weary of his expanding belly and all-night partying.
Ronaldo was in thrall to the sycophancy of the club president Andres Sanchez, who took him out to nightclubs and afforded him rest days when no other player was permitted them. A particularly rambunctious night on the tiles cost the general manager, Antonio Carlos Zago, his job. He was physically decaying. There were reports of liposuction and the once lightning fast forward had recently taken to wearing special socks to combat the effects of varicose veins.
His dream of bowing gracefully out of the game with Corinthians and leading the team to the Libertadores title has been shattered. There is nowhere left for Ronaldo to turn. His good will has expired. It is time to go.
It is a woefully ill-fitting end for 'the Phenomenon'. But his was a career that was fraught with poignancy. It began with unlimited promise and ended with much of it unfulfilled. He is the best finisher the world has ever seen, one of the greatest players of all time, yet it is still wondered what might have been.
What might have been had he stayed longer than a single season at Barcelona? He was only 19 years of age when he held la Liga in the palm of his hand. The celebration of the late Sir Bobby Robson after Ronaldo's indescribable solo effort against Compostela encapsulates what every other observer felt watching: incredulous and proud.
What might have been had he not suffered whatever he suffered the day of the 1998 World Cup final? He was not healthy that day in Paris. His mind was elsewhere. He was reduced to a pale shadow, a poor imitation of his fearsome self as Zidane and co. romped to victory.
What might have been if his fragile knee held out, at least the second time? He returned too early after hobbling out of the game against Lecce and into his second home, the surgeon's bed. The aborted comeback against Lazio makes for uncomfortable viewing, even now, more than a decade later. In all honesty, Ronaldo never recovered from it.
To be able to take his place in the pantheon of the game's elite is a remarkable achievement for a player who missed almost four accumulative years of his career through serious and debilitating injury. To think that a forward who three times won the Fifa World Player of the Year award and twice the Ballon d'Or failed to deliver on his potential is frightening and yet bittersweet.
What else could there have been? Somewhere along the way the caricature, el Gordo, superseded the myth of il Fenomeno. A faster, more powerful and more direct forward has not yet been seen since the great Ronaldo regressed. His accuracy in front of goal remains unsurpassed. But legacy is not a currency. With it you cannot pay for immunity. Ronaldo fell far at Corinthians. But in my mind now, he retired in 2002 after scoring two goals against Germany in the World Cup final. He draped the Brazil flag over his shoulders, held the trophy and smiled his toothy smile.
Goodbye Fenomeno.