The 48-year-old was dejected following his side's shoot-out defeat at Wembley on Sunday and admits he feels "rubbish", but vowed the Reds will dust themselves off and go again
Jurgen Klopp
believes it is important for
Liverpool
to feel the full pain of their League Cup final defeat to
Manchester City
and use it to strike back as they target future success.
The Reds were floored 3-1 in a penalty shoot-out at Wembley after Philippe Coutinho's late strike cancelled out Fernandinho's opener and forced the fixture into extra-time on Sunday evening.
Typically, the 48-year-old delivered an honest post-match assessment, admitting it felt "sh*t" and "rubbish" to be runners-up rather than the winners.
"At the moment I don't feel the positives," Klopp admitted. "I'm a human being, after all.
"It's not my first big defeat. I've had defeats before and I've had wins before. I know how it goes. Do you think I will now go home, close the door and stay there for the next four weeks?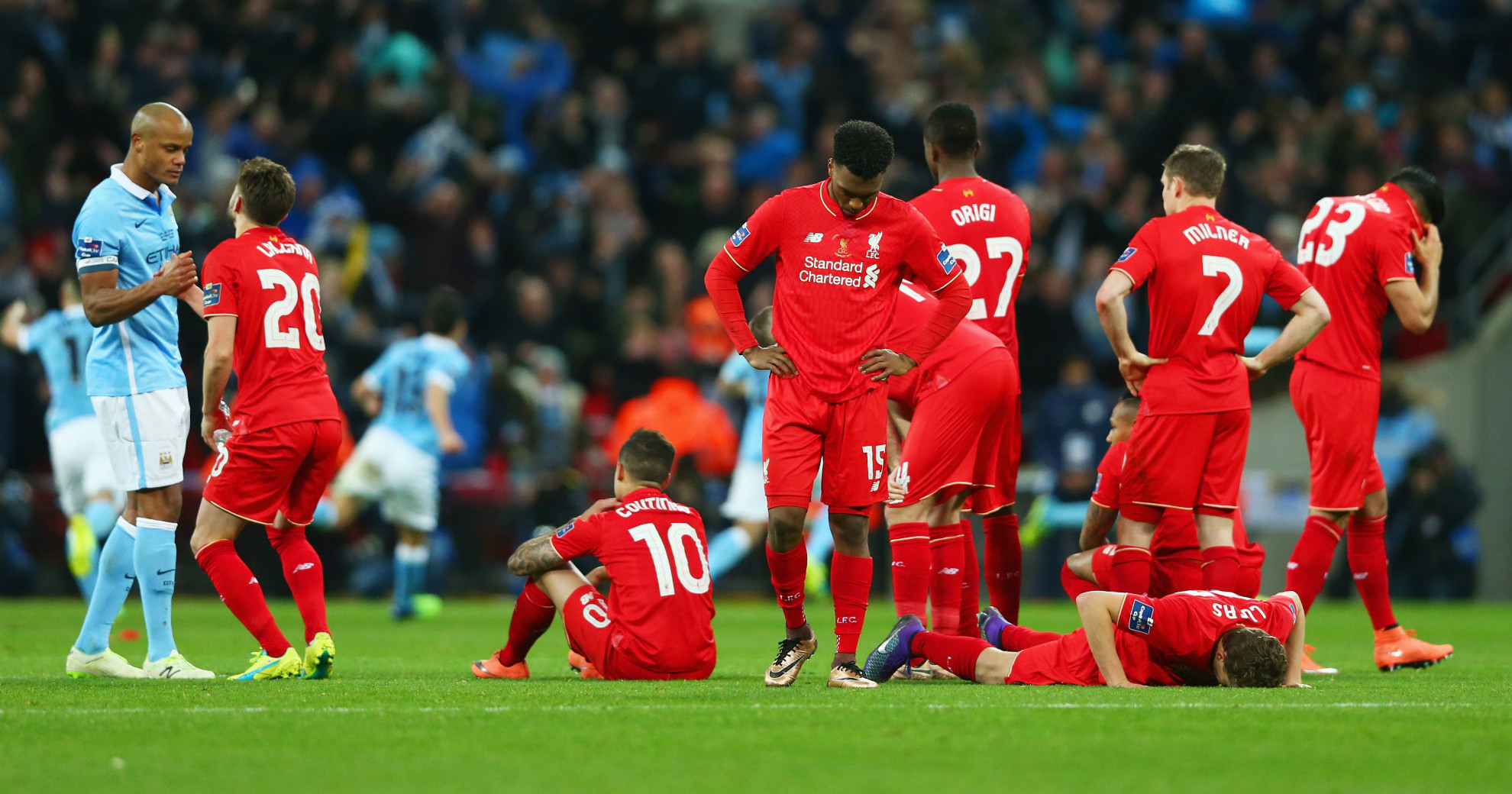 "Yes, it's normal to be down. But it's okay. You have to feel a defeat, you can't say 'oh it wasn't important' because it was. We lost a final, so it's not too good.
"You always have to strike back. We can say all of these things, but you know you can fall down and then you have to stand up. That's the truth, but it's completely normal – only silly idiots stay on the floor and wait for the next defeat.
"Of course we will strike back – 100 per cent. We struck back today in the game. But for this and the next time we are in a final, you have to feel how it is when you lose.
"Not everybody has to learn it like this – I won my first final. It's really not the best moment, but that is all. Tomorrow morning we can change everything, but now we can change nothing. That's the big difference.
"But don't worry, we will go on, we will get better and that's how it is. We have to go the hard way – that's how it is. Nothing is easy in this moment, but we can see if we carry on working really hard then there is new light at the end of the tunnel.
"That's really, really important and that's what we know. We will stay in the race, there is no doubt about this – but tonight we feel rubbish."
Klopp felt Liverpool had a really strong first half, but admitted they were too open for periods in the second 45, which allowed City to exploit space and counter dangerously.
He also agreed that his charges should have struck their spot-kicks better with Lucas, Coutinho and Adam Lallana all being thwarted by Willy Caballero during the shoot-out.
"In the second half, we conceded an early goal and were not too lucky," the manager said.
"Then they had two counter-attacks with [Sergio] Aguero; that's normal with their quality. We opened too early, to be honest, and we didn't protect our own offensive actions too well.
"That's why we changed. With these changes, we changed something in the game – we were really in the game, controlled the game, had good direction and stayed patient.
"You could see it was really more than possible that we could score the goal. We scored the goal and we could have scored the second one.
---


READ MORE

|
'Sturridge should have taken penalty'
---
"Extra-time, we saw, is never the best time in the game because all the players have a few kilometres in their legs.
"Then you have the penalty shoot-out. You need a little bit of luck. Of course, we need to shoot a little bit better than we did. We know how it works but today it was not too difficult for their goalkeeper.
"We were not too lucky as Simon [Mignolet] was really close two or three times. That's how it is and at the end, we have to accept we lost."