Roberto Mancini's side are on a rocky patch of form and lost 1-0 in the first leg of their League Cup semi-final against Kenny Dalglish's men on Wednesday night
COMMENT
By
Greg Stobart
at Etihad Stadium
It was only a month ago that some were wondering whether
Manchester City
could be the second team to take on the 'Invincibles' sobriquet reserved for
Arsenal
's title winning side of the 2003-04 season.
Roberto Mancini's men went into their clash against Chelsea on December 12 unbeaten in domestic competition, flying high as everyone's tip to win the Premier League.
But despite their stunning league form, City were wounded. Their Champions League exit five days earlier had dented their lofty ambitions for the season while their campaign among Europe's elite competition had proved they were fallible.
Instead of easing the load and allowing City to concentrate on winning their first title in 44 years, however, the failure in Europe ramped up the pressure in every other competition. Suddenly, Mancini was bemoaning the club's packed fixture list and questioning the depth of a squad that cost the best part of £350 million to assemble.
City lost at Chelsea - perhaps a defeat they didn't deserve - prompting a slide in their domestic form that has seen their season start to veer off the tracks after their superb start to the campaign.
Of course, City are still three points clear at the top of the Premier League and favourites to win the title, while they are in semi-final of the League Cup and will be looking to win the Europa League. They have been the standout team in the country this season and they have much to look forward to.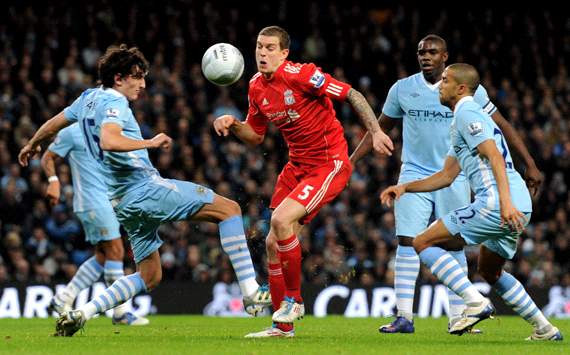 Needing Kompany | City missed their captain as stand-in Stefan Savic conceded a penalty
But this is a tough time. Mancini always said it, citing January as the most important month as City look to prove themselves as contenders this season. With Yaya and Kolo Toure at the Africa Cup of Nations, Vincent Kompany serving a four-match suspension and David Silva injured, the spine was missing from the team as they took to the field to face Liverpool on Wednesday night.
And it showed in the performance as the Reds secured a 1-0 victory at the Etihad Stadium in the first leg of the League Cup semi-final. It was City's second home defeat in four days after their FA Cup loss to Manchester United on Sunday and it was the first time they had failed to score since November 2010.
It was no surprise that City should find it more difficult to create chances without Silva, who could be out for two weeks with an ankle problem. It was no surprise that they lacked drive in central midfield without Toure. It was no surprise that, in Kompany's absence, it was his replacement Stefan Savic who conceded the penalty from which Steven Gerrard put Liverpool ahead.
FEELING THE STRAIN


EIGHT DOMESTIC GAMES PRIOR TO CL EXIT

GAMES PLAYED
WON
DRAWN
LOST
GOALS SCORED
GOALS CONCEDED
WIN PERCENTAGE

8
7
1
0
21
8
87.5%

EIGHT DOMESTIC GAMES SINCE CL EXIT
GAMES PLAYED
WON
DRAWN
LOST
GOALS SCORED
GOALS CONCEDED
WIN PERCENTAGE
8
3
1
4
10
7
37.5 %

The stellar players who were on show looked frustrated. Sergio Aguero worked his socks off but couldn't get a clear sight on goal, Samir Nasri prompted and probed to no avail, while Mario Balotelli almost had steam coming out of his ears before being substituted with an ankle injury.
Without the experience and quality of key players, City are forced to rely on a squad that perhaps is not as strong as has been made out. It is still the biggest and deepest in the top flight, but any team will suffer with absences to important players.
Mancini has suggested on more than one occasion that he would like to add to the squad this month, so City can make a final push for glory, with a central midfielder on his agenda. The Italian has appeared frustrated by the club's determination to stop spending the Abu Dhabi billions as they look to comply with Uefa's financial fair play regulations.
For now, he is having to get on with what he's got, which isn't too shabby by any stretch. After all, his central defensive partnership of Savic and Joleon Lescott against Liverpool cost a combined total of £33m. You could almost buy Andy Carroll for that.
City will still fancy their chances of reaching the League Cup final when they travel to Anfield for the second leg on January 25. An early away goal will completely change the complexion of the tie as City look to build a trophy-winning mentality on the back of last season's FA Cup triumph.
The question asked of any side is: how will they cope when things go against them? Every team will have a rough patch, this is City's and they need to see it through, bounce back and show their mettle.
Mancini's side have won just three of their eight games since being knocked out of the Champions League, losing four of those fixtures and scoring just 10 goals. It draws a stark contrast with their high-as-a-kite domestic form prior to the end of the Champions League group stages, when goals were raining in from all angles.
If City were concerned by stuttering away performances at West Brom and Sunderland, they will be especially wary of letting their home form slide as well. After travelling to Wigan next Monday, City face Tottenham at the Etihad Stadium on January 22 in a game that will be seen as a true barometer of both teams' title credentials.
This season was never going to be an easy ride for City and now they find themselves under pressure through a combination of tough fixtures, international commitments, suspensions and injuries.
Thoughts of sweeping all before them have been cast aside and the path to silverware is not as easy as it once seemed. City need to find a way or make a way.
Follow Greg Stobart on