Hammers boss Avram Grant in familiar territory - distraction or catalyst?
It's a familiar conundrum for struggling teams: will a decent cup run prove to be a potentially fatal distraction from the bread-and-butter of scrapping for league points, or the catalyst for an upturn in form that helps ensure league survival?
It's a dilemma to which West Ham United manager Avram Grant might have given some thought as Tuesday's League Cup quarter-final against holders Manchester United looms closer. The Hammers have endured a miserable Premier League campaign - so much so that Saturday's home game against fellow-strugglers Wigan Athletic was billed by the east London club as a 'Save Our Season' fixture.
In the event, West Ham, driven by their inspirational captain Scott Parker, beat the Latics 3-1, though few if any would infer from what was only the Hammers' second league win this term that they have saved their season.
Nevertheless, victory has established a potential platform as they get ready to host the rampant Red Devils at the Boleyn Ground. And the League Cup has provided Grant with welcome respite in what has been a torrid five months since he took over from Gianfranco Zola.
Indeed, while the Hammers have endured their worst ever start in the Premier League, they have beaten Oxford United 1-0 at home, Sunderland 2-1 away and Stoke City 3-1 at home after extra-time to progress to the last eight of the League Cup. If they can become the first team to knock Manchester United out of this competition since Coventry City more than three years ago, it could spur them to climb off the bottom of the Premier League and move out of the relegation zone. Or not.
Grant himself will not need reminding that success in the cups is no guarantee of league survival. He was in charge of the
Portsmouth
team that reached the FA Cup final at Wembley last May - and were relegated to the Championship. Going into administration certainly didn't help their cause - though even without the automatic penalty of a nine-point deduction they still would have finished bottom.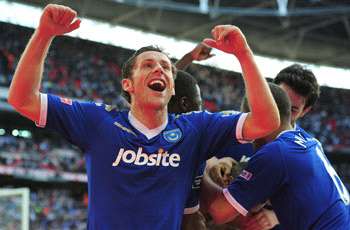 The fact is that the further a team goes in a cup competition, the stronger becomes the scent of potential glory in their nostrils.
That tantalising prospect poses a serious dilemma: rest key players for the cup ties or risk sacrificing the cup run by playing them in league games.
For the players, too, there is a calculation to be made, even if only subconsciously: give everthing in the possibly doomed quest for league points or hold back in order to seize what may be a once-in-a-lifetime chance of cup success?

Grant's Pompey ultimately fell between two stools: relegation had already become a fact before his former club Chelsea narrowly beat them at Wembley to secure the Double.

It's a fate that others have experienced before.

In 1983, Jimmy Melia's Brighton and Hove Albion came within a kick of beating Manchester United at Wembley, despite having been freshly relegated from the old First Division. At the bottom of the table, the Seagulls had replaced manager Mike Bailey with Melia in December, and the charismatic Scouser introduced a more enterprising, attacking style which, while it couldn't get them out of the bottom three, galvanised them for a thrilling FA Cup run. Brighton reached the final for the first time in their history, providing euphoric relief from their league travails.



They nearly beat United to win the Cup, too, equalising in the 87th minute to force extra-time. At the death Gordon Smith (pictured, in his more recent incarnation as chief executive of the Scottish FA), having scored their opening goal, had only Gary Bailey to beat, but saw his shot saved and was then beaten to the rebound by the United keeper.
The miss subsequently spawned the Brighton fanzine 'And Smith Must Score'; but United achieved an emphatic 4-0 victory in the replay, leaving the Seagulls to contemplate what might have been - and life back in the Second Division.

Two years later, in 1985, Norwich City and Sunderland battled their respective ways thrillingly to the League Cup final. When they booked their places at Wembley, neither had cause to worry over-much about their First Division status: Stoke had long ago been cast adrift in bottom place and above them Luton and Ipswich occupied the other two relegation places.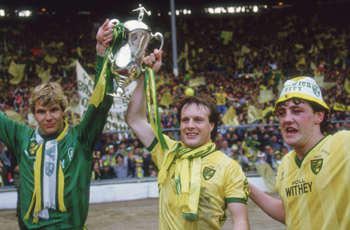 Yet two months later Luton's progress to the FA Cup semi-final had helped underpin a climb to safety in the league, while neither Norwich nor Sunderland had been able to arrest a slide down the table compounded by their preoccuption with the League Cup.
The Canaries won that trophy but were relegated; the Black Cats went down too, without the compensation of silverware.

In sharp contrast, the following season (1985-86) Oxford United managed to combine winning the League Cup with a successful struggle against relegation in their first ever season in the top flight.
Under manager Jim Smith they had secured successive promotions to reach the old First Divsion 26 years after being admitted to the Football League.

But notorious media baron Robert Maxwell, chairman of the club, refused to reward Smith with an improved contract so he left to manage Queens Park Rangers.
Meanwhile, Maurice Evans stepped up from chief scout at the Manor Ground and staved off relegation on the final day, as Oxford finished in 18th place. By then they had also won their only major honour - the Milk (League) Cup - ironically beating Smith's QPR 3-0 in the final.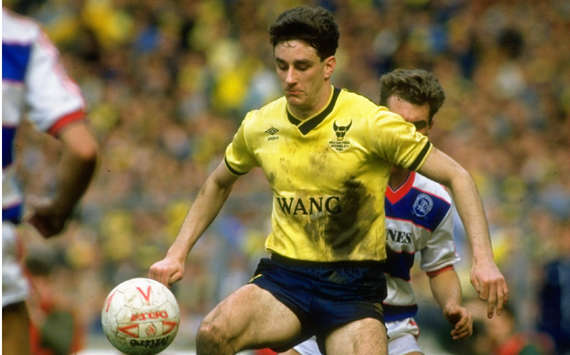 In the 1996-97 season, Bryan Robson's Middlesbrough - complete with Juninho (pictured below), Emerson and Fabrizio Ravanelli - achieved the unique and remarkable feat of finishing in the last two of each of English football's three major domestic tournaments. Boro reached not one but two cup finals, having previously failed to reach any.
Unfortunately for them they lost them both: 1-0 after extrra-time in a replay to Leicester City in the League Cup; then 2-0 to Chelsea in the FA Cup, when Roberto Di Matteo scored the quickest goal of any final in that competition - until Louis Saha's strike for Everton against Chelsea in 2009.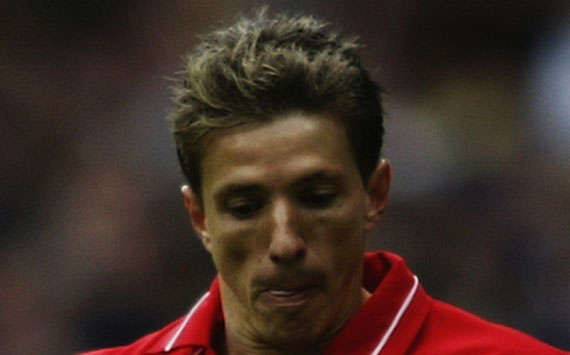 In between those two heartbreaks, Boro had also lost their Premier League status. A fixture they had failed to fulfil earlier in the season, unilaterally cancelling it after most of their squad succumbed to a virus, came back to bite them as the Premier League hit them with a three-point deduction.
That points penalty proved decisive as they dropped out of the top-flight, missing the cut by two points. Perhaps one fewer cup-tie might have given them the energy and focus to claim the league win that would have saved them.