By Peter Staunton in Cardiff
This might be Gareth Bale's city and it might have been James Rodriguez's debut but it was Cristiano Ronaldo's party. The world's best player finally looked fit - for the first time since April - and feasted upon a beleaguered Sevilla over and over again as the European champions clinched the Uefa Super Cup in convincing fashion in Cardiff.
"I scored two goals and I'm coming back from my injury so it's a perfect night," he said after the game. "I feel very pleased for that. My team-mates helped me a lot to score the goals so it was a fantastic night."
He demonstrated no tentativeness despite playing only 17 minutes of pre-season before arriving in Wales. Nor was there any sign of Ronaldo shrinking into the background to allow the new stars around him to shine. When fit and firing, he is peerless. Real Madrid's other players don't only play with him, they play for him.
There was, of course, a collective willingness to see Bale do well and, 30 minutes in, the local hero had his moment - albeit in a supporting role. A lightening raid found Bale on the left flank through a James pass. He took advantage of the space in front of him to whip a fine ball to the back post where, predictably, Ronaldo slid the ball home. It was the Welshman's best highlight. There were blocked shots here, runs at the Sevilla defence there, but he did not grab hold of the match in a manner that might have been expected.
If there were any doubts over Ronaldo's ability to fire bombs with that troubled left leg of his, those were dispelled early in the second half. Taking a pass from Karim Benzema, Ronaldo found enough space between Nicolas Pareja and Coke to dispatch a vicious strike through the hands of Beto.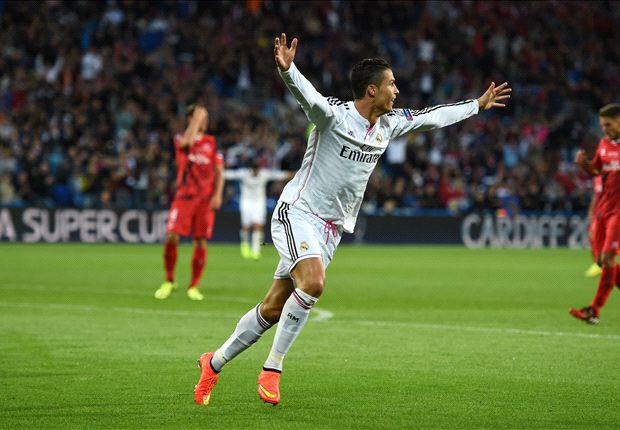 I'm back |
Ronaldo celebrates his second goal in Madrid's 2-0 victory
Besides his expertly-taken goals, the Portuguese had a number of presentable chances. A trademark free-kick was diverted over via the wall. Another shot, following a great pass from Karim Benzema and a neat turn in the box, was repelled by his compatriot.
Everything behind Ronaldo came through the summer's lesser-heralded arrival, the World Cup winner Toni Kroos. Madrid pinned their opponents back throughout, forcing them into long spells without the ball, with the former Bayern Munich man central in proceedings. Xabi Alonso will have a tough task winning his place back in this team because Kroos is immediately at home. He was sought by everyone for a pass and was entrusted with the responsibility to find the meaningful passes. He usefulness at winning challenges, too, was in effect.
James did play his part in the opening goal with a pass to the left to Bale and forced a terrific save from Beto in the second half but he made some basic errors elsewhere. Early on, a poor backpass permitted Denis Suarez to nip in and win a corner. Later in the first half he sliced a bewildering clearance deep inside his own box into the path of Daniel Carrico, who should have scored, but was denied by the sprawling Iker Casillas. The No.10 shirt, at times, looked a bit big for the little Colombian.
"I believe that these players that Real Madrid bought - Kroos, James and Navas - they're going to give more support to the team and more quality," Ronaldo said. "I am very glad for the quality we have in the squad."
James's time will come as Bale's did in the Copa del Rey and Champions League final. He might need time to grow into his surroundings which is only natural. Real Madrid may be stacking Galacticos all over again but there is one man still standing head and shoulders above them all.