EXCLUSIVE
By Ashish Sharma
Javi Martinez
will travel to England this week with his
Athletic Bilbao
side to take on
Manchester United
in the Europa League.
The central midfielder is one of the most sought-after young players in Europe, with the likes of Barcelona and United themselves rumoured to be interested.
The Spanish star talked exclusively to
Goal.com
about his Europa League opponents, his physical style of play and the rumours circulating about his future.
The full interview can be read below...
This week you play against Manchester United. It is estimated that as many as 8,000 Bilbao fans will be there. Does that surprise you?
No, not at all. If it were 20,000 places then there would be 20,000 fans who would be going over there, not just because of the fans, but because it is an opportunity for all to be in a stadium like that of Manchester United's. And the chance to play at Old Trafford may be very difficult for us to be able to repeat again. The chance to play at a place like Old Trafford really is a dream for players.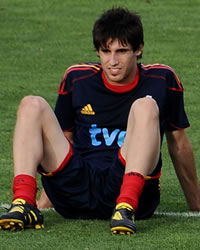 Is it a dream to be playing there?
Yes, of course it is. To play in the greatest stadia in Europe and in the world has got to be a dream for every footballer. You want to play at Old Trafford, the Bernabeu, here at San Mames, Camp Nou, the Maracana. Well, that may be a little far at the moment, but yes, that is what you want to do.
Were you surprised when United went out of the Champions League and into the Europa League?
Yeah, I really was. You can't imagine a club of the calibre of Manchester United not getting through the group stages. This is a club that always aspires to be there until the end. To be in the final or the semi-finals is always what they have done and so it's strange to see that they didn't get through this year.
How do you see their team and what are the weaknesses that you will look to?
[Laughs] You ask about weaknesses? I think there are very few of them, in truth. They have some of the best players in the world there and it's going to be very difficult for us. But we have our own things too. One thing is sure, we can go there and really surprise them with the way we play our football and all the good things that we can do as well. I think the key is we need to go there with some belief in ourselves.
Is there a tactical plan you will have for them? You will no doubt be aware they are in top form at the moment...
Yes, yes. I have seen them but it is Manchester United, they are always on top and they are always playing in Europe. But I think we just have to believe in ourselves. That means we have to play in our own style, in our own way. If we have an opportunity to win then it is going to be done by playing our way. If we think about sitting behind the ball and conceding play to them then we are going to be lost.
English teams can tend to dominate European teams with their more physical style of play. We have seen that in the past with Chelsea against Barcelona. Athletic Bilbao of all Spanish teams are perhaps one of the more 'British' in their traditional style of play. Is it perhaps more suitable for you to play for an English team?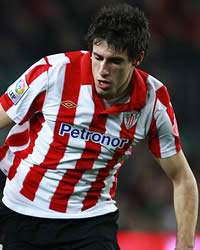 Well maybe, but perhaps this year less so in our style of play. Our traditional way of playing has been more English. Long balls down the middle, much more aggressive, playing off set pieces, more physical. But I think less so this season. I think this year we are more 'Spanishised' for want of a term of expression. Now we are playing more football. We are touching the ball a lot and keeping it down much more. And also our experience against English football hasn't served us too well. We lost 2-1 to Tottenham [in a pre-season friendly]. But whenever we have played in England we have always given a good account of ourselves, so why not go there again and give a big surprise?
You have always been regarded as having a strong, physical game with a lot of energy. Do you feel your game is more suitable to play in England?
Well, yes, maybe my football as you say is quite physical. It is certainly more oriented to being physical. But I think that is also a valid style here in Spain. I mean here there are many players who play with my same characteristics. And perhaps the football in England is more suitable but look I am doing very well here so that's not a problem for me.
You have a buyout clause of €40 million (£34m). Everyday I read your name being linked to Liverpool, Manchester or Chelsea. They say that these clubs will sign Javi Martinez in the summer. What does Javi Martinez say?
Well, in truth, I try not to pay any attention to all the things that I see or read. In the end these are just rumours of newspapers and the media. The reality is that as yet nothing clear has come my way. No club has made an offer to me or to my agent. And so I prefer not to go round in circles with this. I am just concentrating now on the end part of the season and just focusing on giving 100 per cent of my thinking and energy to the club.
For now it's looking good with what Athletic can achieve. But how tempting would it be for you to go if Bilbao didn't qualify for the Champions League or win anything and along came a club that can offer you all that?
Well, I have the hope and the illusion that all these big games that you talk about and winning these championships are ones that I can be involved in playing right here and with this team. We could one day play in the Champions League, we could also be one of the big teams. That is something we want to try and do because we are a very young team. In fact, we are the youngest team in La Liga and we are doing things very well. I think that in two or three years' time we could be ready for some very important things here.
You are fourth, in the Copa del Rey Final and playing Manchester United in the Europa League. What has changed so much this season?
I think that the club is progressing. In the last four or five years we have been getting better year after year. Each year we see that we are improving. And now we have reached a point in this season where we are now the best that we have been in a while. And there is all the data to prove that. And to that we have also reached the Cup Final, are in a great place in the table and reached the knockouts of the Europa League and Manchester United and we are happy for all that.
What difference has Marcelo Bielsa made?
Well, overall he has changed the manner of the way we play. I think this season with Marcelo we are trying to have much more possession of the ball. We try and control more and try and play better football. I think that up till now we are doing quite well.
He has the nickname of "el loco" [the mad one]. What is he like as a person on and off the pitch?
Yes, he's called loco because he is mad about football. He thinks about it 24 hours a day. It's his life, his passion. It's everything for him. And for this he is a little mad about the game and that is why he is called that. Well, he works a lot. He works all the time. He leaves nothing to luck, it's all work, and this year he is helping us and teaching us a lot.
One thing he has done which has made a big difference to you is change your position from central midfield to central defence. How has that been?
Yeah, it's going well. I have to say that when I first started it took me some time. It was completely new for me. I had never played in that position before in my life. And in the first games it was tough and I was a bit lost but little by little it's got much better and I have gotten into it and now I am really comfortable in this position. In the game against Real Sociedad again I was in the holding central midfield role and actually you realise that the positions have some similarities.
But which would you prefer to play in? Which is ideal, in your opinion?
Well, I suppose the thing is that all my career I have played in that midfield role and so to that end I guess it makes things a lot easier for me from that position on the pitch. But, actually, playing in central defence, I find also suits me and now for me it's just as comfortable.
Athletic traditionally has always been a tough and physical team playing direct. Bielsa likes to play the ball around and build up play. Do you think that the personality of the team can allow for that change to be made successfully?
No. Actually, I think that what Marcelo likes is what we also like to be as players. He likes that the team plays with a lot of pressure, is very competitive and wants us to treat the ball as if it was the last one ever. And as players we also like to play football. We have players who can do that and I think the coach knows that we have these kind of players here, that is why he came here in the first place.
You have been here now for six years. There is a special relationship between the club and fans. What makes this?
Yes, for sure there is this. You see it day after day, the number of people that come here to [the training ground] to watch the team. You get to see how they live for the club, how they breathe it, how they celebrate the victories, suffer the defeats just as we do as the players. I think it just makes for a very, very special relationship with the players, especially in this time. Not just in the way we play but also that this is a squad of 23 players and everyone was born from around here so that is really making everyone very close. We as players feel a lot of pride for this, and I think that many other clubs envy that about us. We play with local players and we are going to the Spanish Cup Final, reached the latter stages of the Europa league and we could be playing in the Champions League.
So is it mainly because Athletic have players who are Basque and who have come from the youth set-up that sets it apart from others who have players from everywhere?
Yes, that's right. As I said I think in the end the fans feel they have more of an identity with the team. They value much more how difficult it is for us as a club, in a time when football has gone totally global we are not globalised. Clubs can bring in players from the world over. But we are not just surviving. We are playing an important role in the Spanish league as well as in Europe and so there is a lot of pride for all that around here.