COMMENT
By
Jonathan Birchall
A year older and yet a year seemingly none-the-wiser,
Mario Balotelli
, like his club, has still come a long way since his lowest ebb as a
Manchester City
player nearly 12 months ago.
Against Dynamo Kyiv in the last 16 of the Europa League at Eastlands in March, the Italian, frustrated by his own inability to break down the Ukrainian outfit, was sent off after lunging into the thigh and chest of Goran Popov.
City won the match but lost the tie; the club's wait for a European trophy upheld.
"The problem for Mario is that he thinks he could be a fantastic player," said Roberto Mancini in his post-match press conference last March. "But when he does something stupid like that, it is difficult for me, difficult for him and difficult for the team."
Dressed down, too, by Nigel de Jong in the mixed zone after the match as well as
foolishly described as "looking like a terrible piece of business" by this writer
, the mercurial frontman appeared to be yet another expensive gamble that had failed to pay off under the stewardship of Sheikh Mansour.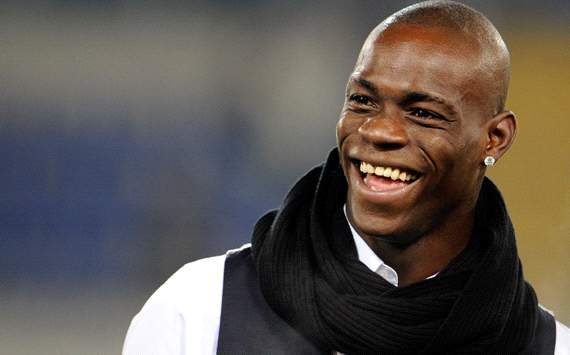 "Balotelli has become as entertaining and enigmatic a presence in Manchester as Eric Cantona in the mid 1990s"
This time around, however, in front of the same referee who sent him off against Kyiv, Balotelli the footballer will step out in the Europa League with few doubting his ability.
Mancini doesn't: "We know Mario is a fantastic player, but he's young and sometimes he will make mistakes," said the City boss in his pre-match conference. "If he keeps his composure, if his head is OK, for the next couple of months he will be important for us."
Yes, the 21-year-old returns against Porto having served a four-match absence for stamping on Scott Parker at the Etihad Stadium last month. In that regard, the Italian still finds himself in the headlines for the wrong reasons as well as the right ones.
But, while prone to moments of madness he may be, it is Balotelli's performances as a footballer that is making fans sit up and take notice this season.
With 12 goals in 19 games this campaign, two more than his season's total last year, the former Inter striker is beginning to spread his self-belief to his manager and the City fans.
Man of the match in the 1-0 win over Stoke that saw his club win their first trophy in 35 years at Wembley last May, Balotelli, the youngest of City's regular first-team squad, is the ideal man to lead the club's European campaign.
His physical attributes, his keen eye for goal, and his affection for the big stage make him the ideal marksman for City on the continent - and his record stands to prove it. Since moving to England, the Sicilian-born forward has started seven games in the Champions League and Europa League and scored five goals.
The dismissal that has kept the striker sidelined for all of February thus far is proof that problems still, and may always, remain for the Italian in Manchester.
But previously lamented off-field misdemeanours are fast becoming framed as lovable quirks. Balotelli has become as entertaining and enigmatic a presence in Manchester as Eric Cantona in the mid-1990s.
Like the Frenchman from the red half of the city, his performances are becoming so consistently polished that to take the rough with the smooth is now a necessity, not a chore, for his manager.
BALOTELLI'S SECOND SEASON SURGE

| | | |
| --- | --- | --- |
| 2010-11 | SEASON | 2011-12 so far |
| 28 | APPEARANCES | 23 |
| 10 | SCORED | 12 |
| 0.35 | GOALS PER GAME | 0.53 |
From Wayne Rooney to Luis Suarez via City's own Carlos Tevez, the Premier League is host to a number of world class strikers whose petulance is often an unappetising by-product of their brilliance.
And there is a case to be made that Balotelli, the perennial problem child, has outperformed all three of the above this season. He is by far the most improved - and, barely out of his teens, there is frightening room to grow.
Tevez, who has returned to Manchester following self-imposed exile has been undoubtedly usurped in the pecking order by his young team-mate as well as fellow countryman Sergio Aguero and looks certain to remain on the bench whether he wants to or not on his return.
The Argentina international has described himself as having been "treated like a dog" by Mancini already this week but the club has moved on from their top scorer from last season in a matter of months.
That Balotelli's bite now matches his bark has been pivotal in that, and it will remain so as City continue to fight on two fronts.
Unleashed on the pitch and now a fan favorite off it; what a difference a year has made for Mario Balotelli.
Follow Jonathan Birchall on