---
COMMENT
---
It was the former AC Milan vice-president Adriano Galliani who revealed after a Serie A win against Bologna some years back that the secret recipe for success that particular day was playing the Champions League anthem in the dressing room before the game started.
Such was Milan's command of the continent, it was difficult to rouse them for mere league fixtures and so he tried to trick them into performing like it was in Europe. Claudio Ranieri might want to consider something similar.
There are two Leicester City sides this season – and indeed two versions of Riyad Mahrez. Club and player are toiling fruitlessly in the Premier League where they have won only two matches out of eight in a disinterested defence of their hard-earned title. Mahrez, the reigning Premier League player of the season, was even dropped for the weekend hammering at Stamford Bridge following international duty with Algeria.
Ranieri acknowledged that he had Copenhagen in mind when he made that decision. "There's reason I kept him on the bench against Chelsea," he said. "Now it's right, eh?"
Leicester and Mahrez though are saving their best for the continental stage. Three wins from three is more than Ranieri could have wished for. They are five points clear with only nine more to contest. A win against Copenhagen on matchday four should guarantee their place in the knockouts.
Two goals on matchday one against Club Brugge and another one here against Copenhagen, Mahrez is the decisive presence Leicester expect him to be.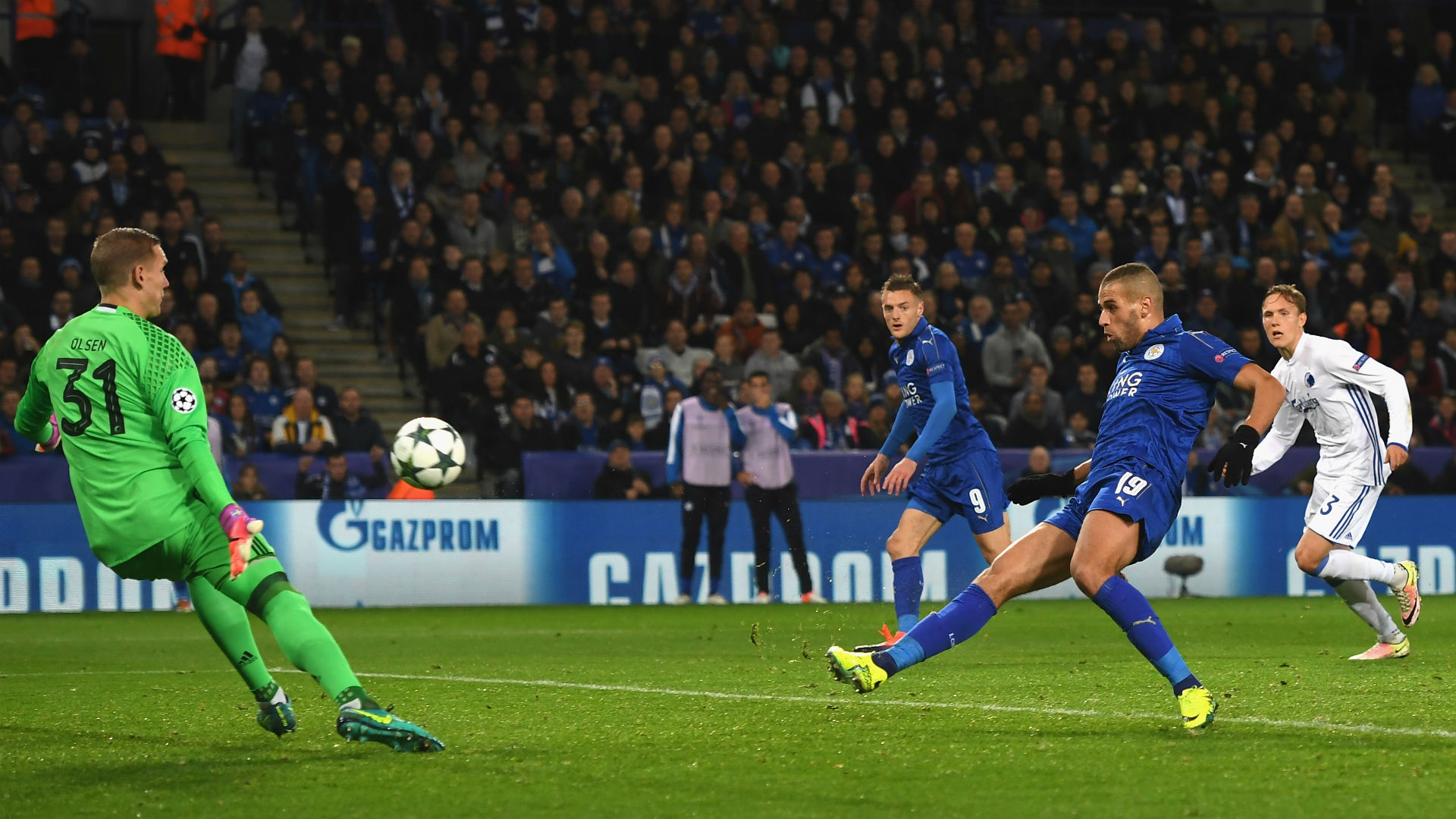 While it still might not be happening for Jamie Vardy, Mahrez is dovetailing well with his international team-mate Islam Slimani. The £29m man was signed to make an impact in opposition boxes at this level and so it is proving.
He was the hero against Porto last time out and cushioned a perfect header into his friend's path five minutes before half-time. Mahrez has been lacking that elusive calm in league football that brought him collective and individual success last season but he was on hand to deliver when Ranieri needed him most at the King Power Stadium.
He slipped his marker Mathias Jorgensen with the instinct of a striker before aiming a deft touch past Robin Olsen. It was a bright moment in a game of low quality.
These teams were well matched, perhaps too well matched to make for an interesting game. Neither could dominate it on the ball being as they were in a rush to get the ball forward to their physically imposing front men Slimani and Andreas Cornelius.
There was a lack of composure through the midfield with the likes of Thomas Delaney for Copenhagen and Daniel Drinkwater for Leicester being far too keen to hit the early if somewhat misguided runs of their strikers.
"We tried to put long balls behind the shoulders of the four defenders because when you play against a very narrow team it is difficult to play through the lines," Ranieri admitted. "I said at the beginning to put high balls behind but it was too strong. I wanted a little lob ball because when the ball touched the ground it went out."
Barely any threat existed – on either goal – until half-time approached and the Algerians combined. "We lost concentration one time and that cost us the game," said Copenhagen coach Stale Solbakken whose side lost for the first time in 24 matches.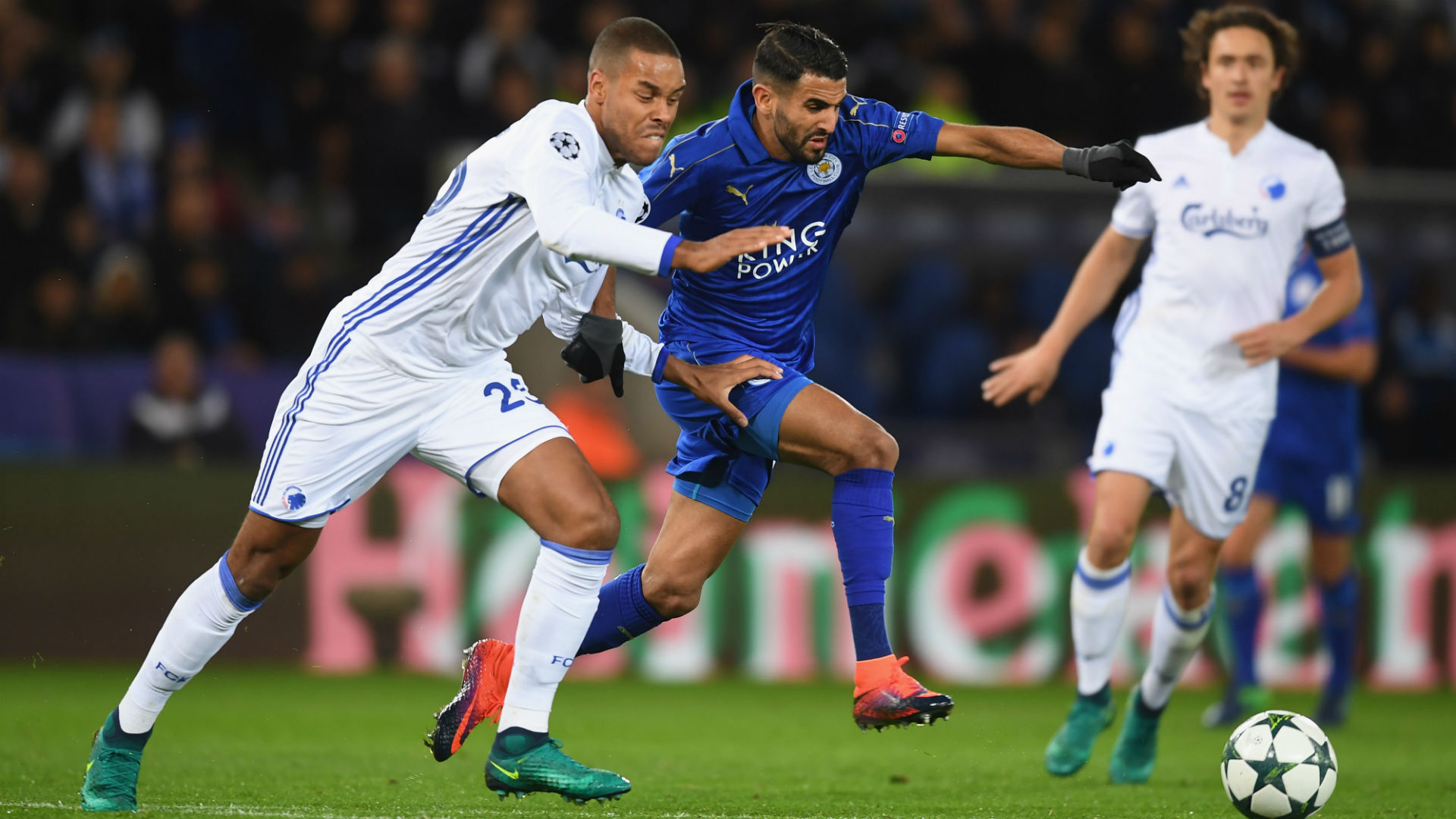 Copenhagen were possessed of no consistent threat but Cornelius should probably have levelled with a header of his own late in the first half and a snap shot late in the second. He was denied quite brilliantly by Kasper Schmeichel.
But this is Leicester City; the sequel and they won't be denied. It's the same cast of characters, just a different setting. While they have reverted back to their middling selves in domestic competition, last season's thrilling storyline has simply moved to the Champions League.
It's not yet clear whether Leicester's muddled incompetence in the Premier League is due to indifference or incapability but there is the same dead-eyed determination that carried them to a first-ever league title present in their Champions League campaign.
"From one side, I am very proud," said Ranieri. "From another side when I think about the Premier League I am very, very angry.
"When for the first time you play in a big competition you lose something when you go back to your league. That is normal but we want to change this way."
Their football is not going to win many admirers but that's hardly the point. There is enough will and resilience for this new challenge even if the Premier League peak is tough one to climb again. So long as they have Mahrez they have a chance.