Pep Guardiola says his Manchester City side will go to Barcelona to win as he sets them a target of taking six points from their remaining four Champions League group games.
Guardiola believes City's 3-3 draw with Celtic has complicated their chances of qualifying for the knock-out stage.
City play Barca at Camp Nou on Wednesday before a return clash at the Etihad Stadium two weeks later, two matches which will provide a much clearer idea of the Blues' task ahead of their final two games.
A failure to win either of the two Barcelona games would leave Guardiola's men with an uphill battle and he says they will try to take all three points at Camp Nou - and by playing their normal game.
Asked after Saturday's 1-1 draw with Everton if a point at Camp Nou would be a good result, he replied: "I don't know. It depends on the game. If we play like today then it is not a good result. But if Barcelona play much better than us then maybe it is a good result.
"I never think about the next game thinking a draw will be a good result. A draw is complicated. Not winning in Glasgow means we have to take points against Barcelona either over there or here and especially in Germany [away to Borussia Monchengladbach] as well.
"We have four games left and we need to win two of them, make six points, to be in the next round. And we are going to try to win the first points in the [next] game, that is sure."
He added: "Not too many teams win there in recent years. I will talk to the players about the way we will play that game.
"We are going to play like we are. I know the way we want to play but, of course, we have to know exactly against which team we're going to play."
City midfielder Kevin De Bruyne, meanwhile, believes Guardiola could once again field a back three at Camp Nou.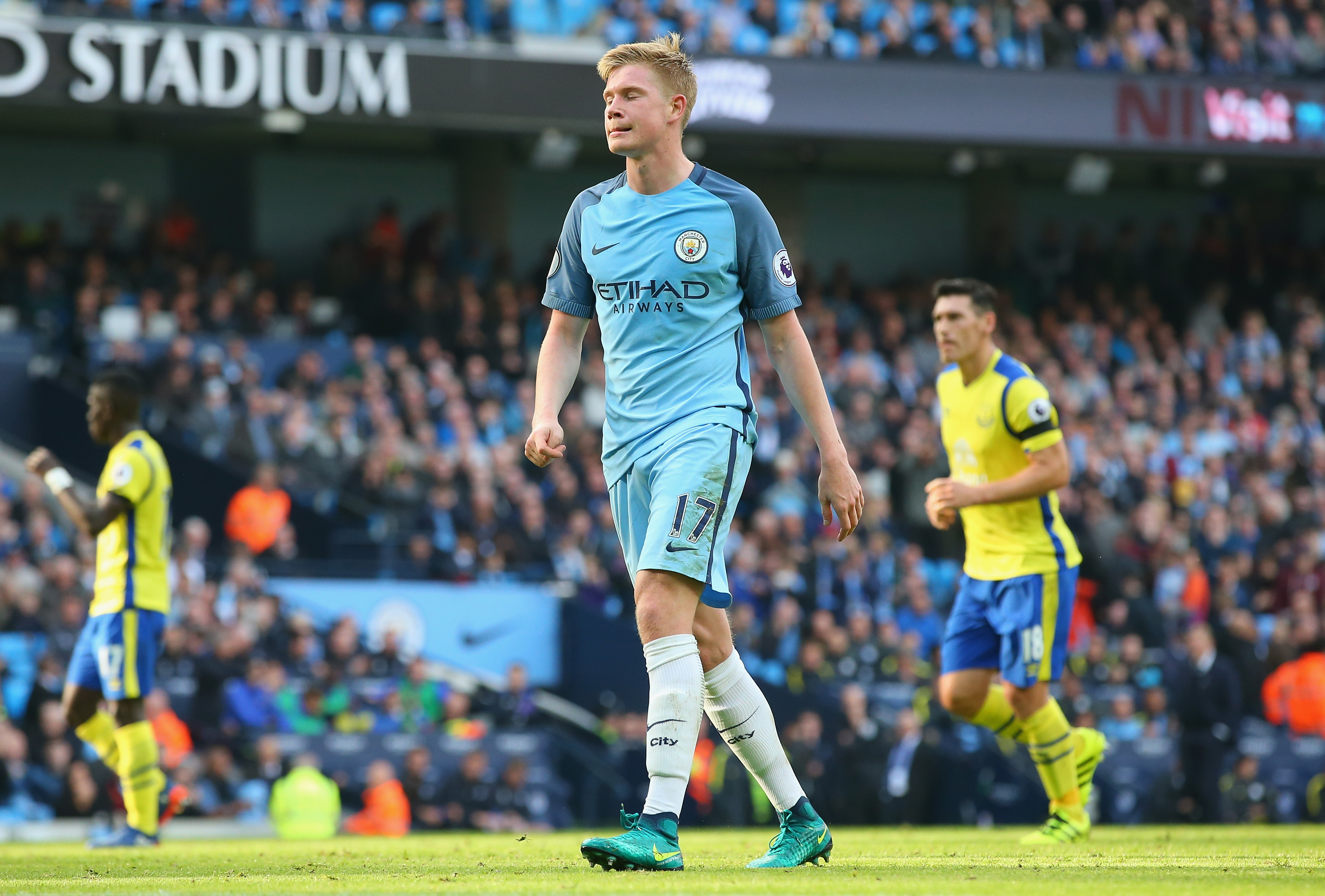 The Catalan started with three defenders against Everton on Saturday and tried the same approach on his previous return to Barca, for the 2015 semi-final while in charge of Bayern Munich.
"It could be," the Belgian said. "The coach has his ideas. We do not know exactly but it could be very good, we have no fear. The style of play is very dominant and we did not play badly today, we just have not score, that's all."
It had been feared that De Bruyne would miss the game thanks to the hamstring injury sustained against Swansea City at the end of September, but after returning against Everton he has set his sights on the crucial Champions League clash.
"I have played 90 minutes without problems so that was good," he added.
"I was just fit and wanted to play. I was able to train last week. That crack went very quickly, that's a bit of my luck with injuries, things heal very quickly. I was soon able to do exercises. The first week I only trained with the physio, then I trained with the team after the weekend."