COMMENT
By Liam Twomey
Jose Mourinho
has been growing steadily bolder in the public condemnation of his strikers, and the Chelsea starting XI which ran out onto the Parc des Princes pitch on Wednesday evening provided an exclamation mark on the running theme. For the first time since the height of his courtship of Wayne Rooney against Manchester United at Old Trafford in late August, the Portuguese tasked Andre Schurrle with leading the attack ahead of any of his 'natural' strikers.
It was less a bold tactical switch and more of a desperate cry for help. Schurrle looked a man lost at sea over the course of his 59 minutes on the pitch, yet still swam against the tide more effectively than replacement Fernando Torres managed in the latest stunningly limp performance of his Blues career.
HAZARD REMAINS KEY FOR BLUES

RATING VS PSG





The Belgian provided most of the danger for Chelsea with his quick feet. He slotted home a cool penalty and was only denied another by the post.
FROM OUR LIVE! COMMENTARY


GOOOOOOOAL!! HAZARD EQUALISES! The Belgian steps up with complete confidence, rolling a cool penalty into the bottom corner with Sirigu diving the wrong way.
As has become all too common in recent months, Chelsea's attacking hopes rested squarely on the shoulders of Eden Hazard. For a while the Belgian fought gamely to impose himself, in spite of Laurent Blanc's policy of doubling – and even at times trebling – up on him at every opportunity.
Paris Saint-Germain's bizarre caution and hesitance on the ball provided the kind of opportunities on the transition this Chelsea team was built to exploit, and Hazard was at the sharp end of their best work. When Thiago Silva rashly brought down Oscar in the box he dispatched the penalty with trademark assurance and, but for the width of a post, the Blues might have been heading back to Stamford Bridge with two goals in the bag and in a much more positive mood.
When Hazard is on song, this Chelsea team can match the very best. When he is anything less, with Juan Mata a distant memory, Oscar physically and mentally shot and no strikers to speak of, they have no margin for error. And there were errors aplenty on Wednesday evening.
David Luiz produced a performance which strongly suggests he will lose the fight for his Chelsea career, allowing Ezequiel Lavezzi far too much room for the Argentine's first and scoring the second himself after conceding a needless free kick in the build-up. None of Mourinho's defenders or Petr Cech can hold their heads high when they watch Javier Pastore's killer third back.
It hardly helped that once the hosts re-discovered their ambition, both Chelsea and Hazard found themselves hopelessly out-gunned. Watching Ligue 1's finest flex their attacking muscles on Wednesday evening it was astonishing to realise that, at £304 million, the combined cost of their Champions League squad is less than that of their startlingly toothless opponents (£311m).
Contrary to the pre-match narrative it was not Zlatan Ibrahimovic who did the damage. In the event the Swede's evening lasted just 68 largely fruitless minutes, brought to an abrupt halt by a hamstring injury which looks sure to keep him out of the return leg at Stamford Bridge.
It was instead the supporting cast of PSG's international galaxy of stars which put Chelsea to the sword in the French capital.
PSG PROVE THEY ARE NO ONE-MAN TEAM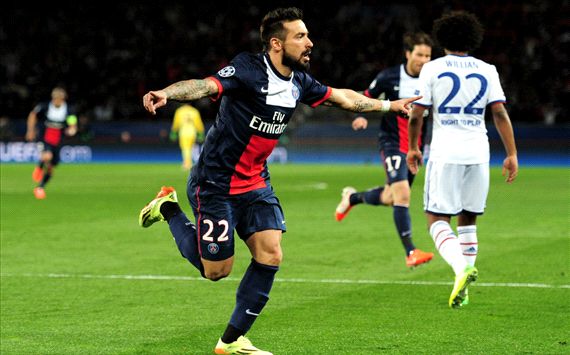 Lavezzi, the man who tormented the Blues in this same tournament for Napoli at the San Paolo two years ago, played with a pointed determination to punish them again. The Argentine scored two goals that day and will be inclined to claim the same tally from Wednesday evening, given that his delicious free-kick gave Luiz little option but to cannon the ball into his own net.
Not quite so deadly was Edinson Cavani, but the Uruguayan put on another performance which highlighted the incredible work rate that garlands his world-class talents. And when PSG needed a final push to put the hurt on Chelsea late on, the rare luxury of substitutes Javier Pastore, Lucas Moura and Yohan Cabaye provided all the quality they needed.
Mourinho must have watched Cavani dutifully working the flank with envious eyes. He had a £50 million striker of his own to bring off the bench, but in name only. Torres appears to be signing off the most disappointing marquee transfer in history by descending back into the tunnel-vision style which has marked his lowest moments at Stamford Bridge. His manager will hope against hope that Samuel Eto'o is fit again in time for next Wednesday.
Chelsea have a mountain to climb. It is one they have scaled before on their way to victory in this competition, but PSG have far more resources than Napoli. Nemanja Matic is cup-tied and Ramires took just under 12 minutes to rule himself out of the return leg with a petulant foul.
After the match Mourinho tried to sound optimistic but his language betrayed him. "We don't have an easy job," he admitted. "We are not a team full of talent to score lots of goals, especially at this level but we never know. We have to try." Hardly Churchillian rhetoric but, with Hazard as his only remaining weapon, the Special One knows better than to delude himself.
Follow Liam Twomey on