ANALYSIS
By Chris Myson
Diego Simeone is doing the impossible.
In the modern era, due to the financial and sporting power of Barcelona and Real Madrid, La Liga's other 18 clubs have generally had to settle with competing to be the best of the rest.
Sealing third in La Liga appeared to be the ceiling for even the most ambitious of teams, but that has all changed since the Argentine arrived at the Vicente Calderon.
After taking charge just over two years ago, in December 2011, Simeone has guided Atleti to glory in the Europa League, Copa del Rey - beating their city rivals in the final - and Uefa Super Cup.
This year, his Atletico are still at the league's summit after 31 games and, despite consistent assertions to the contrary, have not fallen away. In the Champions League, they face Barca for a place in the last four, a tie which
Xavi describes as 50-50
, highlighting just how far
los Rojiblancos
have come.
At just 43, Simeone remains very much in the early stages of his coaching career, one that has seen his style bear similarities to two of the highest-profile coaches to have graced Spanish football in recent years.
Simeone, who played at the Vicente Calderon over five seasons during two separate spells, boasts the ideal mix of Jose Mourinho and Pep Guardiola. Now, his accomplishments are seeing his name recognised alongside those coaching greats.
TOP OF THE PILE: LA LIGA AFTER 31 GAMES
Cristian Domizzi, a former team-mate of the man who will be in the opposite Champions League dugout on Tuesday - Barcelona's Tata Martino - told
Goal
this week: "Simeone has come from less in terms of his resources to achieve more than his rivals this season.
"He has demonstrated his ability to fight Barca and Real Madrid at the summit of Spanish football and forced himself into the reckoning against some of the best coaches.
"It is very difficult to overshadow a team like Barcelona, simply because of the difference in the players. You are relying on the players who enter the pitch to carry out the concepts of the coach."
On the pitch, there is no doubt that Simeone's style is most similar to that of Mourinho. His team is hard-working, organised, at times defensive - they have conceded just 22 Liga goals - and magnificent on the counter-attack. They will rarely dominate possession or play expansively and have an 'us against the world' mentality that has become a staple of teams under the Portuguese's control.
"I liked Mourinho's Madrid a lot - it was a side with a clear idea about how they wanted to play," Simeone conceded to reporters earlier this year.
"Xabi Alonso says having the ball for the sake of it makes no sense and that you have to win it in order to do something - extraordinary! If Xabi Alonso says it, then how can I disagree? After all, it was Spain who invented the attractive style...
"I liked Pep's team too – he developed it and allowed it to blossom - but we are not Barcelona. Atletico are historically aggressive and intense with commitment and passion. It is not the case that some teams play beautifully and the rest do not - that is a game the media use.
"There is a game, it is called football and that is very broad. You win in different ways and everyone chooses their own. Barca and the Spain team have a beautiful idea but to run fast you must have a good car…"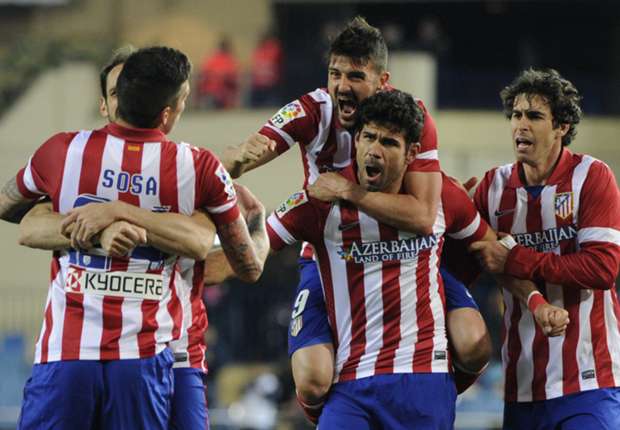 Together as one | Atletico's team spirit has helped them challenge Barca & Madrid


But despite his aggressive nature as a player along with his dedication and determination to succeed as a coach, Simeone is more comparable to the laid-back Guardiola off the pitch. With the media,
Cholo
does not tend to be outspoken, nor is he embroiled in controversy very often. He consistently attempts to lower expectations, is respectful to upcoming opponents and always insists the next game is his only target.
He is not an imposing character when it comes to authority, either. Simeone's relationship with the Atletico players, he insists, is based on close bonds and mutual respect. Far from overbearing, he tries to establish a deep connection, even looking into players' star signs to gauge their personalities.
"I never liked to impose leadership – it is not something that should be imposed," Simeone told Spanish magazine
Jotdown
earlier this year.
"It is either something you have or you don't but you must always remember you are relying on your colleagues whether in a football team, in school or in business.
"I look at star signs of players because the characteristics are similar. We pay attention to that to see how we can get the best out of them... I prefer those who are brave.
"Arda Turan, for example, is a special kid with an enormous heart. He doesn't speak Spanish, so we understand each other through our skin, by looking at each other. There are some people it's not necessary to speak to: you look at them and there is a connection."
Simeone has undoubtedly rattled the cages of Madrid and Barcelona during his tenure at the Vicente Calderon, but faces a huge challenge to keep it up in the years ahead.
"Spain always speaks of two teams – Real Madrid and Barcelona," Domizzi continued.
"Suddenly there can be challenges - at one time there was Deportivo la Coruna, at another there was Athletic Bilbao. For now, it is certainly Atletico who are fighting them hard.
"They are doing extremely well given the differences between them and the big two, but it is very difficult to overshadow the two monsters over the longer term."
Whatever happens between now and the end of the season, Simeone has made his mark and underlined his coaching credentials. With everyone waiting for Atletico to falter, he has got to the start of April with his side firmly in the running for the two biggest trophies, surprising even the club's most ardent followers.
If he can continue Atleti's push over the final two months as La Liga and the Champions League are decided, he will have sealed his place alongside both Mourinho and Guardiola.
Love Champions League football? Then you'll love the great DVDs on offer at Goal's Official DVD Store – click here to take a look!
Love Champions League football? Then you'll love the great DVDs on offer at Goal's Official DVD Store – click here to take a look!