COMMENT
By Peter Staunton
Olympiakos are 20 points clear in the Greek Super League table, with this weekend's derby against Panathinaikos to savour. There will be a 16th league title since 1997 for the side coached by Michel, the former Real Madrid midfielder and Spain international.
The domestic campaign is such a breeze that the only problem is complacency, yet the step up to the Champions League has been tough - though so far negotiable. There is no doubt about the confidence in their ranks but domestic form will count for little once their European campaign restarts on Tuesday against Manchester United.
"United play in a very competitive league," former Olympiakos midfielder Christian Karembeu told
Champion
. "It's very different playing against Chelsea and Everton to playing against Platanias and Levadiakos."
Michel has been at the helm in Piraeus since February 2013 and has overseen 55 matches in all, winning 44. While that record may seem imposing for any side about to visit the Georgios Karaiskaki Stadium, it is Olympiakos's patchy record in Europe which means Manchester United should have no trouble in dispatching them over two legs.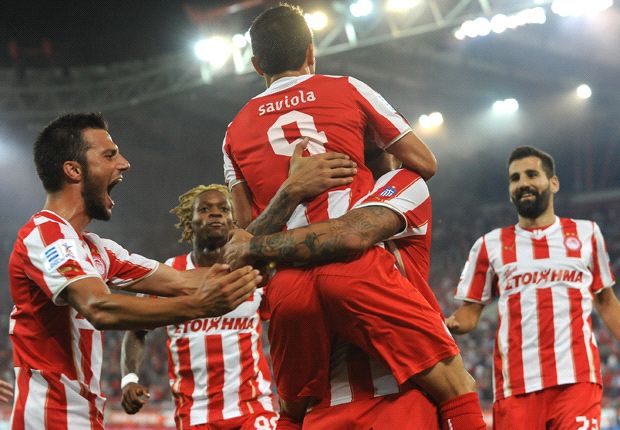 Absent | Olympiakos celebrate UCL progress but have no Saviola or Mitroglou this time
While they dominate the Greek Super League like Bayern do in the Bundesliga, they still do not have the requisite talent to impose themselves the same way in Europe. Often they are forced to cede territory and possession; trudging through matches at this level rather than waltzing like at home.
They did well to qualify for the knockout rounds but their progress was based largely on beating Anderlecht twice - one of the weakest sides in the competition.
All four of Michel's defeats as coach of Olympiakos have come in Europe with two this season at the hands of Paris St-Germain. While Michel is saying the right things about the clash against United, it is fair to assume that Olympiakos cashed out of the Champions League this season when they sold Kostas Mitroglou to Fulham for €15 million (£12.4m) in January.
The sale of the Greece international is the first in what Olympiakos hope to be a Porto-esque line of sales of players acquired low and sold high. "You could say that Porto is a beacon that lights our way," Michel told
NOVA
. "We believe in the not very distant future Olympiakos will not only sell players abroad but also buy players who will help the team in Europe."
The free signing in the summer of Vladimir Weiss and subsequent sale in January to Lekhwiya can also be placed in this category. The Slovakian was a pretty decent weapon for the Greeks, even if he didn't always see eye-to-eye with Michel and was a victim of the form of Joel Campbell.
He was nothing in terms of importance to the team compared to Mitroglou though. Olympiakos were always resigned to the fact they would lose their top scorer but not so quickly. "We expected that we would lose him because of the great things he did," Michel said in January. "But we did not expect it so soon."
They may be €15m better off but they now have a goalscoring problem - even after winning 4-0 at OFI at the weekend in the league. Javier Saviola was expected to lead the line against Manchester United after his late heroics in the group stage to put the Greeks through. His experience and nous would have been vital. He, however, has cried off injured.
His replacement at the weekend, Marko Scepovic, scored a hat-trick from the bench. The problem? He's not in the Champions League squad list. Nelson Haedo Valdez, acquired in the winter to replace Mitroglou, has suffered two injuries since joining. Michael Olaitan, the 21-year-old Nigerian who started only twice in the group stages, will lead the line.
Against the team with the best defence in the competition, despite their domestic travails, this is going to be a problem. United are treading water in the Premier League but their Champions League results have been on the money - rather the opposite of Olympiakos.
"All they have left is to give their all against us in the Champions League," midfielder David Fuster said earlier this month. "This game is their only chance to save the season. They have failed in the league. They are located outside the Champions League places. And so they will give it all."
But, contrary to Fuster's claims, Manchester United are unlikely to even need to be at 100 per cent to dispatch of this Olympiakos side. No Mitroglou, no chance for the Greeks.