COMMENT

By Peter Staunton
It feels like matchday four was the first, big decisive night in this season's Champions League. Bayern Munich, Manchester City, Barcelona and Atletico Madrid progressed well ahead of schedule to the last 16 while Chelsea, Real Madrid and Paris St-Germain now look certainties to join them.
For others, this was a chance missed. Galatasaray failed to capitalise on yet another winless display from Juventus while Manchester United now face two stern examinations from a position of vulnerability. Shakhtar Donetsk will regret missed chances, as will both Zenit and Porto, while Borussia Dortmund's prime placement in Group F was left shattered by defeat to Arsenal.
Benfica and Basel slipped up where they shouldn't have, opening doors to rivals, and Milan's meltdown shows no sign of abating with Ajax and Celtic still in with a shout.
Here are this week's talking points:
Kun Aguero in Ballon d'Or form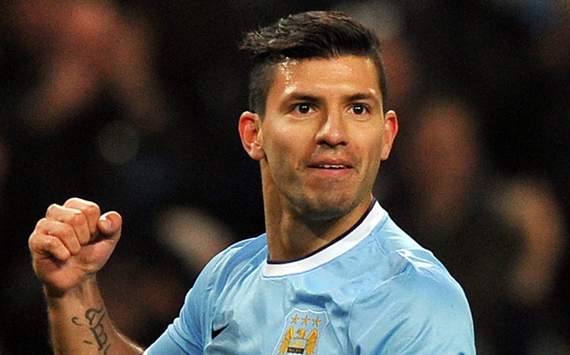 Congratulations to Manchester City, who, after two fruitless campaigns, have finally qualified for the Champions League knockout rounds.
They have much to owe to the fortune of landing in a group of relatively poor standing. Viktoria Plzen and CSKA Moscow are continental plankton in the grand scheme of things but Manuel Pellegrini has done things for City in this competition that his predecessor Roberto Mancini could not.
But whatever the composition of the group, credit for City's upturn in fortunes lies primarily with Sergio Aguero. Like the rest of his colleagues he endured a hiding at the hands of Bayern Munich but, that aside, he has been the England-based striker of the season so far.
Five goals of high quality have put him behind only Cristiano Ronaldo and Zlatan Ibrahimovic in the competition-proper goalscoring charts.
His second goal against CSKA was sublime; it was like he had read the script of what was about to transpire and his marker hadn't. He has scored 12 goals in his last nine club games and assisted many others.
Quite simply, he is in Ballon d'Or form.
Roberto - the best goalkeeper in the competition?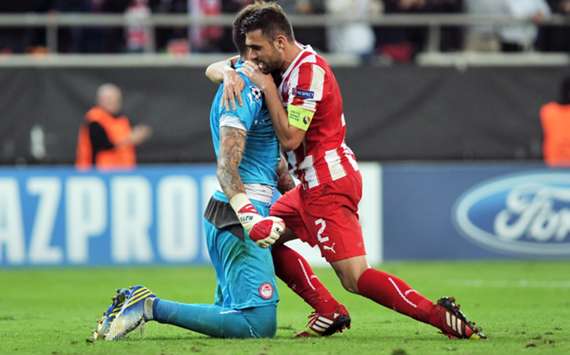 Olympiakos were widely expected to fight with Anderlecht for the Europa League spot in Group C but, thanks to arguably the best goalkeeper in the competition, they are primed for a berth in the last 16 alongside Paris St-Germain.
Roberto, the Spaniard, is responsible for a haul of six points in matches against Anderlecht away and Benfica at home. There have been some difficult moments for the Greeks in the Champions League so far this season. Michel's side had Roberto to thank for a fine performance away at Anderlecht on matchday two and he was again man-of-the match in the home win against Benfica.
"I am always trying to do my job, to do it well," the former Benfica stopper told Uefa. "This is a reward for hard work, sacrifice and professionalism that I think I am displaying on a daily basis, and I will try to keep the same level."
The Pireaus side are on an 11-game undefeated run in all competitions since PSG beat them 4-1 on matchday one in the Champions League.
With momentum, a goalkeeper in the form of his life and a three-point cushion over the Portuguese, Olympiakos are definitely set for the last 16.
Defenders must take responsibility for Young diving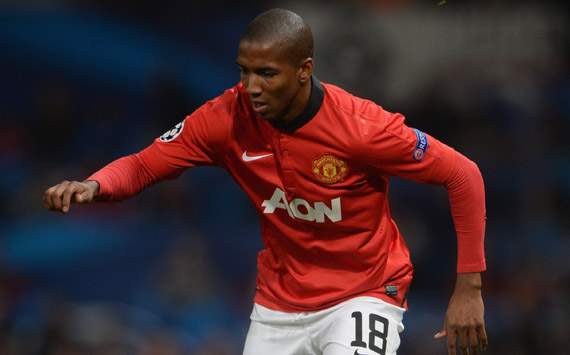 Ashley Young proved once again on Tuesday that integrity means little to him when an opportunity to win a penalty presents itself. But why should it? He has been heavily criticised, not even for the first time this season, but the fact of the matter is he committed an action which benefited his team by effectively buying a spot-kick at Real Sociedad.
It is not Young's obligation to foster the Corinthian spirit.
If United were so embarrassed by his antics they should have rolled the ball back to the goalkeeper. Robin van Persie missed the kick, granted, but nobody was feeling guilty about Young winning a penalty in that manner.
Markel Bargara did motion his hand to Young's midriff. It was certainly not enough to knock the winger from his stride but it was a foolish manoeuvre nonetheless. There is no honour when it comes to situations like that. People take advantage and that won't change.
Defenders, simply, have got to betray the instinct to put a hand on an opponent in the box. Keep the hands down and don't give profiteers like Young the chance because the only person a defender can trust these days is himself.
Riotous Group F shows what happens when big guns collide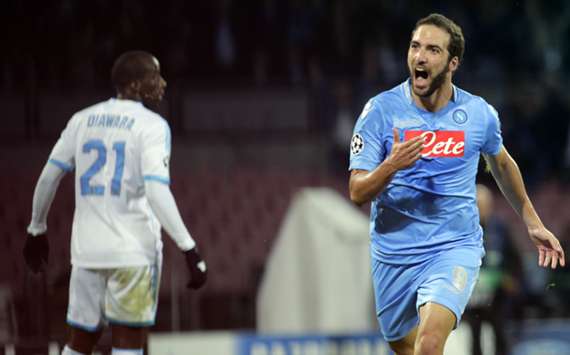 Four rounds into the group-stage process and we are still no closer to sorting out the so-called Group of Death. It's cut-throat stuff between three excellent teams with no draw recorded yet in the section.
Arsenal, with whipping-boys Marseille to come at the Emirates, will fancy their chances of being the first name from Group F in the hat for the knockouts but nothing can be ruled out after another wildly enjoyable and unpredictable evening.
Gonzalo Higuain continued to prove his pedigree with another two goals as Napoli side overcame l'OM in arguably the Champions League's most enthralling match of the season.
But the plaudits rightly will go to Arsenal for their performance of the night. Arsene Wenger's side continue to defy the sceptics; their 1-0 win away at Dortmund was well deserved on the balance of play and sees them remain buoyant in their most difficult spell of the season.
The clash between Dortmund and Napoli at the Westfalenstadion in late November now carries monumental importance.
Do something to ensure we see more of these type of groups please Uefa. It's more enjoyable than watching yet another Bayern Munich or Real Madrid facile stroll.
Atletico Madrid leading the way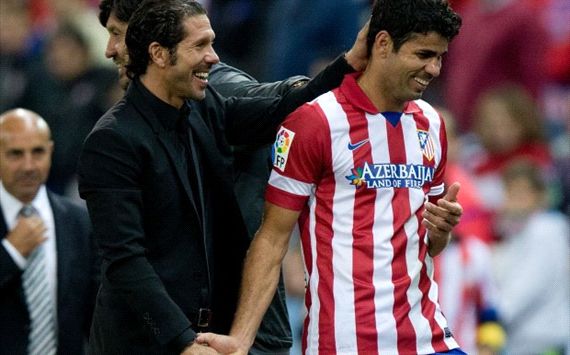 They won't lead the bookmakers' running but Atletico Madrid have been the most impressive team, relative to expectations, in this season's competition.
Diego Simeone has deservedly led his side to top spot in Group H after another resounding success against a frail Austria Vienna.
That is four wins from four for Spain's third team and in Porto, Zenit and the Austrians, they have not yet met a team their equal.
Now that top spot has been achieved, attentions can turn to the knockout rounds. They will not face a seed; crucial in the sense that Bayern Munich and a resurgent Chelsea will likely top their pools too.
The form of Atleti in the league, where they defeated Real Madrid at the Bernabeu, and in Europe, where they are perfect, has made the football world sit up and take notice.
Atletico are no longer the shambles club they were in previous generations. They are serious contenders for major honours with a bonafide club hero leading them through every turn and one of the most coveted players in world football inspiring them on the field - Diego Costa.