COMMENT
By Enis Koylu
When
Galatasaray
exited last season's
UEFA Champions League
with a spirited, but ultimately futile 3-2 victory over
Real Madrid
, they had every reason to be proud of themselves.
They were well on their way to winning a second straight Super Lig title, they had become the first Turkish team to reach the quarter-finals of Europe's top competition since Fenerbahce five years before.
They had household names like Didier Drogba and Wesley Sneijder in their ranks, complemented by homegrown talents such as Burak Yilmaz and Selcuk Inan and, to top it all, a revered coach in Fatih Terim.
It seemed, all those months ago, that Gala were on their way to becoming the "global brand" president Unal Aysal famously claimed they could be.
But, with Terim's exit and Roberto Mancini's appointment as his successor on Monday, that dream could not be further away.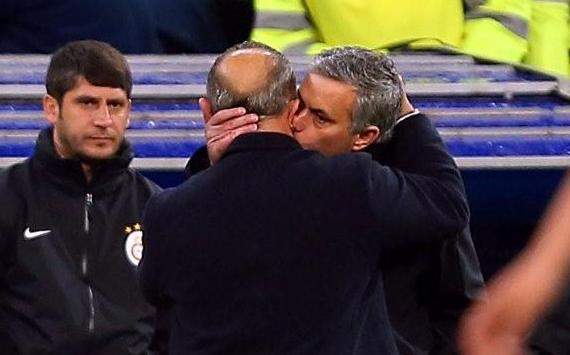 Adulation | Mourinho greets Terim in the wake of last year's Champions League clash
In Terim, they had a coach with acute knowledge of the Turkish league's ins and outs, with extensive experience of the big time to boot, having led the national team to the Euro 2008 semi-finals and been in charge of AC Milan earlier in his career.
He was revered by footballers and colleagues alike. After fewer than three months under his tutelage, Drogba was comparing Terim to Jose Mourinho, saying: "Fetih Terim is like Mourinho. He's close to the players."
And it seems Mancini will not have the same rapport with his players after his time at Manchester City was blighted with reports of fallings-out with his squad, which former Citizens player Craig Bellamy slamming him in his recent autobiography.
"He was not worried whether players liked him or not. It was of no interest to him," he wrote. "You could walk past him and he would not even say hello."
Mancini's appointment also seems unlikely to help Galatasaray continue in development. With Fenerbahce and Besiktas suffering from the two-year-old match-fixing allegations which saw them kicked out of the Europa League this term, their domestic dominance is all but assured.
MANCINI'S EUROPEAN MISFORTUNE


MANCINI'S CHAMPIONS LEAGUE RECORD

YEAR
CLUB
STAGE

2003-04
Lazio
Group
2004-05
Inter
Quarter-finals
2005-06
Inter
Quarter-finals
2006-07
Inter
Last 16
2007-08
Inter
Last 16
2011-12
Man City
Group
2012-13
Man City
Group
However, Mancini's record in Europe does not inspire confidence. During his time at Inter, the San Siro outfit dominated Italian football, swooping a string of
Scudetti
, but their efforts in Europe were an unmitigated disaster, with the
Nerazzurri
failing to get past the quarter-final stage of the Champions League.
After he left the club due to a bust-up with the hierarchy, Mourinho was swiftly appointed at the Giuseppe Mezza and promptly led the club to European glory in his second season.
His efforts on the continent with Man City, meanwhile, were nothing short of woeful. Despite boasting a vast array of talent including winners of the competition such as Yaya Toure and Carlos Tevez, they failed to make it through the group stages for both campaigns.
Mancini's backers will point to the tough groups they were handed on both occasions, but the likes of Napoli and Borussia Dortmund - hardly clubs with European pedigree in recent years - both qualified ahead of them with players far less experienced at the top level, the latter even reaching the final despite their shoestring budget.
Current City defender Gael Clichy was under no illusions as to whom was behind his side's shortcomings. "Of course, when results are good it is all down to the manager," he said shortly after his sacking. "When the results are not so good, it is also down to him. We have to be aware that he was probably at fault for this."
History is not on exactly on Mancini's side either. He is not the first big-name foreign coach to arrive on the Bosphorus strait and trainers with better pedigree have done worse.
Luis Aragones, fresh from his triumph with Spain at Euro 2008, lasted just one trophy-less season at Fenerbahce, while Frank Rijkaard and Vicente del Bosque, clutching a handsome array of Champions League and La Liga medals between them, failed at Galatasaray and Besiktas respectively.
While Aragones was in his seventies by the time he left Turkey and Rijkaard's coaching quests have been poor since leaving Barcelona, Del Bosque went on to win World Cup 2010 and Euro 2012 after he left Inonu. He was hardly a has-been.
Aside from anything else, Mancini enjoyed the crowd's unequivocal backing at Manchester City. He has his work cut out if he is to win over the Turk Telekom Arena faithful, though.
Terim was, and is, revered by Galatasaray fans. They showed up to their match last Saturday - a 1-1 draw with Caykur Rizespor - in masks with his face on in a clear display of defiance for Aysal's regime. Mancini will need results fast to gain the support of the stands.
Follow
Enis Koylu on